People Top 5
LAST UPDATE: Tuesday February 10, 2015 01:10PM EST
PEOPLE Top 5 are the most-viewed stories on the site over the past three days, updated every 60 minutes
Picks and Pans Main: TV
Nick Cannon America's New Host!
NBC, June 24, 10 p.m. ET/PT |




NEW SERIES!
DRAMA
James Purefoy, a British actor best known here for playing Mark Antony in HBO's Rome, has the sort of rumpled leading-man looks that make him both watchable and credible in just about any role: tycoon, playboy, adventurer, even spiritual pilgrim. He's all those things in The Philanthropist. Teddy Rist, dripping with money and seemingly soaked with dissatisfied indifference, is secretly haunted by the death of his young son and the collapse of his marriage. But he finds a new purpose in life when he rescues a boy during a hurricane in Nigeria. Returning to the boy's village to deliver medicine, Teddy nearly dies a thousand deaths himself: He has to get past drug agents, corrupt local officials, whistling bullets and poisonous snakes. The series will apparently follow Rist through similar adventures of soft-hearted derring-do, something between
Oprah
and Indiana Jones. It's pretty well done, but once Rist is fully awakened to life by the end of the pilot, hasn't the show in a sense already finished? It's not as if you'd care whether the reformed Ebenezer Scrooge went on to become a UNICEF ambassador.
Bravo, June 23, 10 p.m. ET/PT |




NEW SERIES!
REALITY
An attempt to replicate Gossip Girl using actual uptown kids, NYC Prep feels like inept role play: viral video of teens pretending to be Serena and Blair. The unofficial bad boy PC tosses off lines of cheap cynicism ("Money flows like the wind"), boasts that he's dined on the dangerous delicacy of blowfish and throws a plastic bottle of water at a girl named Jessie. She carries on as if she'd been halted by velvet ropes outside a debutante ball. Everyone is just doing what they think the cameras expect of them: It's a rarefied form of peer pressure.
>1 BOY WIZARD SUN. 6/21 8 P.M. ET NBC
Merlin, a British import, is a child-friendly series about the magical wiz kid (Colin Morgan).
2 MOON STRUCK SUN. 6/21 9 P.M. ET ABC
Natasha Henstridge plays a scientist in Impact, a two-part movie about a dead star hitting the moon.
3 PRINCESS PROTECTION PROGRAM FRI. 6/26 8 P.M. ET DISNEY
Demi Lovato's a regal girl in exile in Louisiana, stuck living with Selena Gomez.
4 VIRTUALITY FRI. 6/26 8 P.M. ET FOX
Nikolaj Coster-Waldau is lost in space and cyberspace in this creepy-tricky TV film.
5 ELLEN'S SUPER-SIZED! SAT. 6/27 9 P.M. ET TBS
Ellen DeGeneres's variety special is as huge as its title: Ellen's Bigger Longer & Wider Show.
>• The actress, 39, scrubs in to play Chicago's Mama Morton onstage in Manhattan—after only a week rehearsing.
HOW ARE YOUR NERVES? Complete butterflies in the stomach, no appetite whatsoever. But I have an obligation to give them a $125 show. I can't come in at $98.
YOU COULD USE SOME OF DR. BAILEY'S STEEL. I wish I could be like her: Shoot a look, and everybody knows what it means. I try to summon her up outside of television. She won't come.
HOW DO YOU CHILL OUT? I have to watch my soap-opera tape: The Young and the Restless, All My Children, One Life to Live and General Hospital. Every day. All four. Since I was a kid.
WHAT'S UP WITH T.R. KNIGHT'S POOR GEORGE ON GREY'S? Child, I don't know. Every time I think I know, they come up with something different.
>The actor, 28, takes the stage as host of NBC's
America's Got Talent
while being the perfect entertainer at home with wife
Mariah Carey
.
WHAT KIND OF HOST WILL YOU BE? I come from the world of improv, so expect more humor. I'm bringing out the cool, sexy, corny and goofy side of me.
HOW ARE YOUR HOSTING SKILLS AT HOME? At our dinner parties, I'm always the loudest person in the room, making toasts and making sure everyone is settled. When we had our one-year anniversary in Las Vegas, I got the room together to gather our hands and say a prayer. My wife appreciates that quality in me.
WHEN YOU HAVE KIDS, WILL THEY BE IN SHOWBIZ? I'm not going to be one of those stage daddies who says, "Get out there and sing!" I want to raise some doctors and astronauts. Or even singing doctors!
THE PHILANTHROPIST
Advertisement
Today's Photos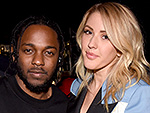 Treat Yourself! 4 Preview Issues
The most buzzed about stars this minute!