People Top 5
LAST UPDATE: Tuesday February 10, 2015 01:10PM EST
PEOPLE Top 5 are the most-viewed stories on the site over the past three days, updated every 60 minutes
Picks and Pans: Music
Catching Up with ... Green Day
JORDIN SPARKS
Battlefield |




POP
"Why does love always feel like a battlefield? ... I guess you better go and get your armor." So sings
Jordin Sparks
, taking a lyrical cue from Pat Benatar, on the title-track highlight of her second album. If love is a battlefield, though, so is the pop scene, and the 2007 American Idol comes armed with plenty of radio-ready artillery. Song for song, it's easily superior to 2007's platinum
Jordin Sparks
. The strength of the tunes—and Sparks' vocals—helps make up for her lack of a singular identity. Instead, the CD plays up her versatility, going from the rock-edged "Battlefield" to the Lady Gaga-meets-
Rihanna
electro of "S.O.S. (Let the Music Play)," which riffs on the 1983 Shannon hit "Let the Music Play." Meanwhile, "Faith," one of four songs that Sparks cowrote, is a gospel-tinged ballad that brings to mind a young
Mariah Carey
.
Music for Cougars |




POP-ROCK
Let's be honest: Was anyone really hankering for a Sugar Ray comeback? After their last studio album, 2003's In the Pursuit of Leisure, frontman Mark McGrath certainly seemed to kill his rock-star credibility by cohosting Extra. But the SoCal party dudes have picked the perfect season to return. After all, their music has always been made for summer slacking, and breezy, beach-ready ditties like the first single "Boardwalk" go down as smoothly as a frozen daiquiri. While they sometimes sound like overgrown frat boys, they get a break—at least until Labor Day.
DOWNLOAD THIS: "When We Were Young," a sunny, slyly funky groove
Here We Go Again |




TEEN POP
Her Camp Rock costars, the JoBros, cowrote much of Demi Lovato's 2008 debut, Don't Forget. On this fizzy follow-up, only one track bears the Jonas stamp: "Stop the World," cowritten by Nick Jonas. But another standout, "World of Chances," scores an assist from John Mayer.
For more information on where to find our Download This picks, go to people.com/downloadthis
>• With vintage blues and jazz from Otis Taylor and Billie Holiday, this disc evokes the John Dillinger era. Diana Krall, with a cameo in the
Johnny Depp
film, coos "Bye Bye Blackbird."
>DINOSAUR JR. Farm After reuniting for 2007's Beyond, their first disc in 10 years, J Mascis and crew continue their renaissance. Veering from Pearl Jam-esque grunge to Replacements-style garage, it's one of 2009's best rock albums.




BROOKE WHITE High Hopes & Heartbreak Fifth on American Idol last year, White was too subtle to go all the way. But, with Randy Jackson as executive producer, her singer-songwriter talents get the right showcase on this Carole Kingish CD.




CHICO DEBARGE Addiction: Reality Music As a new generation of DeBarges emerges with Kristinia DeBarge, Chico delivers his first CD since 2003. Though he nods to Marvin and Luther, he never really approaches them.




AVENTURA The Last The latest from this Dominican-American boy band not only hit No. 1 on Billboard's Latin chart but No. 5 on the pop one. This overlong disc highlights the Dominican style bachata. So why are Akon and Ludacris here?




>HOLLY WILLIAMS
• The singer-songwriter daughter of Hank Williams Jr. is making her family proud while wowing critics and Nashville with her country album Here with Me
HER SONGS TELL HER LIFE STORY Her album includes a tune about surviving a 2006 car wreck that nearly killed her and her sister Hilary, 30, and a thank-you song for mom Becky, a single parent after splitting from Hank Jr. when Holly was 2. "She could have complained or put down my dad," says Williams, 28, "and she never did."
DAD WAS PROTECTIVE Hank Jr., 60, didn't party near his kids and sheltered them at his wild shows. "If we were in the tequila-drinking, shooting, fighting crowd, he'd lose it," she says.
SHERYL CROW
AND
FAITH HILL
SHOP AT HER STORE She owns Nashville boutique H. Audrey, where stars get chic basics. As does Williams, who often raids the racks: "I rarely shop outside the store. It saves me so much money."
SHE DATED JOHN MAYER BEFORE IT WAS COOL "I fell in love with him for a couple of weeks like every other girl who sees him play guitar," she says of their 2002 fling.
SHE'S A DOG'S BFF She's rescued 25 pups like Oliver and Alfie, who "jump off the walls" when she gets home. Says Holly: "You don't get that much from humans!"
>• On tour for 21st Century Breakdown, Billie Joe Armstrong, 37, dishes on fatherhood, makeup and the trio's future.
ON GREEN DAY'S LONGEVITY You get sick of each other sometimes, so you try to allow each other some space. Maybe someday I'll do a solo record. But we're writing the best stuff we ever have now. I really like being in a band and that gang mentality.
ON HIS SONS JOSEPH, 14, AND JAKOB, 10 My oldest son is getting to be a very good drummer, and my youngest takes guitar lessons. We've got a jam room in my house [with Adrienne, his wife of 15 years]. I teach them a little, but then they're like, "Shut up!" When someone else teaches them, they tend to listen more.
ON ASSISTANT COACHING JAKOB'S LITTLE LEAGUE TEAM Well, I only did it until they were 10 years old and got better than me at baseball. Beyond that I'm literally out of my league!
ON BEING A GUYLINER PIONEER I've always taken pride in waving my freak flag a little bit, whether it's wearing a dress or putting on a little makeup.
Advertisement
Today's Photos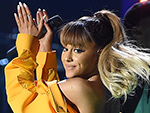 Treat Yourself! 4 Preview Issues
The most buzzed about stars this minute!