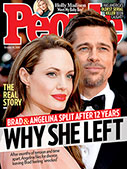 This Week's Issue!
People Top 5
LAST UPDATE: Tuesday February 10, 2015 01:10PM EST
PEOPLE Top 5 are the most-viewed stories on the site over the past three days, updated every 60 minutes
Picks and Pans: Books
Rappin' with a Rocket Man
by Alice Eve Cohen |




REVIEWED BY LISA KAY GREISSINGER
MEMOIR
The author of this powerful memoir never believed the superstition she was raised with: that to speak of your good fortune is to risk the Evil Eye. Yet just months after telling her fiancé she was happier than she'd been in years, Cohen—then 44, with an adopted daughter and a career as a solo theater artist—was blindsided. A DES daughter who'd been told she couldn't get pregnant, she found a mass in her stomach that turned out to be a fetus: She was six months along. "I try every day to want this child," Cohen writes. "She has had no prenatal care, no weight gain ... and glasses and glasses of Italian red wine." Her struggle over whether to end the pregnancy (she had a week to decide) or to give up her child for adoption makes for a gripping story about one of the most wrenching decisions a woman can face. She chose to keep little Eliana, who has RSS, a rare growth disorder. Seven years later, Cohen writes, the family is not only surviving but thriving. Take that, Evil Eye.
by Beth Harbison |




REVIEWED BY CLARISSA CRUZ
NOVEL
Starring Allie—a recently dumped, cosmetics-obsessed temp worker—and Olivia, her former best friend who's now a successful beauty editor, Hope in a Jar sometimes reads like a Saturday-afternoon shopping spree at Sephora. But product junkies, and those looking for a light summer diversion, won't mind. After a falling-out when they were teenagers, the now-thirty-something protagonists bump into each other at their high school reunion ... and bond over their mutual dislike of their childhood nemesis Vickie. Problem is, the surgically enhanced, still-bitchy Vickie is now dating their long-time friend Noah, and the reconnected pals want to prevent him from making a BIG mistake. The plot breezes along, with the usual complications (did we mention Allie and Noah's long-suppressed feelings for each other?), but ultimately it's all as slick and enjoyable as a brand-new tube of lip gloss.
by C. David Heymann |




REVIEWED BY CAROLINE LEAVITT
NON-FICTION
Was Bobby Kennedy the love of Jackie Kennedy Onassis' life? Heymann's juicy read relies on recently released Secret Service and FBI reports, along with reminiscences from Truman Capote and others, to reveal a passionate love story that began after Jack's assassination and lasted until Bobby's death in '68. Full of gossipy tidbits—Bobby's wife, Ethel, knew about the affair; it was Jackie who told doctors to pull the plug after Bobby's shooting—this book is shocking, yearningly romantic and tons of fun.
by Kevin Canty |




REVIEWED BY RICHARD EISENBERG
STORIES
Don't be fooled by the title. It's the diminishing sands of relationships Canty traces, in tales as spare as Raymond Carver's and as frank as a Larry David rant. "Anger," declares a real estate agent who can't find a home to please his wife, "is the engine of marriage." In Canty's world people lose control. "Things are running away from me," says a lonely woman. These stories linger.
>NEW IN PAPERBACK
THE CONDITION by Jennifer Haigh An astute, engrossing novel about the myriad dysfunctions of a well-to-do New England clan.
THE SUICIDE INDEX by Joan Wickersham The author's attempt to understand her father's decision to end his life. Profound and finally uplifting.
I SEE YOU EVERYWHERE by Julia Glass Two sisters' love and rivalries through the years, by the author of the National Book Award-winning Three Junes.
>• In Healing Spaces Esther Sternberg, M.D., explains how pleasing surroundings can have a profound impact on our health.
HOW CAN A NICE VIEW HELP YOUR BODY HEAL? When you look at beautiful vistas, a part of your brain that's rich in endorphin centers lights up. That causes the brain to release chemicals that can enhance the immune system.
BUT ISN'T BEAUTY IN THE EYE OF THE BEHOLDER? It's cross-cultural that people respond to sweeping vistas. Or scenes rich in content, like a forest. But there are learned associations as well; you may prefer northern light because it reminds you of your childhood. The trick is to place yourself in environments that trigger those positive responses.
ARE THESE FINDINGS HAVING AN EFFECT ON URBAN DESIGN? Yes. Some hospitals are already being built to incorporate more light, more views, less noise. Studies show that not only is health improved, it's also good for the bottom line.
>• Forty years after he walked on the moon, Magnificent Desolation author Buzz Aldrin, 79, looks back—and ahead.
WHAT HE MISSES Well, anyone who's been in space would like to have a room at home they could just walk in and they're in zero gravity.
WHY HE AND NEIL ARMSTRONG RARELY SPEAK We do communicate. At different times I've tried to bring together groups of people who've reached the moon, but it's like herding cats.
WHAT HE'D LIKE TO SEE IN SPACE Settlement of human beings on Mars. We need to ensure the survival of the human race if an object should hit the Earth.
WHY HE JUST RECORDED A SONG WITH SNOOP DOGG Karen Carpenter is my favorite singer, but that isn't what causes people to jump up and down at different events. Rap pervades segments of society that don't think too much about space. I want to raise awareness.
WHAT I THOUGHT I KNEW
Advertisement
Treat Yourself! 4 Preview Issues
The most buzzed about stars this minute!