People Top 5
LAST UPDATE: Tuesday February 10, 2015 01:10PM EST
PEOPLE Top 5 are the most-viewed stories on the site over the past three days, updated every 60 minutes
Picks and Pans Main: TV
Dark Blue's Dylan Mcdermott Cops and Daughters
ABC, July 20, 10:02 p.m. ET/PT |




REALITY
Watching Jillian's miscalculations on The Bachelorette is probably all any of us needs to know about the illusions of romance, but now ABC has added this nutty variation. Each week three men and three women are put up in separate quarters of a big house, then introduced—get this—in a pitch-black room. We witness their dating interactions, which often look like a clumsy exercise in improv comedy, with the benefit of infrared cameras. At the end of the hour, man and woman are revealed to each other and decide whether to keep dating. It's an unexpectedly poignant show, with fantasies ruined in the literal blink of an eye. If it came with 3-D glasses too, it'd be a killer.
ABC Family, July 19, 8 p.m. ET |




COMEDY
Originally meant for a theatrical release, this
Lindsay Lohan
vehicle winds up on TV instead. Well, it's just another ill-fitting piece in the puzzle that is her stalled, sloppy career. She's a secretary who fakes pregnancy to avoid getting fired. There are no real laughs, even with Cheryl Hines as her office buddy. As usual, you can't help being struck by the contrast of Lohan's auburn, sharp-featured beauty—she's like an enchanted fox—and her air of being peeved at everyone in sight.
ABC Family, July 21, 8:30 p.m. ET/PT |




COMEDY
Almost 40 years after The Partridge Family, David Cassidy parodies his aging pop-idol image on this mechanical sitcom. He's David Gallagher, ex singer of the Rockits, now reduced to performing at a smallish casino lounge when he meets Ruby (Alexa Vega), the daughter he never knew he had. Since a casino is no place to raise a kid, he houses Ruby with brother Patrick (Patrick Cassidy, the actor's half-brother; Patrick's brother Shaun is creator and executive producer). A former Rockit himself, he now sells cars. Of the Cassidys, Patrick turns in the better performance as a slightly buffoonish suburban dad. David gives off the slick twinkle of a sequin.
BBC America, July 25, 9 p.m. ET/PT |




FANTASY
True Blood fans will enjoy this milder British import about three housemates who can be classified separately as dead, undead and occasionally hirsute. Annie (Lenora Crichlow) is a ghost whose visibility fluctuates with her moods. Vampire Mitchell (Aidan Turner) and were-wolf George (Russell Tovey) work at low-level hospital jobs. The performances—especially Tovey's—have a youthful, often funny mopeyness. It's Friends for ghouls.
>1 THE ESPYS SUN 7/19, 9 P.M. ESPN Samuel L. Jackson hosts the sports awards, with tennis great Venus Williams as a presenter.
2 HOT SAUCE TUES 7/21, 8 P.M. FOX New season of Hell's Kitchen with chef Gordon Ramsay, who likes to serves his critiques flambéd.
3 GRAVE NEW WORLD TUES 7/21, 10 P.M. DISCOVERY Life after epic disaster on The Colony, a new reality show.
4 SAM I NO LONGER AM THURS 7/23, 8:30 P.M. ABC Christina Applegate's sweet Samantha Who? ends its run.
5 KATIE GETS HER KICKS! THURS 7/23, 9 P.M. FOX On So You Think You Can Dance's 100th episode,
Katie Holmes
salutes Judy Garland.
>• The comedian, 48, has what she calls "self-censor deprivation." Who better to sound off on summer's biggest stars?
HEIDI AND SPENCER If you've incensed Al Roker, you've reached a new level of annoying. In all his years on Today, we've never seen him lose it, even when he's in a tornado, and not even he could deal with Speidi.
JENNIFER ANISTON
I don't get the press's perception of her as a desperate woman. She's [been with] every hot guy from
Brad Pitt
to John Mayer. She's not tragic; she's amazing!
JON AND KATE They should give it one more try and have eight more kids. Sixteen is a sensible number for them, I think.
LEVI JOHNSTON Mark my words: He'll be on a reality show by next year. He's sitting in his igloo right now mulling over his options.
>• He may play an undercover cop on the new TNT drama, but the Practice actor, 47, is happiest in his everyday role as dad to Colette, 13, and Charlotte, 3.
WHAT'S IT LIKE PLAYING A COP? It's a lot of fun. You kick in doors and you've got a gun and handcuffs. That iconic male saving the day is so imprinted in our culture that when I'm that guy, it's such a high.
HOW DO YOU BALANCE WORK WITH BEING A DAD? I try to let this all go on weekends with the girls and just be with them. [We] go to the park, watch SpongeBob.
WHAT DO THEY THINK OF THE SHOW? [Charlotte] calls me the "cop player," and [Colette] hangs out with me on-set. She drives a golf cart around and has the best time.
PLAYING A COP MUST WARD OFF HER POTENTIAL DATES That's why I took the role!
DATING IN THE DARK
Advertisement
Today's Photos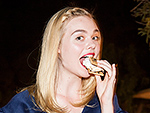 Treat Yourself! 4 Preview Issues
The most buzzed about stars this minute!