People Top 5
LAST UPDATE: Tuesday February 10, 2015 01:10PM EST
PEOPLE Top 5 are the most-viewed stories on the site over the past three days, updated every 60 minutes
Picks and Pans Main: TV
More to Love's Luke Conley Meet the Bigger Bachelor
NBC, Tuesdays and Wednesdays, 9 p.m. ET/PT |




REALITY
A few months ago Susan Boyle didn't exist, at least not beyond a world defined by her town and her cat. Now the Britain's Got Talent runner-up is a global star and—despite her troubles and a performing repertoire of two songs—her eccentric yet electric gift has changed the stakes of the show's likable, low-key U.S. version. Previous winners included a ventriloquist and a tenor, but never a Susan Boyle. Could this be the year?
The audition rounds have teased the audience with the possibility: One notably frumpy lady opened her mouth wide, only to emit monkey sounds. An animal impersonator! The big emotional wallop in the first week was delivered by a gospel trio called the Voices of Glory, kids who'd begun singing to wake their mother from a coma. Sharon Osbourne wept. The audience, though, may be in the mood for talent that actually rattles the soul. The guy with the novelty song about having a crush on David Hasselhoff won't do.
ABC Family, July 7, 8 p.m. ET |




COMEDY
Based on the 1999 Heath Ledger movie—which was inspired by Shakespeare's Taming of the Shrew—10 Things is fun and bright and silly, a high-school sitcom ideal for summer break. Sisters Kat and Bianca Stratford are temperamentally and physically opposite: Kat (Lindsey Shaw) is dark-haired, politically serious, strongly opinionated and a little intimidating. Bianca (Meaghan Martin) is blonde, petite and socially ambitious, keen to ingratiate herself with the head cheerleader. (Dressing for school, Bianca asks Kat, "How do I look?" "Shallow." "Thank you!") By the end of the first episode, both girls are embarking on fresh directions they hadn't anticipated. Kat is drawn to the school's bad-boy rebel (Ethan Peck, in the Ledger role). Bianca's new adventure, unfortunately for her, involves having to wear a penguin costume.
>1 RUBY REDUX SUN. 7/5 8 P.M. ET STYLE
Reality sweetheart Ruby Gettinger, more than 100 lbs. lighter, again confronts the scale on season 2.
2 FAMILY VACATION TUES. 7/7 8 P.M. ET NBC
Seven families embark on a Great American Road Trip in a new reality show.
3 WAREHOUSE 13 TUES. 7/7 9 P.M. ET SYFY
Series premiere. A top-secret U.S. facility stores mythical objects like Pandora's box.
4 BANZAI! WED. 7/8 9 P.M. ET ABC
It's baaaack: the exuberantly odd competition I Survived a Japanese Game Show.
5 HARPER'S ISLAND SAT. 7/11 9 P.M. ET CBS
Two-hour finale of the underrated, blood-sloshed slasher epic starring Elaine Cassidy.
>• She won an Oscar at age 11 for The Piano. Now the New Zealand native and X-Men actress, 26, plays a mortal in love with a vampire on HBO's True Blood.
HOW DO YOU PREPARE FOR YOUR SCANTILY CLAD SCENES? It's amazing how different your body looks with a good spray tan. It's self-esteem in a backwards vacuum. I work out a lot, as anyone facing a job where they're naked would!
WHAT ARE YOUR MEMORIES OF WINNING THE OSCAR? My parents did such a good job making sure I wouldn't be disappointed if I didn't win, no one told me what happens if you do. I thought, "Wow, there's a lot of people expecting me to say something!" I'm not any better at public speaking now than I was then.
WILL SOOKIE TURN INTO A VAMPIRE THIS SEASON? Do you think I would give that away? I'm a fake blonde. Fake!
>The Santa Maria, Calif., real estate investor, 26, looks for Ms. Right on FOX's More to Love, premiering July 28.
WHY DO THE SHOW? They had me at "curvy and voluptuous!" I think most men out there will identify with me; I think a girl who is a size 2 and has had a lot of male attention her entire life may be a little too into herself.
HAVE YOU ALWAYS BEEN ATTRACTED TO BIG WOMEN? It's my experience they know how to have more fun in life. Like I say, if she's got a big behind, she's a friend of mine!
AMERICA'S GOT TALENT
Advertisement
Today's Photos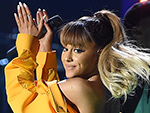 Treat Yourself! 4 Preview Issues
The most buzzed about stars this minute!