People Top 5
LAST UPDATE: Tuesday February 10, 2015 01:10PM EST
PEOPLE Top 5 are the most-viewed stories on the site over the past three days, updated every 60 minutes
Picks and Pans: Music
Catching Up with ... Charlie Robison
BLACKsummers'night |




CRITIC'S CHOICE
R&B
What the hell have people been making love to since Maxwell has been away? Indeed, BLACKsummers'night—the neo-soul star's first album since 2001's Now—shows that his sensual sounds have been much missed. The first of a trilogy to be followed by 2010's blackSUMMERS'night and 2011's blacksummers'NIGHT, this disc finds Maxwell smoothly picking up where he left off, his moves familiar yet still irresistible. Silky vocals (that toe-curling falsetto intact) and sumptuous arrangements (cue the horns) make this one exquisite listening experience, from the hot, jazzy groove of "Cold" to the angel-soft balladry of "Pretty Wings." The only drawback? With just nine tracks over 37 minutes, you want this night to last a little longer.
Flawz |




POP-ROCK
Caitlin Crosby has appeared on such TV shows as Malcolm in the Middle, That '70s Show and 7th Heaven. But she's better than your average actress turned singer. Her credible pop-rock debut finds Crosby holding her own with the Colbie Caillats of the world. In fact the first single, "Still Have My Heart," has a summery bounce that recalls Caillat's "Bubbly." There are also shades of Pink on tracks like the empowering highlight, "Imperfect Is the New Perfect." On this song and the title tune, Crosby celebrates her flaws, her bluesy rasp adding a layer of earthiness.
Wilco (the album) |




ALT-ROCK
Not to be confused with Wilco (the movie), Wilco (the reality show) or Wilco (the video game), this CD is thankfully not as affected as its title. On the garage-ish title track—yes, it's called "Wilco (the song)"—they even show a sense of humor, offering this solution for your ills: "Wilco will love you, baby." And with breezy ditties like "You Never Know" and "You and I" (featuring Feist), you'll love them right back.
For more information on where to find our Download This picks, go to people.com/downloadthis
>• With Michael Bublé Meets Madison Square Garden, which includes a CD and a DVD that goes behind the scenes of the 2008 concert, the Canadian crooner will have you on a string.
>LMFAO Party Rock
This uncle-nephew duo is all about rocking the party on their debut. But while electro-infused jams like "I'm in Miami Bitch" are frivolous fun, others like "Shots" (featuring Lil Jon) might go down better after a few Jägerbombs.




WILL DAILEY Torrent, Volumes 1 & 2
"I'm gonna win your heart, one attack at a time," promises this soulful singer-songwriter. And he does just that on this album, which combines his 2009 EPs Fashion of Distraction and By the Blue Hills.




KENDEL CARSON Alright Dynamite
There's a sweet ache in the voice of this Canadian singer-fiddler that gives an emotional spark to her second CD. It's a fine alt-country affair that could teach the folks in Nashville a thing or two.




EUGENE MCGUINNESS Eugene McGuinness
On a highlight of his smashing debut album, this British troubadour sings that "Those Old Black and White Movies Were True." And with his lilting croon and nostalgic pop, he works old-school charms.




>• The country singer, 44, whose nine-year marriage to Dixie Chick Emily Robison ended last year, channeled his heartache—and healing—into
Beautiful Day
.
ON THE DIVORCE The first five years of marriage, it was unicorns and butterflies. Then we both really started touring. It was hard because the kids [Gus, 6, and Julianna and Henry, both 4] need to be with their mom at that age, so I had to fly to where they were. It was exhausting, emotionally and physically. It snowballed. Nobody's fault.
ON KEEPING IT AMICABLE We used the same lawyer. We basically flipped a coin as to who was going to file. There's no custody agreement. Emily lives about 10 minutes away from me [in San Antonio, Texas]. We spend more time together now.
ON WHAT HIS EX THINKS OF HIS DIVORCE SONGS She was like, "Hey, you're a songwriter. This is what you do." If I had been married to a teacher or a nurse, I don't think she would have liked it.
An Aural Aphrodisiac
Advertisement
Today's Photos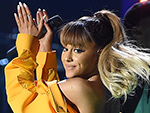 Treat Yourself! 4 Preview Issues
The most buzzed about stars this minute!