People Top 5
LAST UPDATE: Tuesday February 10, 2015 01:10PM EST
PEOPLE Top 5 are the most-viewed stories on the site over the past three days, updated every 60 minutes
Picks and Pans: Books
Star Picks
by Elizabeth Adler |




REVIEWED BY CLARISSA CRUZ
NOVEL
The murder-mystery plot in Adler's 23rd confection is secondary to the descriptions of scrumptious food consumed, lush scenery observed and designer clothing worn by the moneyed set gallivanting through high-season St. Tropez. TV star and private investigator Mac Reilly and his gorgeous girlfriend Sunny Alvarez's plans for a romantic vacation go awry when the villa they reserved turns out to have been rented to several other travelers. The unlikely group—which includes a wealthy Texan and his awkward daughter, a workaholic Manhattan trader and a sexy blonde on the run from her shady husband—band together, and they're soon pulled into a complicated mystery that involves ... well, it doesn't really matter, does it? It all goes down as easily—and deliciously—as an ice-cold bottle of French rosé.
by Holly Robinson |




REVIEWED BY LISA KAY GREISSINGER
MEMOIR
Every family has its secrets. Holly Robinson's happens to be that her Navy officer dad raised gerbils in the garage as a money maker. "Some men have golf, others ... gerbils," Robinson writes in this laugh-out-loud look at a fairly odd family. (Gerbils weren't the half of it—Robinson says her parents got peace and quiet at cocktail hour on the family boat by dropping their life-jacketed offspring overboard.) An affectionate tale of domestic life and the frustrations that come with belonging.
James W. Fuerst |




REVIEWED BY JONATHAN DURBIN
NOVEL
Fuerst's debut is a hugely entertaining novel about aspiring private eye Eugene "Huge" Smalls, the smallest, smartest kid in his sixth-grade class. When his grandma retains his services to discover who painted a slur on her retirement home's sign, Huge plunges into a web of junior-high deceit, quoting Thoreau and swearing a blue streak as he investigates the jocks, stoners and wastrels of his New Jersey town. Juxtaposing Huge's preteen angst with his passion for detective work, Fuerst has created a winning protagonist (who needs to have his mouth washed out with soap).
by Elin Hilderbrand |




REVIEWED BY JOANNA POWELL
NOVEL
The self-declared "Castaways" of this juicy novel bear little resemblance to Lost-style shipwreck victims—they're Nantucket couples who live in cozy houses, eat lobster rolls and travel the world together. But the group's intertwined lives are capsized when one pair dies in a sailing accident on their wedding anniversary. As the survivors grieve, truths emerge about drug use, steamy affairs and the dead husband's scandalous dalliance with an underage student. While the mystery surrounding the drownings feels strained at times, Hilderbrand captivates with a racy narrative, topical references and characters who are both familiar and memorable.
>You'll find Adler's signature blend of romance, mystery and exotic locale in both One of Those Malibu Nights (St. Tropez's prequel) and Meet Me in Venice.
>NEW IN PAPERBACK
GOSSIP OF THE STARLINGS by Nina de Gramont
Last year's spellbinding gem of a novel about prep-school girls living dangerously. Don't miss it.
THE KIND ONE by Tom Epperson
A dark thriller set in the criminal underworld of 1930s Los Angeles. Casey Affleck is set to star in the upcoming film.
BREATH by Tim Winton
A paramedic looks back on his youthful infatuation with high-risk surfing. Lyrical fiction with action aplenty.
>• A lovable bad boy, a dog who's just right, men on the moon—and more.
HORRID HENRY by Francesca Simon
"Henry was horrid.... Even his teddy bear, Mr. Kill, avoided him when possible." The first in a droll UK series for early readers. (Ages 7-10)
WHEN YOU REACH ME by Rebecca Stead
Sixth grader Miranda's getting notes suggesting someone knows her future. Absorbing. (YA)
MOONSHOT by Brian Floca
Clearly written and gorgeously illustrated, it's perfect for helping little ones understand what happened in space 40 years ago this month. (Ages 4-8)
HIGHER! HIGHER! by Leslie Patricelli
This nearly wordless picture book follows the ever-lengthening trajectory of a thrill-seeking girl on a playground swing. The delight is palpable. (Baby-Preschool)
FINDING SUSIE by Sandra Day O'Connor
Proving she has many talents, the former Supreme Court Justice offers up a sweet autobiographical tale about a girl's search for the right pet. (The bobcat didn't work out so well.) (Ages 4-8)
>WHAT THEY'RE READING THIS SUMMER
"An amazing book called The 7 Habits of Highly Effective People. It helps me with procrastination. My mom said 'You've gotta read this book,' because I've always been a procrastinator. And you want to know a little secret? I got the teen edition, because it's way better to read." —LANCE BASS
"Right now I'm reading Steven Gaines's Fool's Paradise and Jay McInerney's short stories. They're both neighbors of mine. So far, so good. They're both great writers." —CHRISTIE BRINKLEY
"A really good book called The Elegance of the Hedgehog by a French woman named Muriel Barbery. It's not even on Kindle—I had to buy the book." —MARTHA STEWART
"Anna Karenina by Tolstoy. It's a real process but I'm enjoying just having one big book I can keep coming back to." —ALEXA RAY JOEL
THERE'S SOMETHING ABOUT ST. TROPEZ
Advertisement
Today's Photos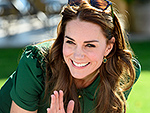 Treat Yourself! 4 Preview Issues
The most buzzed about stars this minute!