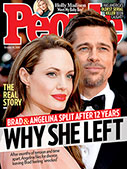 This Week's Issue!
People Top 5
LAST UPDATE: Tuesday February 10, 2015 01:10PM EST
PEOPLE Top 5 are the most-viewed stories on the site over the past three days, updated every 60 minutes
Picks and Pans: Books
Selena Gomez's Summer Reading Tips
by Linda Castillo |




REVIEWED BY ELLEN SHAPIRO
THRILLER
Grisly killings in bucolic locales are a dime-a-dozen in the thriller world, but when a "gun-toting, cursing, former Amish female chief of police" is on the case, things get interesting fast. Kate Burkholder abandoned her Amish upbringing in Painters Mill, Ohio, after a childhood trauma. When her mother falls ill years later, Kate leaves her big-city cop job and becomes Painters Mill's police chief, a post that entails mostly collaring drunks and wayward cows, until a woman is killed in the brutal manner of the unsolved "Slaughterhouse Murders" that terrorized the town 16 years earlier. Knowing it can't be the same killer—but unable to share her knowledge without jeopardizing her family as well as her career—Kate agonizes while the body count climbs. Romance novelist Castillo, who grew up near Amish country, convincingly switches gears with this debut thriller, balancing chilling suspense and a nuanced portrait of the English-Amish divide. Starring a tough, complicated cop who speaks Pennsylvania Dutch as smoothly as she downs a vodka, Silence is the opening salvo in what promises to be a gripping series.
by Frances Osborne |




REVIEWED BY MICHELLE GREEN
BIOGRAPHY
When the author was 13, the book White Mischief—about decadent pre-WWII settlers in Kenya—told her what her parents never had: her great-grandmother Idina Sackville was a serial divorcer who left her sons in England to become the "high priestess" of the scandalous "Happy Valley Set." Here Osborne mines family secrets to bring Idina to life. Intoxicating.
by Jean Thompson |




REVIEWED BY KIM HUBBARD
STORIES
Who doesn't like to curl up with a good... story collection? Not so much. You can't lose yourself in the plot, and switching characters every 20 pages can feel like speed dating. In skilled hands, though—and Thompson's are—the shocks of recognition short fiction can provide are pleasure enough. "I felt so bad for him, my handsome husband," says a wife of her laid-off spouse, "the way you might...for a golden retriever with a hurt paw." Or this, from a professor: "How to make them love the thing he loved? So much of teaching came down to just that." Living lives that haven't turned out as planned, Thompson's characters feel trapped and voiceless, like the commuter in "Smash": "You zip along in your enclosed space...and the world outside is like wallpaper..." An accident cuts the fog, though, and he lies in the hospital, oddly renewed. "I was paying complete attention," he says. You will too.
by Edmund L. Andrews |




REVIEWED BY RICHARD EISENBERG
NON-FICTION
How could he? That's what you'll wonder as New York Times economics reporter Andrews confesses his own financial crisis. Covering the subprime meltdown didn't stop him from making "the biggest gamble of my life" by taking out a Don't Ask, Don't Tell mortgage on a $460,000 house in '04. The house wins this bet, as Andrews and his wife face foreclosure, spiraling debt and a strained marriage. While telling his tale, Andrews offers a clear explanation of how the nation wound up in similar straits. With luck, he and we will come out okay.
>IT'S THRILLER SEASON! CRACK OPEN THESE THREE
KILLER SUMMER by Ridley Pearson Million-dollar wine from Thomas Jefferson's day sets off the action in Pearson's diverting latest.
THE NEIGHBOR by Lisa Gardner The handsome husband's the suspect in a missing-young-mother case, and detective D.D. Warren finds herself falling for him.
KNOCK OUT by Catherine Coulter FBI agents Savich and Sherlock get a call for help from a 7-year-old girl who contacts them telepathically. Spooky.
>• Updated to include Obama's Bo, First Dogs by Roy Rowan and Brooke Janis takes a look at presidents' pups. As Calvin Coolidge once said, "Any man who does not like dogs . . . does not deserve to be in the White House."
LBJ AND YUKI President Johnson (with grandson Patrick) claimed his beloved mutt "spoke with a Texas accent."
ABE LINCOLN'S FIDO The yellowish-brown mongrel was the first presidential canine ever photographed.
>"I'm reading The Art of War [by Sun Tzu], but that's a bit serious. I tell kids to read the Ramona books by Beverly Cleary"
SWORN TO SILENCE
Advertisement
Treat Yourself! 4 Preview Issues
The most buzzed about stars this minute!