People Top 5
LAST UPDATE: Tuesday February 10, 2015 01:10PM EST
PEOPLE Top 5 are the most-viewed stories on the site over the past three days, updated every 60 minutes
Picks and Pans Main: TV
Marissa Jaret Winokur
HBO, June 28, 10 p.m. ET |




NEW SERIES!
COMEDY
The title, referring to the below-the-belt endowment of the show's hero, is a bit of a come-on. This is not tele-Viagra. Hung, set outside Detroit, is more like American Gigolo retooled for our glum recession. Ray Drecker (Thomas Jane) is a high-school teacher stranded in middle age. His credit is shot, his ex (Anne Heche) has married a rich dermatologist, and his uninsured house burns down, forcing him to live in a tent. Ray's one marketable skill is his prowess in the sack. He edges into a sideline as escort, managed by one of the strangest pimps in history: a failed poet, Tanya (Jane Adams), who believes in his "talent" (she's slept with him) and promotes him in a town where business is dying but women will pay cash for quick happiness. Jane (The Punisher) plays Ray with a powerful mix of bruised ego, baffled humor and sexual charisma. His easy rapport with the flutey, odd Adams, though, is the show's core. They turn Hung into an unexpected buddy comedy.
Showtime, Mondays, 10 p.m. ET/PT |




HOW'S SEASON 5?
COMEDY
Weeds is a rare example of a show that has reinvented itself and actually come out better. What began as a clever but pat satire about a pot-dealing suburban mom (Mary-Louise Parker) is now closer to a Pedro Almodóvar movie: a delirious, always-surprising soap opera about a woman on the verge of a breakdown, jail time, assassination and motherhood. Nancy, pregnant by a suave but not-at-all-nice drug lord (Demián Bichir), can't decide whether the baby will ever be safe in this ratty milieu of guns, Mexican henchmen and physical threats. She's both headstrong and emotionally compromised, calculating yet trapped—but what'll she do? "These are very dark waters you're swimming in," her brother-in-law (Justin Kirk) tells her, "even for you." Parker stays afloat with a performance that's a beautiful piece of work, passionate yet deadpan. How has she not won an Emmy for this show?
NBC, Sundays, 8 p.m. ET/PT |




NEW SERIES!
FANTASY
Grafting Harry Potter onto Arthurian legend, this lightweight but entertaining British import follows the adventures of young Merlin (Colin Morgan) as he learns to harness his magical powers. There's also a teen Arthur (Bradley James), a strapping, arrogant jerk who doesn't seem to have the dignity or intelligence to be king of the prom court, let alone England. Morgan, a thin, pale whelp, is geekier than he needs to be—more Harry P., please, less Ollie Twist—but the special effects are fun and imaginative. I liked the toxic snakes that emerge from a knight's enchanted shield, and the dragon in the castle basement.
>1 BET AWARDS Sun. 6/28, 8 P.M. ET BET
Jamie Foxx hosts a night that includes performances from Beyoncé, Maxwell and Ne-Yo.
2 MOM JACKIE MON. 6/29, 10:30 P.M. ET SHOWTIME Oooh! See Edie Falco blow up during a parent-teacher meeting on Nurse Jackie.
3 WEIRD SCIENCE TUES. 6/30, 9:30 P.M. ET ABC A toxic spill mucks up the office space on Portia de Rossi's offbeat sitcom Better Off Ted.
4 RESCUE ME TUES. 6/30, 10 P.M. ET FX Tommy Gavin (Denis Leary) is the firehouse stoic after an accident—at least on the surface.
5 TINY TERRORS WED. 7/1, 9 P.M. ET ANIMAL PLANET Nasty parasites are at work on the premiere of Monsters Inside Me. And what a cute title!
>1 THE COMMENTARY ESPN's John Anderson and former Talk Soup host John Henson dish a hilarious mix of sports talk—they use a telestrator to point out obvious fumbles—and clever quips as contestants tackle crazy obstacles for $50K.
2 THE RETRO FACTOR The ABC show takes me back to my childhood viewing: Double Dare and America's Funniest Home Videos. It's good, clean (well, muddy) summertime fun.
3 PRATFALLS ARE FUNNY! It may be lowbrow, but I'm not apologizing for it. If you willingly traverse a giant, spinning shish kebab, you deserve what you get . . . and I will laugh my un-bruised butt off at you.
>THE BREAK SHE'S BEEN WAITING FOR
• The Frasier alum, 48, is a mom on ABC Family's Make It or Break It.
WHAT DREW YOU TO THE SHOW? It's so empowering for young girls. The kids sound real and strong, not sugary sweet.
HOW'S LIFE WITH YOUR TWIN GIRLS AVA AND STELLA? They just turned 5. Isn't that insane? We all woke up in bed together this morning—we talk and relive the night. I love it!
STILL KEEP IN TOUCH WITH YOUR FRASIER BUDS? Oh yeah. We always go to each other's kids' birthdays.
>BACK ON THE DANCE FLOOR
• The Dancing with the Stars alum, 36, hosts Oxygen's new weight-loss reality show Dance Your Ass Off.
HOW DID YOU LIKE HOSTING? It's hard! A host should be impartial and I never was. I can't hide my excitement.
WHY WILL VIEWERS TUNE IN? It's DWTS meets Biggest Loser. People are surprised you can lose so much weight dancing.
WHAT'S YOUR WEIGHT-LOSS GOAL? I put on 25 lbs. since Zev [her son, who turns 1 on July 22] was born. I just want to weigh what I weighed then. I have 10 lbs. to go.
THEN YOU'LL BREAK OUT THE BIKINI? I wear bikinis now. I don't need to look like Valerie Bertinelli to wear a bikini.
HUNG
Advertisement
Today's Photos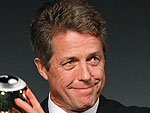 Treat Yourself! 4 Preview Issues
The most buzzed about stars this minute!