People Top 5
LAST UPDATE: Tuesday February 10, 2015 01:10PM EST
PEOPLE Top 5 are the most-viewed stories on the site over the past three days, updated every 60 minutes
Picks and Pans Main: TV
Wizards of Waverly Place's David Henrie Get Your Magic on
Lifetime, Thursdays, 10 p.m. ET/PT |




REALITY
It may be true—to quote supermodel and sage
Heidi Klum
—that one day you're in, the next you're out, but Project Runway's comeback wound up taking almost a year. Since season 5's finale, the Runway buzz has been less about fashion than entertainment law: The move from Bravo to Lifetime threw the whole thing temporarily into the courts. Now relocated to Los Angeles (with a new, franchise-building spinoff, Models of the Runway, airing right after it), the show isn't noticeably different from, well, last year's model. Tim Gunn remains one of the few great achievements of reality programming: a combination of mentor, valet and saint who's able to slip in gently pointed little critiques like, "I'm worried this is going to look like a halter diaper."
The first night's challenge was to create a red carpet gown in two days for $200, and the result was wall-to-wall bad taste. But that's the fun of the runway.
CBS, Sundays, 9 p.m. ET/PT |




REALITY
Prediction: In the near future, every American will have agreed to become a reality-show guinea pig in exchange for a shot at a lucrative prize. Here, eight Atlanta families are cut off from the world by a 20-ft.-tall fence and thrown into competition for $250,000. It's like Everybody Loves Raymond meets Survivor. At least Neighborhood is livelier than the new reality show opposite it on ABC, Shark Tank, an exercise in entrepreneurial fulfillment with all the palpable thrill of Monopoly money.
Discovery, Aug. 24, 9 p.m. ET/PT |




HISTORY
You may have glimpsed Kara Cooney's work last season on Lost: This Egyptologist was consulted about the hieroglyphics in that temple where Smoke Thing hangs out. In this entertaining documentary series, she hits an impressive number of sites worldwide, following the thread of cultural influences born in ancient Egypt. The first episode, on relics, includes a visit to an animal necropolis and offers the tidbit that medieval Europeans would grind up imported mummies and ingest the compound as medicine. Waste of bandages.
>1 MISS UNIVERSE SUN., 8/23, 9 P.M. NBC
Chiefly of interest—to me, anyway? Reality nightmare/chanteuse Heidi Pratt performs.
2 HUNG OUT TO DRY SUN, 8/23, 10 P.M. HBO
Male escort Ray (Thomas Jane) finds himself needing romantic advice.
3 HOARDERS MON., 8/24, 10 P.M. A&E
Sad, troubling documentary series about people trapped by a compulsive need to hold on to everything.
4 THE RACHEL ZOE PROJECT MON., 8/24, 10 P.M. BRAVO
New season following the adventures of the Hollywood stylist.
5 ROYAL PAINS THURS., 8/27, 10 P.M. USA
Season finale. Our handsome Hamptons doctor (Mark Feuerstein) treats a hallucinatin' lady.
>NBC's chief legal analyst, 43, has just launched GossipCop.com with journalist Michael Lewittes to police the world of gossip.
WHY GOSSIP COP? There's a real need for accountability. More and more people try to be outrageous rather than accurate.
WHO IS THE VICTIM OF THE MOST FALSE GOSSIP?
Jennifer Aniston
is a constant target. And
Madonna
. It tends to be women more often than men.
ANYTHING FALSE EVER WRITTEN ABOUT YOU? There was definitely an erroneous story about my dating life. It was all made-up. But look, I have pretty thick skin.
>• The chef, 67, has cause to celebrate. She stars in America's longest-running continuous cooking show.
THE SECRET TO SUCCESS I keep the show fresh, real and doable. I want to have fun but I want to teach too.
HER FAN CLUB I get e-mails saying, "Will you marry me?" I put them on the refrigerator and say to my husband, "Just step out of line, buddy, and you'll see. I can walk anytime!"
20TH-ANNIVERSARY PRESENT I have a new kitchen. I told Emeril [Lagasse], "You may have a band, but you don't have a kitchen like this!" The best thing is the sink is in the front, so there are no more butt shots.
>• Showtime's superb comedy-drama ends season 1 Aug. 24. Playing a tough, bleary, pill-popping nurse, Edie Falco (right) was flawless. So was Eve Best as a doc with a refined sense of both fashion and irony.
>• Henrie, 20, sets aside sibling rivalry in the Aug. 28 Disney Channel movie.
ON HIS AND SELENA GOMEZ'S CHARACTERS GETTING ALONG The message is that no matter what, family is there for you, and it is portrayed really well in the movie.
ON FILMING IN PUERTO RICO It was warm weather, warm ocean. The people are proud of their country, so they want you to eat all of their food. I love to eat, so I did that, and I took windsurfing lessons.
ON HIS INTERNATIONAL FAN BASE I went to Italy last year and hung out with my cousins. Kids recognized me and came up to me speaking Italian. That is insane! But it's the same reaction as you get here.
PROJECT RUNWAY
Advertisement
Today's Photos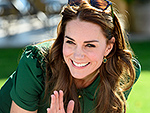 Treat Yourself! 4 Preview Issues
The most buzzed about stars this minute!