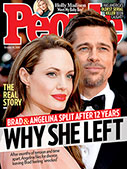 This Week's Issue!
People Top 5
LAST UPDATE: Tuesday February 10, 2015 01:10PM EST
PEOPLE Top 5 are the most-viewed stories on the site over the past three days, updated every 60 minutes
Picks and Pans: Books
Terry Mcmillan Remembers E. Lynn Harris
by Richard Russo |




REVIEWED BY ANDREW ABRAHAMS
People PICK
FICTION
Loyal Russo readers will recognize the middle-age angst and tangled family ties. But the Empire Falls author's new novel is his most intimate yet: an astute portrait of a 30-year marriage, in all its promise and pain. As Jack Griffin heads to Cape Cod for the wedding of his daughter's friend, he brings along his father's ashes to scatter at one of his family's beloved vacation spots. The trip launches Griffin, a professor and screenwriter, on an inward journey back through his lonely years growing up with college prof parents who were both insufferable snobs. (Of his best boyhood friend's mom and dad, his mother once sniffed, "They teach junior high.") Like his parents' union, Griffin's marriage to Joy, a college admissions officer, slowly disintegrates, their common goals straining under the weight of polar-opposite upbringings. When his overbearing mother dies, Griffin decides to dump her ashes too on the Cape, her pretentious voice a spectral presence he can't shake—like the lingering resentment he felt toward both parents. Russo has skewered academic types before, in his hilarious novel Straight Man. But his honest, heartfelt storytelling—like a cooling breeze off a certain New England shoreline—has never felt fresher.
by Meg Rosoff |




REVIEWED BY SUE CORBETT
NOVEL
Displaying her range, Rosoff (How I Live Now) reaches into British history for this tragic story of love and loss among the Victorian-era working class. Knowing that marriage to a kind neighbor will mean drudgery, Pell Ridley flees the day she is to wed. Accompanied only by her horse and the young brother who begged to go along, she suffers mightily for her choice: For starters, traveling without a man ruins her reputation. The book's tension derives from wondering what fresh horrors will befall Pell, who needs all her fierce will to stay alive and right the wrongs her furtive flight set in motion. An absorbing treat.
by Joyce Maynard |




REVIEWED BY ANNE LESLIE
NOVEL
When 13-year-old Henry and his divorced, heartbroken mother meet an escaped convict at a Pricemart, everything changes. Their story is moving and fast-moving, affirming Maynard's reputation as a master storyteller and showing her to be a passionate humanist with a gifted ear and heart. To love and then to lose love; to trust and to have trust broken; to lurch from childhood to maturity and then, if we are lucky, to find love again—Maynard illuminates the human experience. "Where did freedom get you when you thought about it?" reflects Henry. Far better to be a prisoner of love.
by Bich Minh Nguyen |




NOVEL
Born to Vietnamese immigrants, Midwesterners Van and Linny Luong will always be "short girls," their father notes sadly; they'd never be quite like the characters in American sitcoms. Van becomes a lawyer, but Linny drifts, working as a cook and toying with a married man. As their lives unfold, definitions of success turn upside down. Nguyen's debut novel is a poignant look at immigrants and their children finding their identity as Americans.
>NEW IN PAPERBACK
SAY YOU'RE ONE OF THEM by Uwem Akpan Child's-eye stories of Africa in turmoil—as stark, unsettling and eerily beautiful as the photograph on the cover.
A MERCY by Toni Morrison As she did in Beloved two decades earlier, Morrison brings slavery's grim realities to life. Transporting.
WESLEY THE OWL by Stacey O'Brien A biologist chronicles her 19-year relationship with a handsome, uncannily communicative pet barn owl.
>• Craving Popeyes Cajun Rice? Burritos from Taco Bell? With Ron Douglas's hot new cookbook, you can make imitations—and he swears you'll find they're dead-on.
YOU WERE A FINANCE MANAGER—HOW DID YOU GET STARTED ON THIS? My wife and I wanted to go to KFC one day, but it was raining, so she challenged me to find the recipe myself. I ended up starting my Web site RecipeSecrets.net.
WHERE DO YOU FIND THE RECIPES? It's trial and error. You can get a good idea of what's in a dish just by tasting and smelling. Plus my wife has allergies, so I asked about ingredients in restaurants. I didn't say I was going to try it at home!
DO YOU DO IT ALL YOURSELF? I hired a couple of chefs. My wife helps; we argue over whose versions are better. Then I post results and get a lot of feedback. It's a group effort.
ANY LUCK WITH KFC? Eleven herbs and spices! It's the hardest one. My sixth try is in the book; I think I have it down pat. KFC put out a statement saying no one knows the secret, but lots of people can't tell the difference.
>Harris, who died on July 24 at 54, illuminated the black gay experience in bestsellers like Invisible Life. Says author McMillan of her friend: "He was brave—to portray black men and their issues on paper. It opened my eyes. He had millions of fans—a lot of people identified. I used to say, 'E. Lynn, you live once—live the way you want to.' He knew the best spots, best wines. Sometimes our food would get cold because we'd be running our mouths and laughing. I hope he's up there partying. He will be dearly missed."
THAT OLD CAPE MAGIC
Advertisement
Treat Yourself! 4 Preview Issues
The most buzzed about stars this minute!