People Top 5
LAST UPDATE: Tuesday February 10, 2015 01:10PM EST
PEOPLE Top 5 are the most-viewed stories on the site over the past three days, updated every 60 minutes
Letterman Sex Scandal 'I'm Terribly Sorry'
In a Startling Confession, David Letterman Admits He Had Affairs with Female Staffers. Inside the Reclusive Late Show Host's Secret World—and the Alleged $2 Million Blackmail Plot Against Him
Late Show
host delivered a candid apology that followed his stunning Oct. 1 admission that he had been sexually involved with female staffers on his show. "I'm terribly sorry," he said, adding that his wife, Regina Lasko, "has been horribly hurt by my behavior, and when something happens like that ... you try to fix it.... So let me tell you folks: I got my work cut out for me."
The mea culpa capped an intensely tumultuous, painfully public few days for a man who has fiercely guarded his privacy for years. But even as Letterman, 62, resumed his usual routine, the scandal surrounding his confession and the arrest of longtime CBS News producer Robert "Joe" Halderman—he is accused of trying to extort $2 million in exchange for keeping quiet about Letterman's sexual dalliances—has baffled the closest friends and colleagues of both men. On Oct. 2 Halderman pleaded not guilty to attempted grand larceny; a court date has been set for Nov. 10. "I am mystified. [Halderman] was always a solid character," says former CBS anchor Dan Rather, who worked with him on the CBS newsmagazine 48 Hours. As for Letterman, says Rather, "David is a stand-up guy."
Now the two are caught in a web of intrigue that centers on Letterman's former assistant—and Halderman's ex-girlfriend—Stephanie Birkitt, 34. A source says Birkitt had an affair with Letterman while she was living with Halderman, whom she started dating in 2004. Letterman has been in a relationship with Lasko, 48, for 23 years and the couple have a 5-year-old son, Harry. Prosecutors have said that on Sept. 9 Halderman, 52, left a package in Letterman's car that, according to a search warrant affidavit, contained parts of a diary and correspondence belonging to Birkitt. Halderman allegedly told the talk show host he wanted to sell him a screenplay and threatened that Letterman's "world was about to collapse around him." Letterman then called his attorney, who tipped off the D.A., leading to Halderman's arrest on Oct. 1 after he allegedly tried to cash a counterfeit $2 million check provided by Letterman's lawyer. (He has been released on $200,000 bail.) But Halderman's attorney Gerald Shargel says the situation is not so simple: "The prosecutor described it as an open-and-shut case, and I want to be clear: It's not an open-and-shut case at all. I'm going to try the case in the courtroom." (Birkitt has not responded to PEOPLE's requests for comment.)
Famed for cultivating an image of Midwestern squareness, Letterman now finds his personal life under the microscope. A workaholic who maintains homes in Montana (where he married Lasko in March), tiny North Salem, N.Y., and Manhattan, Letterman spends the bulk of his time at the Ed Sullivan Theater, putting in 15-hour days on the
Late Show
. And while his self-effacing manner charms guests such as
Julia Roberts
and
Madonna
, behind the scenes he never socializes with his high-profile visitors and speaks only to trusted staffers. "There is a big disconnect between the man off-camera and on," says a
Late Show
regular. "He loves to flirt with female guests, but off-camera he can be very uncomfortable around women—especially attractive ones. Like a lot of comedians, you get the sense he's not the happiest guy." Although the host has shared about his past struggle with alcohol and his '00 quintuple bypass with the public, he is exceedingly guarded. "Even among his own employees," says a former staffer, "he's a profound recluse."
Letterman's inner circle has long included a cadre of women—from interns to higher-ranking staffers. Insiders say it's no secret that some of those friendships have been romantic (see box). Drawn to "educated, funny and smart girls," according to a former
Late Show
page, "he was never after model types." Another former staffer says that Letterman carried on a relationship with a female employee—not an intern—in the late '90s. "It wasn't a big deal, because he wasn't married," says the staffer. "We heard he had a girlfriend [Lasko], but she never came around. He wasn't considered a sex symbol. In fact, off the air he came across a lot older than he was." The source adds that Letterman "never acted inappropriately" with female coworkers. Contrary to reports, Letterman did not personally pay Birkitt's law school tuition, says a
Late Show
source—she received an employee tuition loan and paid it back. And rumors that Letterman kept a secret bedroom at the theater are "totally false," says another ex-staffer. "I never saw that."
Letterman had reason to be protective of his privacy: In '98 Margaret Mary Ray, a diagnosed schizophrenic, killed herself after doing prison time for stalking him, and in '05 a house painter was charged with plotting to kidnap Harry. "His celebrity is more acute than others," says a former employee. "It was a daily occurrence that people would think they knew him personally and write him to say, 'Why don't you call me back?'"
To those he lets get close—many of whom have worked for him for years—Letterman is deeply loyal. "He's the kind of fellow who would want to help you if you were in a jam," says comic Jeff Altman, adding that Letterman has spoken privately of his devotion to his wife and son. The ones who know him best say that he will do everything possible to put his personal life back in order. "There's an inner compass to that guy," says a source who has known Letterman for 10 years, "that steers him in the right direction in moments like this."
GET THE LATEST ON LETTERMAN People.com
Contributors:
David Caplan/New York City,
Diane Clehane/New York City,
Kathy Ehrich Dowd/New York City,
Liz McNeil/New York City,
Lesley Messer/New York City,
Howard Breuer/Los Angeles,
Linda Marx/Miami.
Advertisement
Today's Photos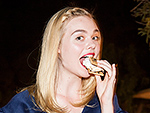 Treat Yourself! 4 Preview Issues
The most buzzed about stars this minute!