People Top 5
LAST UPDATE: Tuesday February 10, 2015 01:10PM EST
PEOPLE Top 5 are the most-viewed stories on the site over the past three days, updated every 60 minutes
Jesse Metcalfe Back from the Brink
After Partying Put His Career in Jeopardy, the Actor Got Control of His Life—and a Second Chance on Desperate Housewives
Eva Longoria
's lust on ABC's
Desperate Housewives
. But this spree had been extreme even for him as he bounced from club to club, at one point being forcibly removed from a hotel. And this time his mother was staying at his house.
"When I finally made my way back home, I saw the look in my mother's eyes," says Metcalfe, now 30. "My self-destructive behavior was really hurting her. I said, 'I need to face the demons that are driving this.' I had to do something strong to show my mother that I was going to make a major change."
It was a huge realization for Metcalfe, whose reputation for partying had begun to derail his acting career. A few days later, he checked into a rehab facility for a month-long stay to address his alcohol abuse. "I thought I was in control until the moment when I realized 'I'm not in control of this,'" he says. Since then, he's been fighting to regain control of his life—and rebuild his career. He starred with Michael Douglas in last month's thriller
Beyond a Reasonable Doubt
, and starting Oct. 11 he'll return to
Housewives
for two episodes, with his character now a 28-year-old divorcé. "He's not the naive youth he once was," says Metcalfe.
Metcalfe's personal struggles didn't spill over into his former workplace. "I've heard rumors of this bad-boy behavior of Jesse's, but I have never seen it myself," says
Housewives
creator Marc Cherry. "The truth is, he was a perfect gentleman when he did our show in the beginning. I see a maturity now in terms of his persona and his skill, but he's the same delightful Jesse." Metcalfe relished the opportunity to be around old friends again. "Working with Jesse again brought back great memories," says
Eva Longoria
Parker. "Jesse and I went through a lot together during that first year, and those kind of experiences bond you for life."
It was after that 2004 first season, as his character began appearing less often, that Metcalfe "had too much time on my hands," he says. He hit the nightlife scene hard, getting paid up to $100,000 to host parties, downing "straight vodka on the rocks" while privately worrying about a career stall and blogs questioning his sexuality (he's straight) and mocking him for gaining weight on his famously buff body (he says he gained no more than 10 lbs.). Because of those Internet reports, "I had casting directors going, 'He looks a little puffy,'" says Metcalfe. "It was a very clear example of how bad publicity can keep you away from work."
His emotional turmoil soon boiled over. "I had a lot of rage," he says. Did he turn to more than alcohol? "I've dabbled in other areas. I don't want to get into exactly what I was putting in my body, but I can tell you that I was immersed in the party scene and everything that came with that," says Metcalfe. "I was being excessive."
But Metcalfe hasn't given up alcohol—or the club scene—entirely. He chose not to continue attending AA meetings ("Some people love it," he says, but not him). "I got to the root of why I was doing what I was doing, and I corrected it. I'm healthier," he maintains. "From time to time I choose to enjoy a few drinks with friends or out at dinner, but that's where it ends."
So what about November of last year when he fell off a second-story hotel balcony in Monaco? "It was really just a freak accident," says Metcalfe, who says he was drinking that night but that it didn't have anything to do with the fall. "I went to sit back on this railing and just slipped off. I landed on my feet and I broke my leg. I got lucky." In another eyebrow-raising move, he got a tattoo of his ex-girlfriend, British pop singer Nadine Coyle, naked on his left arm shortly after he left rehab. "If I could get it removed, I would," he says, a bit sheepishly. "At the same time, it's my favorite tattoo. I think it's beautiful, but it was a bit impulsive, a bit impetuous, maybe a bit immature."
Though he never suffered for lack of dates, Metcalfe is now looking for something a bit more serious. "I don't think I'm destined to be the eternal bachelor," he says. "Something tells me that that's not in the cards for me. I don't want to be one of those 40-something guys in L.A. still dating, still going out to clubs and chasing 21-year-olds. It's not a good look." He's also confident that his darkest moments are in his past. Says Metcalfe: "I'm in a really good spot right now."
Contributors:
Mark Dagostino/New York City.
Advertisement
Today's Photos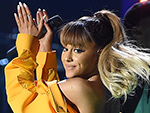 Treat Yourself! 4 Preview Issues
The most buzzed about stars this minute!