People Top 5
LAST UPDATE: Tuesday February 10, 2015 01:10PM EST
PEOPLE Top 5 are the most-viewed stories on the site over the past three days, updated every 60 minutes
Picks and Pans: Movies
The Informant!'s Scott Bakula Takes Another Quantum Leap
Ellen Page, Marcia Gay Harden,
Drew Barrymore
, Kristen Wiig, Juliette Lewis, Daniel Stern, Alia Shawkat | PG-13 |




COMEDY
New Age gurus are always advising acolytes to "Follow your bliss." First-time director
Drew Barrymore
does just that, with enjoyable results, in Whip It, as she follows the adventures of Bliss Cavendar (Page), a 17-year-old who learns to assert herself and finds happiness as the four-wheeling star of an amateur, all-woman roller derby team in Austin, Texas.
This comic, coming-of-age tale, which screenwriter Shauna Cross adapted from her own 2007 novel Derby Girl, breaks no new ground but has a jolly time skating over familiar territory: first love, mother-daughter differences and following a dream. As she did in Juno, Page gives a sassy, heartfelt performance; she is this generation's Molly Ringwald. But Whip It is very much an ensemble effort, with each major cast member getting to shine in a scene or two, particularly Harden, as Bliss's derby-disapproving mom, and Wiig and Lewis as Bliss's teammates, whose noms de derby are, respectively, Maggie Mayhem and Iron Maven. And Barrymore herself has a blast playing Smashley Simpson, an überaggressive fellow teammate who, while quick on her skates, is even faster with her fists.
The Invention of Lying
Ricky Gervais,
Jennifer Garner
, Rob Lowe | PG-13 |




COMEDY
Ricky Gervais needs a better director. The co-creator of the original British version of The Office is a brilliant comic performer and a clever writer, but he does himself no favors with the bland, unimaginative directing style—the cinematic equivalent of brown-paper wrapping—he brings (along with codirector Matthew Robinson) to Lying. And that's a shame because this comedy, about a man (Gervais) who tells the world's first lie and becomes rich and famous spinning even bigger whoppers, brims with intriguing ideas about creativity, storytelling and religion. And Garner is endearingly awkward as his dream gal, plus there are lively turns by Lowe and Tina Fey. I like Lying a lot, but—I'm being honest here—I can't really make a strong case for it.
A Serious Man
Michael Stuhlbarg, Sari Lennick, Richard Kind, Adam Arkin | R |




CRITIC'S CHOICE
COMEDY
To label sibling writer-directors Joel and Ethan Coen's latest distinctive offering—love the skewed camera angles!—a comedy is to say that pain is funny. But it is, as long as it's someone else's. That someone is Larry Gopnik (Stuhlbarg), a physics professor at a midwestern college whose marriage and career are falling apart fast. Man's milieu is suburban, middle-class Jewish, circa 1967, and the humor, also distinctively Jewish, is predicated on the notion that bad things will happen, not sometimes but always. It's oy vey 24/7, but all you can do is laugh.
Zombieland
Woody Harrelson, Abigail Breslin, Jesse Eisenberg, Emma Stone | R |




COMEDY
If you see just one zombie comedy this year, make it Zombieland. (Now that's a sentence I've longed to write my entire career.) A smart, snarky take on battling the undead, this comic horror-thriller pokes fun at pop culture and piles on the gore. The film's dual heroes, a nervous young man (Adventureland's Eisenberg) and a hardened zombie killer (Harrelson), join a pair of con-artist sisters (Stone and Breslin) to journey across the country, now a barren wasteland populated by ravenous zombies. Transcendent bit: a cameo—I won't ruin the surprise—in which a major star merrily plays himself, easily snaring the biggest laughs.
>The Whip It star, 22, rolls on after Juno
ROLLER-SKATE MUCH BEFORE? Never! I ice-skated a little because I grew up in Canada. So I trained my butt off. I'm pretty darn good now!
ANY INJURIES? I got a few bruises. When I jump over two girls, smash into the rails and fall onto the ground, that's really me. I did 99 percent of the stunts.
HOW HAS LIFE CHANGED SINCE YOUR OSCAR NOD FOR JUNO? I've become much more comfortable with myself. I had a really nice time getting dressed up for the [
Whip It
] premiere. That's been a big change because I didn't always feel so good.
>• The Office nice guy, 29, explores Men dating badly
ON HIS PICKUP TECHNIQUE I'd be the guy who'd meet a girl at a bar and get so nervous, I'd pretend to be sick so I could go home. [He's now engaged to British actress Emily Blunt, 26.]
ON TURNING 30 If they don't have a cake for me at The Office, I'll be really bummed.
ON WORKING WITH MERYL STREEP IN THE UPCOMING FILM IT'S COMPLICATED After one take, I asked [her], "Are you really gonna do it that way?"
ON HIS OFFICE WEDDING AND REAL-LIFE ENGAGEMENT It was scary to have a wedding on the show, [but in real life] I'm so excited. There's no way to describe it.
>• The actress, 13, ditches her Little Miss Sunshine sweetness to get tough in the comedy gorefest Zombieland—and spills her secrets on conquering the undead.
1 MAKE TIME FOR TARGET PRACTICE
I had to learn how to shoot a gun. When I met the director, he said, "So let's go to the shooting range!" I was like, "Nobody stand in front of this, please!" My arms were sore for, like, five days afterwards.
2 DON'T LOSE YOUR LUNCH
It was awkward at lunch when it was me and the rest of the cast and 25 bleeding people. Woody [Harrelson] is a vegan, so he would always try to get me to [eat healthier].
3 MAKE A MESS
I had to kick a zombie in the face, and I got blood on my boots! Pretty gross.
>• The '90s sci-fi heartthrob, 55, plays a dorky FBI agent who quizzes
Matt Damon
in the new dark comedy.
HOW WAS LIFE ON-SET?
They laughed at my clothes constantly—bad ties, bad little short-sleeved shirts. Those shirts could stand up on their own. And my hair was known as the "swoop."
STILL RECOGNIZED FOR QUANTUM LEAP?
The Quantum Leap fans are alive and well! I don't have those [crazy] fan stories. My fans are respectful.
DID YOU KNOW YOU HAVE A FACEBOOK GROUP CALLED
"THE MAN, THE GOD"? I started that one. [Laughs] I admit I was the first member of that group.
HAVE TO ASK: WHAT WAS UP WITH YOUR PLAYGIRL '95 COVER?
It was a funny thing to do. I just rolled with it. I was just smart enough to keep my clothes on.
Whip It
Advertisement
Today's Photos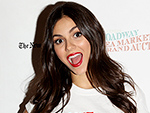 Treat Yourself! 4 Preview Issues
The most buzzed about stars this minute!