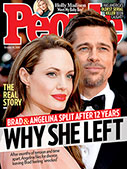 This Week's Issue!
People Top 5
LAST UPDATE: Tuesday February 10, 2015 01:10PM EST
PEOPLE Top 5 are the most-viewed stories on the site over the past three days, updated every 60 minutes
Vanished
The Jaycee Dugard Case Has Called Attention to the Unsolved Mysteries of Hundreds of Missing Children-and Given New Hope to Their Anguished Families


Long after law enforcement teams wind down their searches by foot or helicopter, ATV or horseback, the parents of the missing continue to chase every lead. They post more flyers. Set up Web sites. Rack their brains for overlooked clues. "It creates a kind of suspended animation for these families," says NCMEC president Ernie Allen. "It hovers over everything they do; it's part of their lives every minute."

Last August's miraculous homecoming of Jaycee Dugard after an 18-year disappearance ignited interest in missing children, lighting up the NCMEC's switchboard with leads on long-dormant cases. For the parents of the still-missing, the return of Jaycee was a moment to let optimism crowd out dire imaginings, because the one thing these parents cannot let go of is hope. Every day, says Dawn Drexel, the Rochester, N.Y., mom of missing 17-year-old Brittanee, "I wait for her to walk through the door."

MISSING FOR HER 18TH BIRTHDAY

Brittanee Drexel, 17

LAST SEEN

April 25, 2009

Myrtle Beach, S.C.

Many nights, after tucking in her two younger children, Dawn Drexel sits at her dining room table looking at the baby photos hanging on the wall–and weeps. "You wake up in the morning crying," says Dawn, 37, and "go to bed crying."

One night last April Brittanee, a devoted soccer player in her junior year at Gates Chili High School in Rochester, N.Y., who had headed to spring break hot spot Myrtle Beach, S.C., without Dawn's permission, went to meet pals at the BlueWater Resort–and never returned. After making the 14-hour drive to South Carolina, Dawn spent the next eight weeks combing the resort town for signs of her 5-ft. 103-lb. daughter, who dreamed of becoming a nurse and had been struggling with her parents' recent separation.

These days, every time Dawn catches a whiff of one of the many perfumes Brittanee used to love to spray on, she feels a twinge. "I miss her scent," she says. On Oct. 7 Brittanee's younger siblings Myrissa, 12, and Camdyn, 6, quietly shared a birthday cake to mark their big sister's 18th. "Nobody knows how this feels," Dawn says. "They just don't."

1-800-THE-LOST

A NIGHT OUT GONE AWRY

Morgan Harrington, 20

LAST SEEN

Oct. 17, 2009

Charlottesville, Va.

Morgan Harrington returned for her junior year at Virginia Tech bent on pursuing a career in elementary education. "She was at the top of her game," says her father, Dan, 57. Now that future is on hold. While attending a Metallica concert at the University of Virginia, Morgan left the arena, then called friends on her cell phone: She couldn't gain reentrance and would find a ride home. Witnesses last spotted Morgan around 9:30 p.m. on the Copeley Road bridge; the next morning a passerby found her purse and cell phone. "No girl relinquishes her purse voluntarily," says her mom, Gil, 52. Her parents, while determined to find her, have also vowed to support each other. Says Gil: "We will not allow our life to be totally fractured."

www.findmorgan.com

A VULNERABLE BOY

Adji Desir, 6

LAST SEEN

Jan. 10, 2009

Immokalee, Fla.

It was a late afternoon like any other: Adji Desir played with friends outside his grandmother's house, went in to eat, then came back out to play some more. She checked on him once and all seemed well; she checked again, and he was gone. "We still don't know whether he walked off and got lost," says Sgt. Ken Becker of the Collier County Sheriff's Office, "or whether somebody took him."

The disappearance of Adji, who is developmentally disabled, has devastated his family. Says mom Marie Neida: "I pray every day for his return."

1-800-THE-LOST

A SENSE OF SAFETY, SHATTERED

Lindsey Baum, 10

LAST SEEN

June 26, 2009

McCleary, Wash.

When Melissa Baum moved to rural McCleary two years ago, the divorced mom thought she'd found the perfect safe place to raise Joshua, 13, and Lindsey, 10. Then one night, Lindsey walked with a friend to the pal's house, hoping for a sleepover. When the girl's mother said no, Lindsey began the 10-block walk home alone. Fifty minutes after the time she was due back, Melissa phoned the town police, who launched a door-to-door search. The next day, the regional FBI office and the Grays Harbor County Sheriff's office joined in. "We've investigated thousands of tips," says Undersheriff Rick Scott. "To date we have no physical evidence speaking to any specific scenario." Undaunted, Melissa, 38, spends weekends leading volunteers through dense evergreen forests. Their intrepid searches have turned up Prohibition-era cellars and bunkers–but no trace of Lindsey. "I know she's alive," says Melissa. "I feel it."

www.findlindseybaum.com

BIZARRE TEXTS–AND FOOTPRINTS

Mitrice Richardson, 24

LAST SEEN

Sept. 17, 2009

Malibu, Calif.

It was a bizarre dinner scene at Geoffrey's Malibu: Mitrice Richardson said she was from Mars and couldn't pay her $89 tab. Police took her in, but when mom Latice Sutton, 42, called several hours later, Mitrice had been released–and had disappeared.

A 2008 college graduate, Mitrice had no history of mental illness, her mom says, but had recently sent "peculiar text messages." Equally puzzling: A woman resembling Mitrice was spotted in a canyon–and footprints there suggested someone had run from the scene. Now, Latice finds herself thinking of Natalee Holloway's mother, Beth, and "I wonder," she asks, "does she also feel like she's being skinned alive?"

www.findmitrice.info

PARENTS BROUGHT TOGETHER BY LOSS

Amber Dubois, 14

LAST SEEN

Feb. 13, 2009

Escondido, Calif.

Maurice Dubois was at his desk when his phone rang. He expected a business call, but it was his estranged wife, with life-shattering news. "I said, 'I can't find Amber,'" recalls Carrie McGonigle, 41, "and started crying."

That morning, Amber had left her mother's house with a $200 check to take to school to pay for a lamb she was to raise as a member of Future Farmers of America. Carrie had ribbed her daughter good-naturedly about the project. "I said, 'I swear, if I have to take care of that lamb, I'm going to kick your butt,'" says Carrie, who works at a commercial printing company. "She said, 'No. I'll take care of it.' We hugged and kissed."

Separated for years, Maurice and Carrie have teamed up to bring their daughter home. "We're on the phone 100 times a day," says Maurice, 40, who, unable to work for months after Amber vanished, recently returned part-time to his job as an electrical engineer. Carrie says the ordeal has robbed her of trust. "I drive around and look at everybody sus-piciously," she says. "The police ask me who I can rule out, and I said, 'Don't rule out anybody, not even the friends I've had for 20 years.'"

1-800-THE-LOST

NATIONAL CENTER FOR MISSING & EXPLOITED CHILDREN: VISIT MISSINGKIDS.COM


Advertisement
Treat Yourself! 4 Preview Issues
The most buzzed about stars this minute!