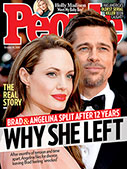 This Week's Issue!
People Top 5
LAST UPDATE: Tuesday February 10, 2015 01:10PM EST
PEOPLE Top 5 are the most-viewed stories on the site over the past three days, updated every 60 minutes
Survivor's Ethan Zohn 'I Will Not Let Cancer Win'
Three Months of Chemo Was Supposed to Cure His Cancer. It Didn't. Now the Survivor Champ Is in the Fight of His Life
Survivor: Africa in 2002 in front of 27 million viewers. Lately, though, he's defying odds he'd rather not. "I wasn't supposed to get cancer," he says, but as an otherwise healthy, fit 35-year-old, "I did." Last April he was diagnosed with Hodgkin's disease, "the most curable form of cancer," Zohn says, citing 90 percent survival rates, "but my cancer wasn't cured."

In fact, after enduring three months of nausea-inducing chemotherapy, Zohn received the shocking news that his cancer had actually spread. "It's scary. I'm not going to lie: It's tough not to think about, you know . . . dying."

The "D" word may be the last thing friends, family or fans expect to escape the lips of the perennially upbeat Zohn. His sunny attitude, even since revealing his diagnosis last May, has become almost as famous as the curly mop of hair he has lost. But as he gets ready to start a grueling new series of treatments, his prognosis is unsettlingly unclear. The fact that his Hodgkin's has not only resisted chemotherapy but intensified, his doctors have told him, makes his situation exceedingly rare. "I was scared before," says Zohn. "I was sick, but I thought it was going to be done in six months."

At the end of chemotherapy in August, he believed the worst was behind him. "I felt great," says Zohn. He started training for November's New York City Marathon. He was lining up speaking engagements and planning a trip to Africa with Grassroot Soccer–the charity he founded with his Survivor winnings–to mark World AIDS Day in December. His girlfriend of six years, fellow reality-TV winner Jenna Morasca (she triumphed on Survivor: The Amazon in 2003) had gotten him fired up about flying to Jamaica to celebrate New Year's. He was even growing back some of that famous hair. But one phone call from his doctor changed everything.

"It was a complete punch in the face," says Zohn of the news that his condition had only worsened. He spent days gathering the strength to break the news to friends. "My cancer is back," Zohn e-mailed, adding, "I will not let cancer win."

His rallying cry has been heard far and wide, as Zohn continues to document his fight in a series of video diaries on PEOPLE.COM, a move he hopes will inspire even young, healthy individuals to watch for symptoms and go see their doctors. The videos have won him fans who never saw him outwit, outplay and outlast on Survivor. "The e-mails keep pouring in: 'Because of you, I've been diagnosed. You saved my life.' It's awesome," says Zohn. "That really does give me strength."

He needs every ounce of it. Zohn is now in the middle of what he calls a "triathlon" of intensive treatment to eliminate the disease. In September and early October, he underwent two three-day in-patient chemotherapy sessions, after which doctors harvested stem cells from his body to save for later use. Now, following the recommendation of doctors from three different U.S. hospitals, Zohn is undergoing five weeks of daily radiation therapy (with weekends off to recuperate). If all goes as planned, he'll then move into a hospital for 30 days to face a stem-cell transplant, a process that will bring both his white and red blood-cell counts down to zero before doctors reintroduce his own harvested, healthy stem cells and attempt to regrow his immune system from scratch. "It's like shooting a bird with a cannon," says Morasca, 28, who takes notes at all of Zohn's doctor visits. "We're overkilling to the max: completely wiping out the cells, putting in new cells and pressing restart." Says Paul Tedesco, Zohn's lifelong friend: "I don't know if the treatment isn't more daunting than the cancer."

But Zohn and Morasca still try to look on the lighter side. With no immune system to speak of, Zohn will be held in complete isolation during treatment. Summoning his Survivor days, Zohn quips, "I've lived in worse places for a month." Morasca agrees: "It's like an abridged Survivor, except you get to eat and sleep, and you get drugs." Adds Zohn: "Actually I don't think I'm going to be eating or sleeping much."

While Zohn prepares to become a "bubble boy," as he jokingly calls the isolation period, his older brothers Lee and Lenard, as well as his mother, Rochelle, and friends from all over are planning to hold vigil. As will Morasca, who has slept next to Zohn in a sterile gown, mask and gloves during his chemotherapy. "She's his guardian angel," says Tedesco. "Her actions far outweigh any words."

Morasca, who lost her mother to breast cancer in 2004, admits that she wasn't mentally prepared to hear that Zohn's cancer had spread. "You have all these plans with someone, and one word breaks everything into a thousand pieces," she says, noting that in her worst moments, "you do wonder, 'When are we going to get a break? When is it going to stop?'"

And yet, as Zohn's battle continues, they've both resolved to keep life as normal as possible. Zohn hits the gym every day but takes it easy; early on he pushed himself too hard on the treadmill, passed out and "started hallucinating about Harry Potter," he says. He's also continuing with his charity work, though he admits it's hard to devote his attention fully to anything other than his fight. "Every moment I'm not meditating or taking a vitamin or doing yoga, I'm thinking, 'I could be doing more to save myself.'"

Zohn says he's trying not to think too far into the future: "I've learned my lesson about planning too far in advance." But Morasca is making one exception to the no-plans rule: For New Year's she's turning their New York City apartment into the Jamaican beach getaway they dreamed of back in August. "I'm gonna rent huge inflatable palm trees, paper the windows with a beach scene, put some beach music on and have ocean sounds playing," she says. Zohn is all for it. After all, he says, in times like this, "you've got to look around you and enjoy the little things and stay positive. I said the same thing before I was sick, but it's gut-check time now."

And for Zohn, there's no chance of anything less than another victory. "It will work," he says of his treatment, without a hint of doubt on his face. "It will."

GET THE LATEST ON ETHAN ZOHN People.com


Advertisement
Treat Yourself! 4 Preview Issues
The most buzzed about stars this minute!