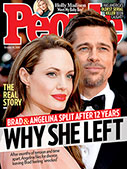 This Week's Issue!
People Top 5
LAST UPDATE: Tuesday February 10, 2015 01:10PM EST
PEOPLE Top 5 are the most-viewed stories on the site over the past three days, updated every 60 minutes
Tributes
Friends and Family Salute the Celebrities—from Michael Jackson to Bea Arthur—who Said a Final Goodbye in 2009


Michael Jackson, 50

BY BRETT RATNER

Michael was an incredibly special person. No one I have ever met in my life has had such passion and love for entertainment. He was more than just the greatest entertainer in the world—he was an amazing father. He loved his kids so much, they were his entire life—he gave them his whole heart. Aside from all of his other accomplishments—all the success, all the millions of records sold—to me, he accomplished more as a man, as a parent, because he was such a good father to his children. We met about 11 years ago. Our relationship was based on watching movies, listening to music and dancing. We would have dance-offs, mostly to Janet's music—he loved to dance to Janet. And the movie we most enjoyed watching together was Willy Wonka and the Chocolate Factory (the original). It was always about having fun. He taught me that the more you give, the more you get. He was such a generous spirit. There wasn't a week that went by in our entire relationship that I did not receive a gift from him. But it was more than just him giving material things. He was a great listener and he was always curious about people, especially if you were his friend. He would constantly put a video camera on me and ask me about my childhood and my life and what made me want to become a film director. He never talked about himself, unless you asked. He was all heart—no judgments, no negativity.

BORN 1947

Farrah Fawcett, 62

BY JACLYN SMITH

I first met Farrah on a Max Factor commercial in the winter. We would jump into a swimming pool, and then they'd warm us up in a sauna, so we had a lot of time to get to know each other. I remember thinking, "Oh, I like this girl. I'd like to be friends with her." Two years later we did Charlie's Angels, and from that moment on she became my friend, who brought honesty and humor to a lifelong friendship. With some actresses there's a competitive quality, but I didn't see that in her at all. There wasn't a jealous bone in her body. She always wished you well. What's interesting about Farrah was that she was this iconic sex symbol who could do Playboy at 50, but she was still very approachable. I think people see Farrah as striking, beautiful and successful, but they don't necessarily see that, really, she was very down-to-earth. She had just as much fun staying home and cooking as she would on the red carpet. She was a gourmet cook, and she loved to bake. No one could make a German chocolate cake like her. If you dined at Farrah's it was always delicious. And whenever she would greet you it was this sweet Texas girl who was spontaneously affectionate—when she hugged you, she hugged you tight! You couldn't help but love her.

BORN 1963

Natasha Richardson, 45

BY JOELY RICHARDSON

Tasha and I always shared a close bond, even being such opposites, like chalk and cheese. Though our upbringing was simple and far away from the glare of show business, Tasha was always a knockout because of the force of her personality. That's what made her such a great actress, her incredible intelligence coupled with the vulnerability of a child. She was also so fabulously glamorous, turning heads wherever she went. But, better than that, her sense of humor was her most marked characteristic. So much of who I am is who Tasha was. I cannot imagine there will ever be a day I don't think of Tasha. She looked after us all. At 12, she could cook for 20. She loved her friends and family with a grand passion and turned the commonplace into the golden.

BORN 1916

WALTER CRONKITE, 92

BY BRIAN WILLIAMS

The proof that I've lived a blessed life, was the sight of Walter Cronkite coming through our door to have dinner in our home. He was old-school. He was the only school as far as I was concerned. He was the gold standard for our occupation.

BORN 1952

Patrick Swayze, 57

BY LISA NIEMI

We were in New Mexico a couple years after Patrick had broken both of his legs in a life-threatening accident—he came off his horse while filming Letters from a Killer. We walked out into the fresh, mountain air, and Patrick had taken off his shirt to enjoy the sun as we strolled into a 50-acre pasture to visit with our five Arabian horses. Patrick was rubbing one of the horses on her neck, and before I knew it, he grabbed a handful of mane and had swung himself up on the mare's back. No saddle, no bridle, nothing—just Patrick galloping off bareback. I couldn't believe it. I couldn't help but see how fantastic and free he looked. And I couldn't help but be pissed off. I mean, he'd just broken his legs in that horse accident, and now he was going to risk it again? The horse had her joy ride and thankfully slowed to an easy trot, and Patrick hopped off blithely and unscathed. As he walked over to me, he smiled a little sheepishly, waiting to see if I was going to admonish him. But I couldn't. I could only shake my head and try my best not to smile. This is the man who took on cancer. As always, he was on the ride of his life. And while the disease may have taken him, it never beat him. He was an amazing man, with amazing talent and a shining, irrepressible spirit. And though he's gone, he's still shining.

BORN 1932

Ted Kennedy, 77

BY TED KENNEDY JR.

One of my hardest lessons growing up was learning how to share my father with everybody else. I remember one Christmas Day, when I was about 11 years old, Santa came to visit our home. When he left, I ran to the window and held back the curtain. I saw Santa getting into my father's car and quickly driving away. At first I was shocked that Santa would steal Dad's car. Then I realized that "Santa" was driving over to Aunt Ethel's house to visit my cousins. I wasn't upset because I realized what a huge heart my Santa had.

My father worked hard to be more than just an uncle to my cousins who had lost their own fathers. Sharing my father became easier when I saw him putting others' needs ahead of his own. My father taught by example to always think about those less fortunate. He always went the extra mile to make a difference in someone's life. I have met so many people since Dad died who have told me wonderful stories about what he did for them. This will be a difficult Christmas without Dad. My loss is less painful knowing how much my dad and Santa really had in common.

BORN 1922

Bea Arthur, 86

"Boy, did we laugh a lot. I'm a pigeon for breakups, but you know who was worse? Bea. One day she got it so bad we had to go home. It was just ridiculous. But she made it so much fun."

—BETTY WHITE, her Golden Girls costar

BORN 1936

DAVID CARRADINE, 72

"He was the kind of guy who always had that sparkle in his eyes, and he always had something positive to say. He was never one to dwell on anything negative."

—MICHAEL MADSEN, his Kill Bill costar

BORN 1920

RICARDO MONTALBAN, 88

"He had a wonderful sense of the power of character when he came on the screen. He had a great personal intensity. His presence was palpable, very powerful. He never thought he was important, but he truly was."

—LEONARD NIMOY, his Star Trek: The Wrath of Kahn costar

KARL MALDEN, 97

Actor

PAUL HARVEY, 90

Radio Host

JADE GOODY, 27

U.K. reality star

ADAM GOLDSTEIN, 36

Celebrity Deejay

RON SILVER, 62

Actor

MARILYN CHAMBERS, 56

Adult-film star

JAMES WHITMORE, 87

Actor

FRANK McCOURT, 78

Author

GIDGET, 15

Taco Bell mascot

DANNY GANS, 52

Impressionist

EUNICE SHRIVER, 88

Kennedy matriarch

ROBERT NOVAK, 78

Columnist

DON HEWITT, 86

TV producer

CORAZON AQUINO, 76

Ex-Philippines president

BILLY MAYS, 50

TV pitchman

ED MCMAHON, 86, TV personality

MARY TRAVERS, 72

Singer

CAPT. LOU ALBANO, 76

Wrestler

JOHN UPDIKE, 76

Novelist


Advertisement
Treat Yourself! 4 Preview Issues
The most buzzed about stars this minute!