People Top 5
LAST UPDATE: Tuesday February 10, 2015 01:10PM EST
PEOPLE Top 5 are the most-viewed stories on the site over the past three days, updated every 60 minutes
The Day That Changed My Life
Surviving the 'Miracle on the Hudson' Crash a Year Ago Inspired These People to Fulfill Delayed Dreams and Live Their Lives to the Fullest


Lori Guenther (seat 10C)

A VP at a southeastern department-store chain, Lori Guenther shocked her husband, Erik, when two days after the rescue, she announced she wanted to quit her job and raise a family. "He looked at me like I had two heads," says Guenther with a laugh. But she was serious. "With a near-death experience, you realize you might not have all the time you thought you did," says Lori, 37. She and Erik, 36, a senior copywriter for the same chain of stores, had tried to have kids before, but years of attempts at in vitro fertilization failed. They explored adoption slowly, feeling that "we have plenty of time." With new urgency, they registered again and were soon matched with a 3-month-old named Ian. "We saw the picture and fell in love." Now, with Ian asleep in his crib in their Tega Cay, S.C., home, she says, "we are overjoyed."

A MATCH MADE IN THE HUDSON

Laura Zych (seat 17D) & Ben Bostic (seat 20A)

As he was getting ready to board his plane, Ben Bostic noticed an attractive woman in the airport. He didn't get up the nerve to talk to her, however. "A lesson to me," says the software developer, 39. "I should have taken the opportunity." The crash gave him another chance. The woman, product manager Laura Zych, 31, turned up in a 1549 Facebook group, where Ben discovered her "great sense of humor." They finally met at a survivors' reunion in July, and Ben wasted no time admitting, "I was checking her out on the plane." Everyone laughed. The pair wound up talking until 6 a.m. Since then Ben and Laura, who both live in Charlotte, N.C., have been inseparable—and incurably romantic. "At home," says Ben, "we'll turn on music and dance." He sends roses to her office ("Plane crash survivors are very thoughtful," jokes Laura), and last month they went on a Caribbean cruise. No plans yet for marriage—"We're comfortable," says Laura. Adds Ben: "I wake up every day and say, 'I'm living a fairy tale.'"

A CURE FOR COLD FEET

Chris Rooney & Karin Hill (seats 18D, 18E)

Karin Hill and Chris Rooney had been dating for three years when they boarded Flight 1549. "We were getting to the point when we had to decide if we would get married or call it off," says Chris, 24. "I had been indecisive. I felt I had to be certain that I could dedicate myself to Karin." Hill had no doubts, but "I didn't want him to marry me then later say he did it only because I wanted it." But after the crash, "I started seeing Karin in a new light," says Chris, an engineer. "I wanted to protect her always." When he proposed in June, "I had no idea it was coming," says Karin, 25, who is studying to be a social worker. Their New Year's Eve wedding in Boulder, Colo., featured a taped toast from hero pilot Capt. Chesley Sullenberger. Says Chris: "We could not be more excited to start our lives together."

CROSSING ONE OFF THE BUCKET LIST: A MARATHON

Stephen Lis (seat 14D)

Like many other passengers, Stephen Lis suffered from anxiety and nightmares after the crash. At his therapist's suggestion, he started running as an antidote and found it effective. "It clears your head," says Lis, 43, who ran track in high school but hadn't done so in more than 10 years. Then Lis took it a step further. "I always thought I'd like to run a marathon but always put it off," says the Chalfont, Pa., partner in an accounting firm. "It was always in the back of my mind." He stopped putting it off after he experienced the fragility of his own life. "There's not a person on that flight who will tell you we don't realize how lucky we are," says Lis. "We really shouldn't be here." In November, with his wife of 18 years, Julie, cheering him on, he accomplished his long-held goal, running all 26.2 miles of the Philadelphia marathon in 4 hours and 18 minutes. "I began to cry before the race," says Lis. "I was just so thankful to be alive and be able to do it."

A SMALL CHANGE WITH A BIG IMPACT: SAYING 'I LOVE YOU'

Pamela Seagle (seat 12A)

After cheating death, Pamela Seagle vowed to tell loved ones all they meant to her. "I made sure they knew that when I thought I was experiencing my last moments on earth, I thought about them. Not my job, not the clutter on my desk. But my husband, two children, parents and my sister." In the coming months, Pamela, a bank senior VP from Weddington, N.C., had particularly deep conversations with her sister Jennifer Evans, a state prosecutor an hour away in South Carolina. "We discussed what might have been had I not survived and what role I wanted her to play in my children's lives," says Pamela, 43. "And how very sorry I was that I had not told her how much I loved her nearly enough. Had I not survived, it would have been unsaid." On June 21, 2009, Jennifer, 41, died suddenly from a brain aneurysm while vacationing with her husband. While she misses her little sister terribly, Pamela says, "I am forever grateful for the lessons Jan. 15 taught me."


Advertisement
Today's Photos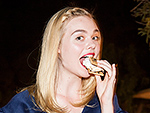 Treat Yourself! 4 Preview Issues
The most buzzed about stars this minute!