People Top 5
LAST UPDATE: Tuesday February 10, 2015 01:10PM EST
PEOPLE Top 5 are the most-viewed stories on the site over the past three days, updated every 60 minutes
Will Elin Stay?
Out of Rehab but Still Living Apart from His Family, Tiger Woods Is Doing Everything He Can to Make Things Right and Save His Marriage, Sources Tell PEOPLE. But It's His Still-Hurting Wife, Elin, Who Is in Control and Will Decide If He Can Be Trusted
Now that Tiger has reportedly wrapped up a stint at a Mississippi rehab clinic and returned to Florida, the next move is Elin's: Does she take him back and try to make it work, or cut him loose and move on? According to several sources close to the couple who spoke with PEOPLE—all of whom asked to remain anonymous because the couple's relationship is still too raw—Elin is taking things slow and not allowing Tiger or anyone else to rush her into a decision. "After everything that happened," says one friend of Elin's, "she holds all the cards." For the moment, she is trying to live a normal life away from Tiger while she waits to see if she can ever trust him again. "It's not enough for him to just not have an affair," says Tiger's friend. "He has to make her comfortable he's not going to do anything. She knows he's trying, but she's still building back the trust."
The peace between Tiger and Elin is fragile, say these people, and it doesn't help that Tiger's sexcapades continue to make news. Most recently one of his alleged mistresses, former porn star Joslyn James, claimed Tiger twice got her pregnant during their affair. While it took Elin a long time to believe the rumors her husband was cheating—"She was trying not to believe them and putting any suspicions aside in hopes of keeping the family together," says Elin's friend—she is now completely clear-eyed about what happened and unlikely to be fooled again. "She was livid and out for the kill when she learned of all of these women," says Elin's friend. "And if these pregnancies are true, it will make her even madder, I promise you."
Elin's tough stance means that, for the moment, she and Tiger are living largely separate lives. She is staying with their two children, Sam, 2, and Charlie, 1, in the couple's home in Isleworth, while Tiger, 34, has spent several nights at the house around the corner on Green Island Cove that was once owned by his late father, Earl. Elin has allowed him to visit with his children; otherwise he is pretty much on his own. He is spotted occasionally driving around town in a gray Escalade and has been visited by his old college chum Bryon Bell. But he's cut off contact with many other close friends, including Mark O'Meara, a pro golfer and Tiger's onetime mentor, and ex-basketball star Charles Barkley—both of whom have said they tried reaching out to Tiger, to no avail. "He is stepping away from his old friends right now; it's sort of his way of saying to Elin, 'Whatever you want, I'll do,'" says Tiger's friend. "This is him working through commitment issues and self-destructive impulses. Everyone is making him sound like he's just a cheater—like it's all about the sex, but it's not."
This same source says "there is definitely counseling going on," involving both Elin and Tiger. That could be because Florida law stipulates that couples with small children must seek counseling before they can be granted a divorce. But Elin has yet to even file for a divorce, a process which typically takes several months. "If she was in a rush" to get out of her marriage, believes family-law expert Randy Kessler, "she would have filed already to get the clock started."
People who know Elin, 30, say she's in no hurry, either to take Tiger back or kick him out for good. Although she feels "lonely and isolated," according to Tiger's friend, Elin gets plenty of support from her Florida friends and from her twin sister, Josefin, and mother, Barbro Holmberg, in Sweden. Unlike Tiger she refuses to stay locked up; she often goes shopping in boutiques near her home, including, recently, at a Gucci store. Mostly, though, she looks after her children, and some believe they're the main reason Elin hasn't already left Tiger. A child of divorce herself, she may be trying to spare them her fate—or waiting for a better time to make the split. Says her friend: "Elin will make the best deal she can at the right time for herself and for her children."
So while Tiger huddles with advisors to plot out a return to golf—he hasn't played in three months but is expected to be back in time for the Masters in April—Elin has let it be known her concern is her marriage and her children, not golf or sponsors. "Elin's not pleased with the presence of Tiger's team," says someone close to the golfer's circle, "but they don't want to antagonize her because she is key to" his comeback.
The big question Elin has to figure out: Is Tiger genuinely remorseful or just trying to clean up his image? "He really loves her, and he knows he took her for granted," insists Tiger's friend. "He didn't realize until everything happened exactly how much she means to him." But those in Elin's camp are skeptical and certain that Elin won't make the same mistake twice. "Tiger desperately wants to reconcile and have things go back to the way they were before, even though it wasn't perfect," says Elin's friend. "But it is up to her to see if she can believe in him again."
Contributors:
Steve Helling/Orlando,
Linda Marx/Orlando,
Kathy Ehrich Dowd/New York,
Liz McNeil/New York.
Advertisement
Today's Photos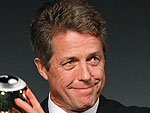 Treat Yourself! 4 Preview Issues
The most buzzed about stars this minute!