People Top 5
LAST UPDATE: Tuesday February 10, 2015 01:10PM EST
PEOPLE Top 5 are the most-viewed stories on the site over the past three days, updated every 60 minutes
Kenny Chesney's Big Vacation
Taking His First Break from Touring Since 1993, the Singer Kicks Back, Makes His Big-Screen Debut and Hopes to Find What He's Been Missing
Kenny Chesney
knew something wasn't right. "It was a great show," says the singer. "We had a great crowd, the energy was great. But I didn't feel happy. I didn't feel bad. I just didn't feel anything; I was numb. And that was one of those nights I knew something was going to have to change in my life."
One month later Chesney rocked the country world by announcing he would not tour in 2010. The four-time CMA and ACM Entertainer of the Year had spent the past 17 summers on the road, playing for a million fans every summer since 2004 and setting a record as the biggest North American ticket-seller of the past decade. "But I needed a break," he says. "Someone said, 'You sure do give a lot of your life to this,' and I said, 'No, this IS my life.' There's no room for anything else. And that's gotta change." Chesney wrapped his 2009 Sun City Carnival Tour in Indianapolis Sept. 19 with an emotional performance of his bittersweet hit "Better as a Memory." Then he celebrated his newfound freedom with a whirlwind tour of Italy with girlfriend Amy Colley, a Nashville nurse. "We went to Capri, Positano and a little town called Ravello," he says of the October vacation. "I ate a lot of bread, drank a lot of wine and ate some really good cheese. And it was great. It's somewhere I've wanted to go my whole life, but I never afforded myself the time to do things like that. Now it's one of my favorite places in the world."
Taking the year off was "the hardest decision I've ever made," says Chesney. "But I'm so glad I made it. I haven't felt this content in a long time." After returning from Italy, he flew to Baltimore in November to see a Bruce Springsteen concert just for fun and took in a host of New Orleans Saints football games with friends. "I've been getting reacquainted with people who you shouldn't have to get reacquainted with: my family," he says. Chesney made his mom his date to the CMA Awards in November. And when the Saints won the Super Bowl in February, Chesney and his dad were on hand to watch. Chesney even took the stage at the Saints' private after-party. "That was the most fun I'd had in a long time," says Chesney. "It was a blast, and I never could have done it if I was on tour. Never. I wouldn't have had the time."
Of course, Kenny being Kenny, letting go of all things work-related has been a gradual process. The famously driven singer has spent much of the past few weeks putting the finishing touches on his concert film [Kenny Chesney: Summer in 3D], which hits theaters nationwide April 21 (see box, page 41). "I could have let them just shoot it and make the movie, but I don't do anything halfway," he says. "I've been sitting in marketing meetings and editing and mixing the sound. It's taken a lot more of my time than I could ever have imagined, but I'm really proud of it."
He has also just finished recording a new studio CD, due this fall. It was the first time in a long time, he says, that he was actually looking forward to the recording process. Most of his recent albums "were made when I was exhausted," he says. "I was on a treadmill of being on the road, coming off the road, working in the studio, trying to write a song, trying to remix a record-it was just mechanical. I really wanted to enjoy making music again."
But now, with both of those project wrapped, Chesney plans to spend the next few months tackling an even bigger challenge: figuring out how to balance his career with a personal life. "I know I have a great life, a great career. But I need more," he says. "Not more money. Not more fame. More heart." He admits that the demands of touring and his single-minded focus on work played a part in the breakup of his brief 2005 marriage to actress Renée Zellweger. "My road life is great, and it's incredible because of what I've given to it," he says. "If I want the other parts of my life to be like that, then I know I'm going to have to give to them too. If I want a relationship, I have to give to it too."
He hopes the year will also give him some time to reflect, gain perspective and put behind him some of the lingering wounds of that breakup and the tabloid firestorm that followed. "Seriously, the last few years of my life have been such a blur," he says. "Good and bad. The positive things have been over the top. And the negative things have been over the top. Seriously. There's been so much emotion, so many high points, low points, so many pressure points, so many things...it's just good to back yourself away from all of it for a little bit."
Not that, at 42, Chesney is exactly in any rush to settle down. Although he has been dating Colley since 2008, "it's not like I'm taking a year off so I can get married again, 'cause that could or couldn't happen," he says. "But I want to put myself in a position to do it if it did happen. I want to put myself in a position to have a relationship in my life."
For advice, he's turned to pals like the Eagles' Joe Walsh and Springsteen. "They've been in my position," says Chesney. "It's so interesting to hear their stories and how they've dealt with balancing career and relationships." In fact, a story the Boss told him two years ago is something Chesney still thinks about often. "Bruce said that you can take a notebook pad and write half a song, and then put that pad in a drawer, and then you can go back in 5 or 10 years and that song will still be there. He said your life's not like that. If you want other things in your life, you have to do something about it now. The music will wait. That's some of the best advice I've ever gotten." Chesney says he isn't worried that someone else will replace him as the king of the summer tour. "If they're going do that they're going to have to put in 16 years," he says. "It's like everybody wants to be Hank Williams, but nobody wants to die."
And it won't be a completely Kenny-free summer. He's performing at a handful of music festivals and doing four shows at the Hard Rock Hotel in Las Vegas (two in May and two in July). "Just to keep the juices flowing a little bit," he says. "And to pay the bills," since he is keeping more than 100 of his band and crew members on salary while he takes his year off.
And though he's not sure when or how big a production his next tour will be, he swears he will be back. "Parts of me miss it right now," he says. "That connection with the audience. It's like an out-of-body, out-of-mind experience." So a Garth Brooks-style early retirement is not in the cards. "I could never do what Garth did," says the singer. "I don't think about walking away like that. And to be honest, I'm not surprised that he's come back and is doing what he's doing. 'Cause once you've got music in you, you can't hold it in forever. It's gotta come out. And hopefully I'll still be making records and still touring like some of my heroes, you know, later on in life, but as far as me eating, drinking and sleeping it for the rest of my life, that's not going to happen."
For now, Chesney is making the most of his downtime. First on his list: learning to surf. "I've always wanted to learn, but I never had the time," he says. He also plans to take up shark fishing. "When I'm home a lot and especially on the bus, I watch the National Geographic Channel 'cause I love these fishing shows, and I realized that I wanted to go shark fishing. I'm really excited to do that this year." And he's hoping to spend a little more time with his mom, at home in East Tennessee. "As busy as I've been, I've not been able to go back there as much as I'd planned, but I plan on doing that," he says. "Anything that's going to allow me to get my mind in a place where I feel centered and solid again."
And as for the rest of the year? Maybe a different type of tour. "I want to go to places I've never been," he says. China? The Pyramids? "Who knows? I want to go explore. I want to taste everything. I want to take a big spoon, dip it in and taste it all."
Advertisement
Today's Photos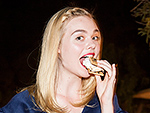 Treat Yourself! 4 Preview Issues
The most buzzed about stars this minute!