People Top 5
LAST UPDATE: Tuesday February 10, 2015 01:10PM EST
PEOPLE Top 5 are the most-viewed stories on the site over the past three days, updated every 60 minutes
Vince Gill: Father of the Bride
Days After An Epic Flood, a Proud Gill Watches Daughter Jenny Say 'I Do' in His Back Garden


Score one for the forces of good. When Jenny married music-publishing executive Josh Van Valkenburg on May 8 outside Gill and Grant's Nashville home, "it was a magical day," Gill says. "The joy of it all was more powerful than all that bad stuff put together."

So powerful, in fact, that Jenny (Gill's daughter with ex-wife Janis Oliver of the '80s duo Sweethearts of the Rodeo) joked she was taking bets on how many tears her dad would shed walking her down the aisle. As it turns out, he was dry-eyed. Not so the bride and groom. "The moment I saw Vince walking her down the aisle, my eyes welled up with tears," Van Valkenburg says. Adds Jenny: "I didn't make it halfway down and I was boo-hoo-ing. He couldn't have been a sturdier, stronger dad. I just took a few deep breaths, and he led me down, and it was perfect."

Still, there were a few lump-in-the-throat moments. Like when he first saw his daughter in her gown. "She was beyond stunning," he says. "But what she doesn't know is she's always been that beautiful to me." Or when, in reading her vows to Van Valkenburg (on the same garden spot where he had proposed to her nearly nine months earlier), Jenny echoed a line Gill once said to Grant about welcoming everything she brought to their relationship. "That did get me a bit," he says. Says Jenny: "I'm just so happy I could understand the way he felt about his wife."

Seeing how well-matched his daughter, a singer, is with her new husband, "there wasn't anything to be tearful about," Gill says. "I've always loved Josh. It's a good thing." The couple, both 28, have known each other since the third grade. "They had this remarkable friendship before they ever started dating," Gill says. Both families nudged the two toward one another over the years. "This gradual love grew between us," Jenny says.

The slow, steady build of their relationship is a good sign, Gill says. "There was a great wisdom in the way they got to that day," he says. "They both come from divorced families. A lot of us didn't do it right, and they wanted to, so they took their time."

Despite Gill's own fractured past (he and Oliver divorced when Jenny was 16), the wedding was a day of unity, with all three of Jenny's parents by her side. "Time is a kind thing," Gill says. "There isn't any weirdness or animosity. There was a lot of peace in that day, and everybody felt it."

"Each parent brought something important," says wedding planner Dori Thornton. "All three love Jenny and wanted it to be perfect." Oliver advised on the dress and makeup, while Grant helped with the decor. And Gill? "He brought the heartfelt moments," Thornton says.

Among the most moving was their father-daughter dance to the tune of "You Are My Sunshine," a song with special meaning to the pair. Jenny chose the song for her first grade talent show because "it was the only song I was comfortable with, and Dad said he'd play guitar on it," Jenny recalls. Then, before her show, Gill was offered his first performance slot on the Grand Ole Opry-on the very same day. "And he turned it down so he could be there for me." Says Gill: "I let her know she was more important than anything I could accomplish."

And so, two decades later-despite Gill's dislike of dancing ("It's not pretty," he says of his skills)-father and daughter again bonded over the tune. "It was incredible," Jenny says, her voice cracking at the memory. "I just laid my head on his shoulder because it was like the last minutes of being a little girl, I guess. I don't get a lot of moments like that with my dad."

Music is, of course, the family business, but Jenny wanted the pros to take the night off for her big day and didn't ask her family-or any of their famous friends-to sing. "It was important to me that they enjoy themselves as guests," she says. Instead they hired a string quartet of musicians from the Nashville Symphony for the ceremony, and local group the Scat Springs Band for the reception, where the nearly 300 guests nibbled on Cinco de Mayo-themed cuisine (Jenny was born on the Mexican holiday) and sipped mojitos. Adds Gill: "It was so void of show business-I loved that."

So did Jenny's 9-year-old half sister Corrina, Gill's daughter with Grant. "Corrina never left the dance floor the whole night-three hours plus!" Gill says. "She was a wet noodle at the end of it all."

And Gill wasn't far behind. "I was spent. We'd been through a flood, the suicide of a great friend, we lost a cousin in Afghanistan, and I was trying to make heads or tails out of losing a big chunk of a 35-year collection," Gill says. "But the beauty of that day and night-I was undone by it all."

One of the loveliest moments closed the night. In a surprise Thornton had organized, the couple left hand-in-hand beneath an arch of glowing branches held by guests as a gospel choir sang "Oh Happy Day."

It was, Gill says, a fitting end. "So many times, all I really want to be is the dad. I just got to be her dad all day long. And it was awesome."


Advertisement
Today's Photos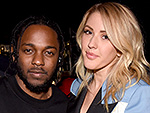 Treat Yourself! 4 Preview Issues
The most buzzed about stars this minute!