On Newsstands Now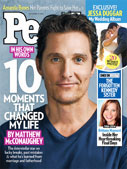 Matthew McConaughey: In His Own Words

Jessa Duggar's Wedding Album

Brittany Maynard's Final Days
Pick up your copy on newsstands
Click here for instant access to the Digital Magazine
People Top 5
LAST UPDATE: Tuesday February 10, 2015 01:10PM EST
PEOPLE Top 5 are the most-viewed stories on the site over the past three days, updated every 60 minutes
Picks and Pans: Books
How It Feels to ... Lose Your Sense of Smell
by Allegra Goodman |




People PICK
REVIEWED BY ELLEN SHAPIRO
NOVEL
A modern take on Sense and Sensibility, Goodman's seventh novel is a beautifully textured tale of two sisters that hits all the Jane Austen high notes. Twenty-eight-year-old Emily Bach, the no-nonsense CEO of a Silicon Valley start-up that's about to make her very rich, juggles a bicoastal relationship with Jonathan, whose own company is "storming the data-security market." Jessamine, five years younger and much dreamier, is a philosophy grad-school dropout who leaflets Berkeley street corners for Save the Trees and works in an antiquarian bookstore. As she catalogs a rare-cookbook collection for her boss George-a cultivated if cantankerous retired Microsoft millionaire-Jess begins to discover the limits of her improvised life, just as her sister finds that rationality is no safeguard against unforeseen tragedy. Goodman (Kaaterskill Falls) delicately navigates her characters' complex emotions-especially the turbulence of love-but she is equally adept at capturing the hypnotic ambition of the '90s dot-com boom. The world she weaves practically vibrates with humanity-and it's hard not to imagine that if Austen were to drop in for a visit, she'd pull out a laptop and feel very much at home.
Little Girl Blue
by Randy L. Schmidt |




BIOGRAPHY
The enduring fascination with Karen Carpenter-the '70s pop superstar famous for her crystalline voice, squeaky-clean hits with brother Richard and anorexia-related death at age 32 in 1983-has been partly fueled by her family's attempts to control her image. Apparently Richard has mellowed: Though he hardly gave Schmidt's bio his blessing, neither did he discourage the participation of his late sister's colleagues and close friends. The resulting interviews add new dimension and some alarming detail to a familiar story. (According to Schmidt, Karen's ubercontrolling mother shamed her into going through with her high-profile wedding, even when her fiance proved to be a scoundrel.) Karen's shocking abuse of laxatives, thyroid meds and ipecac-and her attempts to get help-are brought into heartbreaking focus. Though some overstuffed sections may try the patience of all but the most ardent fans, Schmidt succeeds in bringing a gifted, troubled musician to vivid life.
They're Watching
by Gregg Hurwitz |




REVIEWED BY ERIC LIEBETRAU
THRILLER
Invasion of privacy reaches sinister new levels in thriller maestro Hurwitz's latest. Screenwriter Patrick Davis begins receiving DVDs that show someone watching him and his wife. Then haunting e-mails with specific instructions worm deeper into his life. Patrick falls into the mire, haunted by the implications of a deadly conspiracy he can't control. With cinematic pacing and strong echoes of countless other twisty suspenses, this one is a natural for the big screen.
The Lovers
by Vendela Vida |




REVIEWED BY MICHELLE GREEN
NOVEL
Yvonne, a Vermont schoolteacher whose husband was killed by a heedless driver, makes a pilgrimage back to the Turkish seaside town where they honeymooned. But her journey and her judgment are distorted by grief. She rents a house that comes with an intrusive cast of characters and cultivates a lad who isn't the waif she imagined. Quietly provocative, The Lovers explores the perils of self-involvement and the ease with which we destroy one another's lives.
WHAT I'M READING TO MY KIDS
TORI SPELLING
The go-to book is Goodnight Moon. It was my favorite when I was a kid, which is probably why I have a copy on each of their nightstands. They love it.
GILLES MARINI
I'm reading Le Petit Prince to my daughter, in French. She's bilingual. When I want to be very, very strict with her, I talk to her in French!
REBECCA ROMIJN
Hand, Hand, Fingers, Thumb-we read it every day. I'm looking forward to their vocabulary growing so we can move on!
A since-recalled nasal spray KO'd Bonnie Blodgett's ability to smell for nine months. Why it was devastating:
EATING'S NO FUN
Flavor is 90 percent smell. You eat lasagna, and it could be a sock or a marble. Food is comfort-imagine that gone.
YOU FEEL DISCONNECTED
Smells are attached to memory. When I sat in my grandfather's chair without the smell, it felt a little scary. Like I was in someone else's world.
YOUR WEIGHT FLUCTUATES
You lose weight because you don't want to eat, then gain it because you want the satisfaction food gave you. But you never feel satisfied.
YOU'RE ISOLATED
There's a shame that all anosmics-people who've lost their sense of smell-feel. Everyone else is thinking, "No biggie." In one survey people said they would rather lose their sense of smell than their big toe. Okay, try it some time and get back to me!
YOU GET DEPRESSED
I was put on antidepressants. Now, since I've gotten my sense of smell back, I'm constantly sniffing-bed linens, leaves, my dog. Smells are so darn gorgeous.
The Cookbook Collector
Advertisement
Today's Photos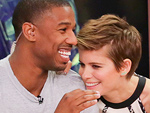 Treat Yourself! 4 Preview Issues
The most buzzed about stars this minute!