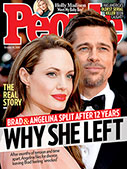 This Week's Issue!
People Top 5
LAST UPDATE: Tuesday February 10, 2015 01:10PM EST
PEOPLE Top 5 are the most-viewed stories on the site over the past three days, updated every 60 minutes
A Beautiful Life
Conjoined Twins Within a Triplet Birth, Mackenzie & Macey Were Babies Nobody Wanted-Until Darla & Jeff Garrison Came Along


Few kids enter the world with fortunes dimmer than that of Macey and Mackenzie. Born conjoined twins with a triplet sister named Madeline, attached at the pelvis with a shared, third leg and entwined intestines, they faced a lifetime of medical challenges. And they drew another of life's short straws: Their birth parents, who had drug problems and had not seen a doctor during the pregnancy, were unable to care for the girls. "Nobody," says Linda Kontis, cofounder of the foster-care agency that took charge of all three girls, "wanted these babies."

Nobody, that is, but Darla and Jeff Garrison, already parents of three healthy school-aged boys. The Garrisons had always wanted daughters, and they saw a chance to raise to vibrant adulthood children others saw as damaged. "The girls needed us and we needed them," says Darla, 40. "We were meant to be together."

Over the years, Darla, a homemaker, and Jeff, a construction worker, had taken into their home in Riverside, Calif., some 10 neglected or medically fragile foster children. They'd shower them with attention and affection, watch them come to life, then feel devastated when it came time to say goodbye. "I thought we might get to adopt that first girl," recalls Jeff, 50. "We had her a month. One day Darla called me at work and said, 'They're taking her.' Darla was crying, my eyes welled up. We'd barely gotten to know her-and then she was gone."

In December 2002 the Garrisons got a call from Linda Kontis' office at Serenity Infant Care Homes in Covina, Calif.: Would they care for Macey, Mackenzie and their healthy sister Madeline? The couple jumped at the chance, though they harbored private doubts. "We asked ourselves, 'Were we capable?'" Darla says. In the beginning, she wasn't so sure. Weighing 2.2 lbs. each at birth, the twins had a colostomy bag that needed frequent changing; they cried in pain from the tissue expanders implanted in their backs and abdomens in preparation for planned separation surgery and, it eventually became clear, suffered from speech and learning delays. Just dressing the girls was a challenge: Darla's mother, Judy Kirby, 60, would sew two onesies together and make a hole for the third leg. "There were times I had my hand on the phone, thinking, 'I'm not cut out to do this,'" Darla says. "But this was a calling-and you don't tell God no."

Her faith was further tested on Sept. 10, 2003, when doctors at Childrens Hospital Los Angeles successfully separated Macey and Mackenzie in a rare 24-hour surgery (see box). "We realized they weren't going back to their birth parents," says Darla. "The ball was in our court, and we wanted the girls."

Two years later, after the court severed the parental rights of the birth parents, the Garrisons adopted the girls and moved their family to a 20-acre farm in Iowa, where they hoped to give all their kids the sort of country childhood Darla and Jeff had known and treasured. Enrolling the girls at Wilder Elementary School, where they'll enter second grade in the fall, the Garrisons have watched Mackenzie and Macey work diligently with a physical therapist to master their newly acquired prosthetic legs and push themselves in special-education classes to learn the reading and writing skills that come so easily to Madeline. In school they face the occasional mean remark-one fourth grader recently mocked Mackenzie for her "robot leg"-but, thick-skinned, they shrug it off. "They just don't see themselves as handicapped," says principal Craig Sexton. Adds Sunday school classmate Abby Hill, 8: "They're fun to play with. They're like all the other kids."

They're not, of course, and that has meant sacrifice for Madeline and the three Garrison boys-Tyler, now 18, Matt, 14, and Luke, 13. "I was jealous [at first]," Luke recalls. "I missed my mom taking us to school and helping with homework." Over time, though, the boys began to discover just how much fun their little sisters can be. "We play in the barn and the field; we build forts and mess around with the horses," says Luke, who babysits every Tuesday. "I can't imagine life without them." Nor can Madeline, though she sometimes feels like the odd one out. "I feel sad sometimes," she says, "because sometimes my sisters get more attention. We dance and sing together-but sometimes I wish they had two legs."

So do Macey and Mackenzie. "I wish I could run and ride a bike," says Mackenzie, "but I can jump rope on one leg-I made it to five!" Down the road, both girls, who suffer from severe scoliosis, will require spine-straightening surgery. But as the family prepares for a trip to Darla's childhood home in Oklahoma, they feel like they're the lucky ones. "People live their lives in a box, and we stepped outside of that," Jeff says. "We've been blessed."

KNOW A HERO? SEND SUGGESTIONS TO HEROESAMONGUS@PEOPLEMAG.COM


Advertisement
Treat Yourself! 4 Preview Issues
The most buzzed about stars this minute!