People Top 5
LAST UPDATE: Tuesday February 10, 2015 01:10PM EST
PEOPLE Top 5 are the most-viewed stories on the site over the past three days, updated every 60 minutes
Look at Me Now!
Without a Trainer or a Crash Diet, Kate Gosselin Reveals Her Sexy New Look and Superfit Figure-And She Hopes Mr. Right is Paying Attention
Kate Gosselin
had a simple three-word mantra. "Just keep going," she says. "I'd tell myself to put one foot in front of the other, left, right, and just keep going."
Now those same three words have led the mother of eight to get into the best shape of her life. Splashing in the surf in front of the opulent Casa Dorada resort in Cabo San Lucas, Mexico-and turning heads in a bikini-she's come a long way from Wernersville, Pa. But it was on those hilly roads back home that Kate, now 35, began her journey toward a brand-new body, pushing herself to run one more mile, go up one more incline, literally to put one foot in front of the other and just keep going.
Today, after four months of daily runs, "this is the most fit I've ever been," Kate says proudly. The reality star, whose life raising sextuplets and twins is chronicled on
Kate Plus 8
for the TLC network, was previously a treadmill devotee. But this summer "I started wondering if I could run as far as this one spot near my house. I figured the only way to find out was to do it. So I did, and each day I just kept going. Running outside is a huge challenge. The other day I achieved my personal best-seven miles in just over an hour. Now I'm thinking I'll be happy when I can do 10 miles, three times a week."
Previously more muscular and compact, Kate now has a longer, leaner physique, with impressively toned arms and abs. Of course, a tummy tuck in 2006, which removed excess skin from her pregnancies, gave Kate a head start in the six-pack department. The surgery, however, was far from a cure-all. First, there's the long horizontal scar left behind, which can be hidden underneath bikini bottoms. More importantly, Kate is quick to point out, "this is not what my stomach looked like after my tummy tuck. That only got rid of the skin. It didn't build muscle or give me definition or burn off fat. I had to do that all on my own."
And Kate says she is doing it on her own-without the help of a trainer or, as some reports have suggested, a plastic surgeon. "This body is all real," she says. "These breasts are all mine." No implants or augmentation, and as for her bright-eyed look, she credits an over-the-counter eye serum-Ole-Henriksen Ultimate Lift Eye Gel-with the fresher face that led to whispers of Botox. "Yep, that stuff is my Botox in a jar. I started using it, and two weeks later the rumors started," she says. "Isn't that a shame, though, that I start looking better and instantly it has to be something else-surgeries, something-behind it? Can you imagine if I even tried to go somewhere and have plastic surgery? I'd never get away with it; every minute of my life is photographed. If I'm going to have liposuction, I'm going to have to learn to do it myself."
While she's lost "a few" pounds since hitting the pavement, the 5'7" Kate says her scale continues to hover around the 130-lbs. mark. "And that's my kind scale, the one I have at home," she says. "My doctor's scale is a little more evil." Her lifelong devotion to healthy eating (see sidebar) means that number rarely budges. "It seems like it doesn't matter what I do in that department: It's still around 130." More important to Kate is having a figure that's finally firm: "My kids will hug me and say, 'Your stomach is very hard, Mama.' I just say, 'Thank you!'"
Kate confesses that she's ready for someone else to appreciate her new figure. "I'm waiting for Mr. Right," she says with a sigh. "It would be nice if somebody noticed me, sure! Maybe even after reading all those stories about how horrible and mean I am, somebody will be brave enough to appear, but sometimes I worry I've scared the world away. There's nobody out there who's come forward, and it's depressing. Where is he? All I can say to this mystery man is hurry it up! Every woman I pass is holding someone's hand, and that annoys me. I'm lonely, and I need help."
That doesn't mean she's lost hope. "I saw this really awesome guy at the airport the other day," she says. "But I looked at his finger and, of course-married! Meanwhile, some guy with a scruffy beard in a baseball cap was checking me out, and yeah, that's not the man for me. The other day some guy, who I don't think even recognized me, shouted at me from his car window, 'Whoever has you is so lucky.' But that'd be nobody right now. We'll see if someone shows up."
Just don't expect Kate Gosselin to settle-not when it comes to a man, or herself. "I still look in the mirror and see plenty I want to change," she says. "And that's why the next day, no matter what the weather or how tired I feel, I get up, and I run again."
Advertisement
Today's Photos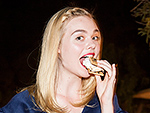 Treat Yourself! 4 Preview Issues
The most buzzed about stars this minute!