People Top 5
LAST UPDATE: Tuesday February 10, 2015 01:10PM EST
PEOPLE Top 5 are the most-viewed stories on the site over the past three days, updated every 60 minutes
Picks and Pans: Books
My Favorite Reading Spot Is...
by Danielle Evans |




REVIEWED BY BETH PERRY
People PICK
STORIES
"Appreciate the liars," a caddish musician tells his still-smitten ex-girlfriend. "When people don't hide things, it means they don't care [about] losing you." Indeed, many of these eight wonderfully melancholy stories mostly set along the East Coast deal with loss-of family, of love, of innocence-and all explore the chasm between what others see and who we really are. In "Snakes" a preteen endures a summer with her distant grandmother. "Virgins" follows two clueless teen girls navigating the suddenly adult world of male attention, while the indelible "Jellyfish" dissects a strained relationship between a lonely father and his equally adrift adult daughter. Most of Evans' characters are African American, but she doesn't dwell on race, focusing instead on the transitory awkwardness inherent in young adulthood. Readers will understand her characters' mistakes long before they've been made-and recognize that when we have to choose, it is rarely our better selves who win.
Stories about the trade-offs of early adulthood from a new writer with a fresh, appealing voice
Earth (The Book)
by Jon Stewart and writers of The Daily Show |




REVIEWED BY LEWIS FRIEDMAN
HUMOR
Stewart skewers the news nightly on his Daily Show. Now he's doing it to Earth in this handy guide for the aliens who will one day inhabit our globe-after we finish making it uninhabitable for ourselves. Those intergalactic tourists will be scratching their heads (if they have any) over Stewart and Co.'s factoids: Vodka is "the Swiss Army knife of human courtship"; the Grand Canyon "the biggest rift in Arizona not involving Mexicans." Too bad we won't be around to hear what alien chortles sound like, but if we have to leave, it's nice to leave 'em laughing.
Gold Boy, Emerald Girl
by Yiyun Li |




REVIEWED BY ANNE LESLIE
STORIES
"Why don't we move back to China?" an immigrant woman asks. In America she has lost her only child in an accident, and her husband, once a doctor, can't master English. "It's like a game of chess," he says. "You can't undo a move." Many of the characters in these affecting stories accept their fate with similar quiet resolve, hiding a sea of pain. In understated prose Li (The Vagrants) vividly illuminates the struggles of the modern Chinese: good people trying to maintain honor and obedience in a world defined by the Internet and Western-style media. Despite cultural differences, they share much with us all.
PROMISE ME
by Nancy G. Brinker
How losing her sister to breast cancer spurred Brinker to found Susan G. Komen for the Cure. Emotional and informative.
BRAVE GIRL EATING
by Harriet Brown
A mother's harrowing chronicle of the years anorexia held her daughter captive, and the long road back.
YELLOW DIRT
by Judy Pasternak
For decades the U.S. put Navajos at risk mining uranium; the radioactive "dirt" remains and still kills. An investigative tour-de-force.
In 1988 journalist Meredith Maran accused her father of having molested her as a young girl. Eight years later she realized it wasn't true. In My Lie Maran, 59 (who has reviewed books for PEOPLE), explains.
WHY DID YOU THINK YOU'D BEEN ABUSED?
It was incest-mania in the culture.
Oprah
came out as a survivor, Roseanne. Incest is a lot more common than people had believed. I was reporting on survivors and started having very real nightmares of being molested. I thought they were flashbacks.
WHAT DID YOU DO?
I told my brother; he believed me. My mom was devastated. Finally my father-they were divorced-was outraged. We didn't speak for years.
HOW DID YOU DECIDE YOU WERE WRONG?
Women were "recovering" things so outlandish-Satanic rituals-that I thought, well, are my stories true? I realized I had no real memories of abuse.
DID YOU APOLOGIZE?
Yes. My dad said he understood why I'd said it, that he had been a very imperfect father. Can you imagine, after all I put him through?
AND YOUR MOM?
I don't think she's ever forgiven me, but we're working on it.
In a new book, Jim Gorant, an editor at SPORTS ILLUSTRATED (published by Time Inc., as is PEOPLE), reports that Michael Vick's former fighting dogs keep making strides-and most are thriving.
WHERE ARE ALL THE DOGS TODAY?
Of the 47 rescued in 2007, 22 have been adopted, 3 are in foster homes, 17 remain at Best Friends, a rescue sanctuary. Five have died.
WHAT PROBLEMS DO THE ONES AT BEST FRIENDS HAVE?
Mostly they're terrified of strangers, and some aren't good with other dogs. The staff sees progress with all of them, but whether they can be in society, we don't know.
THE BIGGEST SUCCESS STORIES?
Seven do community work, like visiting at-risk youth. A real home-run is Hector-he's a therapy dog who's very outgoing and now does school appearances, TV. And there's Jonny Justice, who goes into libraries with Paws for Tales. If kids are self-conscious about reading aloud, he's happy to listen.
CRYSTAL BOWERSOX
Anywhere with my son in my lap, reading a good children's book. He likes Grover from Sesame Street. He's old-school.
LIEV SCHREIBER
The couch in my living room. It's comfortable, it's long. It gets harder now with the kids, but when I have that couch to myself, I grab it.
SHERYL CROW
I always read in bed, which is not great because as tired as I am, a lot of the time I fall asleep.
Before You Suffocate Your Own Fool Self
Advertisement
Today's Photos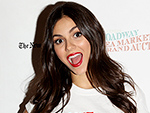 Treat Yourself! 4 Preview Issues
The most buzzed about stars this minute!