People Top 5
LAST UPDATE: Tuesday February 10, 2015 01:10PM EST
PEOPLE Top 5 are the most-viewed stories on the site over the past three days, updated every 60 minutes
Picks and Pans: Books
Catching Up with...Russell Brand
by Nicole Krauss |




REVIEWED BY ELLEN SHAPIRO
NOVEL
Unfolding like an ethereal mystery, Krauss' third novel features four narrators whose lives are intricately connected, across continents and decades, by one 19-drawer wooden desk. A Manhattan writer in 1999-loaned the desk by a Chilean poet who disappeared under Pinochet's brutal regime-regards it as "the single meaningful object" she possesses. A retired academic in 1949 London feels "inexplicable jealousy" when his future wife, a Holocaust survivor, works at the "grotesque, threatening monster." And a Jerusalem antique dealer, whose father's Budapest study was plundered by the Nazis, combs the world for the desk, trying to re-create the refuge of his youth. As Krauss spins her web, the desk emerges as a repository of memories-of lost worlds, broken families and long-held secrets. Some plot strands strain credulity, and the pacing is meditative. But for readers who love beautiful language and complex characters, Great House will be hard to put down.
The feted author of The History of Love explores the burdens of inheritance.
Bound
by Antonya Nelson |




REVIEWED BY JOANNA POWELL
NOVEL
From its captivating first chapter-told partly from the perspective of a dog who's just survived her owner's fatal car crash-this deft tale of messy, modern family life crackles with truth and originality. In Wichita, Kans., childless Catherine Desplaines is at a turning point in her marriage to the much older Oliver, who after two previous "incorrect" wives is now cheating again. Out of the blue, Catherine learns she has been named guardian of an orphaned teenage girl, the daughter of a long-lost friend. The girl's arrival sends Catherine careening through memories of her own turbulent youth-and prompts her to reevaluate her life choices. Nelson (Nothing Right) has a gift for sharply etched characters and dazzling lyrical prose that more than makes up for a minimal plot.
By Nightfall
by Michael Cunningham




REVIEWED BY ERIC LIEBETRAU
NOVEL
When the unexciting lives of Manhattanites Peter and Rebecca Harris are upset by a visit from Rebecca's aimless brother, gallery owner Peter begins to question his motivations-artistic, romantic and otherwise. Cunningham (The Hours) tosses out cultural references like candy, and the story meanders. But his vigorous explorations of art and its meaning-along with a thick veil of eroticism-keep the pages turning.
You Don't Look Like Anyone I Know
by Heather Sellers |




REVIEWED BY CAROLINE LEAVITT
MEMOIR
Never forget a face? What if you couldn't remember any? Sellers suffers from face blindness, a rare neurological disorder that keeps her from recognizing her own husband and heightens her fear that she's inherited mental illness. Raised by a schizophrenic mother and a father who wore dresses and drank, Sellers had a surreal upbringing. She finally finds insights into her condition at Harvard. There's no cure, but she learns to appreciate the upside: Being blind to faces makes it easier to see herself and those she loves as they really are.
THE WOMAN I WAS BORN TO BE
by Susan Boyle
The road from wee lassie to singing sensation. Agreeable, but don't expect revelations.
HODA
by Hoda Kotb
How the Today cohost survived "war zones, bad hair, cancer and Kathie Lee." Bubbly and engaging, just like its author.
FULL FRONTAL NUDITY
by Harry Hamlin
A book report on Mein Kampf got the future L.A. Law star booted from fourth grade; the high jinks escalated from there.
A new book by "America's Cheapest" couple, Steve and Annette Economides, promises to slash your food costs. Top tip: "Plan dinner menus and shop for the next five days to prevent last-minute eating out. You can save $150-$200 a week."
Deepak Chopra's son Gotham, whose new memoir is called Walking Wisdom, remembers the Michael Jackson he and his family knew.
HE WAS AN ATTENTIVE DAD
He used to make breakfast for the kids. He knew who liked strawberry milk and who liked chocolate, who liked the monkey cup...
HE WAS AFRAID OF DOGS
I brought my dog who wasn't even 10 lbs. to Neverland. She was chasing him, playing, and he climbed up on a table!
HE LOOKED SHOCKING WITHOUT HIS MAKEUP
He had splotches from his skin disease; burn scars on his scalp. In the privacy of his home he didn't bother covering it all up. With the scars from his plastic surgery, it made you do a double take.
HE LOVED NICKNAMES
He called me Applehead. And he cursed a lot, so he'd call me all sorts of other things that aren't appropriate for PEOPLE magazine!
HE CRAVED ORDINARY HUMAN CONTACT
When I was a journalist, he'd ask me to bring him raw tapes of my interviews so he could see what people looked like, talked like. It was as close as he got to real people.
The comedian and soon-to-be groom is back with a follow-up to his bestselling memoir My Booky Wook.
WHY A SECOND MEMOIR?
Well, the first one was about what it's like to be dissolute and drug-addicted. The second one is what it's like having given up those drugs.
DO YOU ENJOY WRITING?
I need to be locked in a room and denied all other options, or I won't do it.
YOU'RE FRANK ABOUT YOUR SHORTCOMINGS
I don't want to hear about when someone's brilliant and triumphant. It's when you hear someone say, "I find this difficult," that you warm to them.
WAS IT HARD WRITING ABOUT YOUR FIANCEE, KATY PERRY?
It was easy because our story is so very vivid in my mind.
DO YOU WISH YOU'D MET EARLIER?
It would've been no good for me meeting the right person 10 years ago because I was still a lunatic. Not to mention that Katy was 15.
Great House
Advertisement
Today's Photos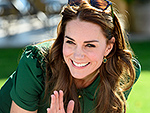 Treat Yourself! 4 Preview Issues
The most buzzed about stars this minute!