People Top 5
LAST UPDATE: Tuesday February 10, 2015 01:10PM EST
PEOPLE Top 5 are the most-viewed stories on the site over the past three days, updated every 60 minutes
Camille Grammer: End of the Fairy Tale
The Star of the Real Housewives of Beverly Hills on the Heartbreak of Being Left by Husband Kelsey Grammer
The Real Housewives of Beverly Hills, Camille, a former dancer, realizes that, given her lavish lifestyle, many will think she deserves little sympathy. Still, she points out, no amount of money can soften the blow of being dumped by the man she loved. "This is a chance to tell my story and to move on," she says. "Maybe it will be cathartic. Maybe this is part of my process."

Kelsey has been living in New York City since February for his role on Broadway in the musical La Cage aux Folles, while you have remained in Los Angeles with the kids. When did you find out your marriage was over?

In June I got a phone call from a mutual friend in New York who was upset by behavior of his that she'd seen. I asked, "Is he leaving me?" and she said, "Yes." I called him but couldn't get through, so I texted him and asked him to please call me. Nothing. An hour later, I texted him again and he wrote: "I don't want to talk." I wrote, "We've been together for 14 years; I deserve an explanation." Finally, three hours later, he called me. He basically said, "I don't want to be married anymore."

How did you react?

I asked him if there was anything we could work on. I offered to go to therapy. Having children, I wasn't ready to throw in the towel. But his mind was already made up. I started crying and he said, "Oh, grow up." I said, "What about our children?" and he said, "They'll get over it." It was harsh. His words were cruel. When we hung up, I crawled into bed and started crying. I didn't sleep that night at all. To me it was surreal. This wasn't happening. I was in denial.

The first episode of The Real Housewives of Beverly Hills features you and Kelsey while you were still together. Was it hard to watch that?

It was bittersweet. It was sad to watch it, seeing him being a part of our family and knowing it was over. That was the last time we were together as a family. I know my family will never be the same again. Kelsey's made some very selfish choices that broke up our home. He didn't destroy us, but he broke up our family.

How do you feel today?

I feel completely abandoned. I feel dismissed. This all happened very quickly for me. We don't even speak. He doesn't want to. For me, having two children together, it's very important that the two of us communicate. He only wants to communicate via e-mail, through our lawyers or a therapist who acts as a mediator. I've lost about 12 lbs., and it's been hard to eat. The first weeks, I didn't sleep much. You're reduced to feeling very small. I'd go to bed and fall asleep and wake up a few hours later thinking, "Is this real? No, it's just a nightmare; everything will go back to normal."

Were there signs your marriage was in trouble?

No, I was completely blindsided. I was shocked. Listen: All marriages have difficulties. In the beginning, it was like a fairy tale; he completely swept me off my feet. It's a roller-coaster ride, but we've always worked on things as a family. I did not expect this. When he left, I was excited for him to do the play. I thought it would be great for him.

Do you have any regrets?

My daughter says, "I wish the play never happened, Mom, because Daddy would still be here with us." I do regret not going with him to New York. He wanted me to stay here in Los Angeles because he said the first months of rehearsal are tough and he couldn't focus on the kids and myself. So I decided to stay. And as time went on, I was offered to do The Real Housewives of Beverly Hills.

Why did you decide to do the show?

I was apprehensive at first. But Kelsey thought it'd be a great idea. He encouraged me to do it. He thought it would be something I would enjoy, and he was fully supportive.

At the time, you didn't know Kelsey would leave you in the midst of filming. How did you handle that?

I tried to hold a lot back, but some things got caught on tape. You go through all the emotions-hurt, anger, devastation, sadness. Being married to a celebrity is difficult to begin with because you're exposed to so much scrutiny, but then going through divorce and its being national news is hard.

Did you try to save your marriage?

During that first phone call, I basically begged him to try to work it out. We've spent almost every day together for 14 years. He was my best friend. I thought he was having a midlife crisis. I would've taken him back if he'd had an affair. Of course, it would've been devastating. But I think you can work through things if you really want to. I thought we'd grow old together. I didn't want my marriage to end.

A few days after that phone call, you attended the Tony Awards with Kelsey in New York City. Why?

He said, "Be professional. Maybe we can spend some time together and talk about the future." I expected to stay at our apartment, but he told me he'd gotten me a suite at a hotel-he said it'd look better for the show. I wasn't allowed into the apartment. Obviously, there was somebody else there. I had asked him during that phone call a few days earlier, "Are you seeing someone?" And he said, "No, I'm not, but I will soon." Still, you want to believe the best of someone, especially someone that you've been married to for 13 years. [Walking the red carpet] it was hard smiling and knowing you're hurting inside. I was heartbroken.

You filed for divorce on July 1.

He came back to visit the kids the weekend before, and we talked about working on our marriage. The next morning, when he arrived in Manhattan, I called and said, "Think about things. Let's not throw in the towel yet." But he said, "I'm complete in my resolve and I don't want to work things out." He said, "I feel no guilt for what I'm doing." At that point, I knew there was no turning back. There was no choice. He was gone.

A month later, you learned Kelsey had a girlfriend and that she was pregnant with their child.

It happened so quickly. I found out through the same mutual friend. I called him and asked, "Is this true? We have two children together. Please let me know so I can prepare them." And he said, "No, I swear she's not pregnant." I believed him. Two days later, when I was on a press photo shoot for Real Housewives, it was confirmed that she was pregnant.

How did you react?

I was in hair and makeup when I got the call. The makeup artist was putting on extra cream under my eyes because tears were rolling down my chin. The [other Real Housewives castmembers] rallied around me. They were so supportive. They were really kind. That night, I tried calling him but he wouldn't return my calls.

Do Kelsey's public displays of affection toward Kayte surprise you?

The first photograph I saw took me aback. I cried for two days straight. He introduced his girlfriend on the Wendy Williams show. He talked to [paparazzi] after walking out of Harry Winston with Kayte after looking at engagement rings, when our divorce is not finalized! I think it's hurtful. It's not so easy for me to cut someone out of my life that I've spent over a decade with and raised a family with. I wasn't prepared mentally to cut him off. So it's not easy for me to move on.

How did you react to the news that Kayte had a miscarriage?

You feel bad for any kind of loss of life. I felt bad about it. You don't want to hear that happen to anyone, no matter the circumstances. And I don't begrudge Kelsey his happiness. I want that to be clear. I want him to be happy.

On the show you mentioned that you used a surrogate to start your family. Why?

At the time, I was having serious health issues. My body wasn't able to conceive or carry a child to term. I was very sick and underweight. I don't regret choosing surrogacy.

How are your children reacting to the divorce?

They still don't realize he's not coming back. They think their daddy is busy doing a play. I'm trying to work with them on the concept that he's not going to come home the way they think he is. For my son, who is only 6, that's hard to understand. They've heard about his girlfriend, but the girlfriend to them is not real. How do you explain that to a 6-year-old and a 9-year-old? You can't lie. You have to be as truthful as possible, but you also have to be responsible. You don't want them to feel hurt and blindsided themselves.

How has Kelsey been as a dad since the split?

He's a good dad. He loves our children. He calls them at least once or twice a day. He keeps in constant contact with them. I'm very grateful for that. I want him to have a great relationship with our children, and I want them to know their dad loves them and that he'll be there for them. I'm so blessed to have these children in my life, and I thank Kelsey for that.

What about your relationship with Kelsey?

He came here recently to visit the children, and I said to him, "I think it's very important for us to be friends and get along in front of the children." And he said yes, in time. He's open to it. That's a positive. I want to be able to forgive him and feel happy about the time we spent together.

How do you feel about your future?

I was scared at first, and there's still fear. But I'm excited about my future. That sounds weird, I know. But Kelsey was a very difficult man to have a relationship with. I miss him, but I don't want to look back anymore. Everything is new. I'm excited about rediscovering myself and becoming independent again. Maybe in the end I'll realize this was for the best. I hope I'll get to that point. Pain subsides, and every day gets better. Every day, I can wake up and think, "Maybe something magical will happen today."


Advertisement
Today's Photos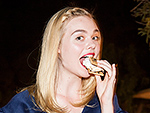 Treat Yourself! 4 Preview Issues
The most buzzed about stars this minute!