People Top 5
LAST UPDATE: Tuesday February 10, 2015 01:10PM EST
PEOPLE Top 5 are the most-viewed stories on the site over the past three days, updated every 60 minutes
Jodie Sweetin: One Day at a Time
The Former Child Star and Recovering Addict Counts Her Blessings-Meet Baby Beatrix!-and Reveals How She Nearly Died After the Birth of Her Child


Add that to Sweetin's growing list of accomplishments. Just two years ago, the former Full House star and recovering meth addict was making headlines for relapses with alcohol and cocaine in the midst of a nasty divorce from Cody Herpin. During their bitter custody battle, her fitness to be the custodial parent of daughter Zoie, then 9 months old, was questioned. "Everything I have would be gone if I kept [using]," says Sweetin.

Now sober for 23 months and in a 12-step program, the actress, 28, has found happiness with boyfriend Morty Coyle-and she's back to health after suffering near-fatal internal bleeding following the birth of their daughter Bea, now 12 weeks old. "As far as my nine lives go," says Sweetin, "I think I'm down to about four."

Soon after Sweetin's planned C-section on Aug. 31, she began feeling faint and within a few hours "was in such excruciating pain," she recalls. "It was terrifying." Bleeding internally, she was rushed into emergency surgery. Over the next four hours, Coyle and Sweetin's mother, Janice, bonded with the new baby and dealt with an unthinkable possibility: Jodie might not survive. "We asked doctors if there was anything we could do," Coyle says. "They said, 'We have a nice chapel downstairs.'"

Sweetin received several transfusions, and doctors tied off a vessel in surgery and cleaned out the two liters of blood in her abdomen. But they were unable to locate a definitive bleeding site. This may indicate a bleeding disorder, which she'll be tested for (see box). Despite all the blood loss, Sweetin came through. "It was very scary," says Dr. Phyllis Oster, who treated her. "When you bleed like that, you bleed very fast." The scare ended up bringing the couple-who met through a mutual friend in March last year-even closer. During her hospital stay (including two days in ICU), "he never left my side," she says. "I couldn't imagine having a better partner." Coyle, 41, is equally besotted: "I am amazed at her resilience."

She has needed every ounce of it. In 2006 Sweetin first admitted to the crippling drug habit that ended her first marriage, only to secretly keep using until she and second husband Herpin found out they were pregnant. After daughter Zoie was born in April 2008, she relapsed, first with alcohol and, while shooting the movie Port City in Wilmington, N.C., that summer, with cocaine. She says she's maintained her sobriety since December of that year. "I did a lot of work on me-it was a complete personality overhaul," Sweetin says with a self-deprecating laugh. "Even when I was pregnant with Zoie, I still felt like I was missing out on something. It's been a slow shift in my mentality. But now, when Zoie's playing in her little kitchen, Beatrix is in her swing and Morty and I are watching Boardwalk Empire.... This is happy for me."

Still, Sweetin is realistic. Of her upcoming two-year anniversary, she demurs, "I try not to count my chickens before they hatch or say, 'Forever, my life will be this way.' I've done that before and, obviously, things change."

But she does give herself a pat on the back for each positive step along the way-and her growing self-knowledge. "Now I go to events and I'm not looking at people drinking like, 'Oh, if only I could do that!' I've never been a social drinker. I might as well say, 'If only I were a zebra!'"

And if she does feel the urge to use? "I think about all that I have to lose-the trust of my family and friends, my relationship, my kids. It's just not worth it." She's also got great friends to lean on, both those in recovery-her boyfriend Coyle is one-and also her former castmates from Full House, with whom she's "really close."

Sweetin recently started a new family tradition: going to concerts with Coyle-a deejay and singer-songwriter in a band, All Day Sucker-and Zoie, who calls him Papa. "I love her as if she's my own daughter," he says. "But I am very respectful of what she has with her father. I like being Papa to her." Sweetin shares 50-50 custody with Herpin and says they "try to be adults and get along for Zoie's sake."

Next up for Sweetin? Film and TV auditions-one, she hopes, for her dream show, Dancing with the Stars. "I really like Derek Hough," the lifelong dancer says of her ideal partner. "You guys would look too cute together-I don't know if I like that!" Coyle jokingly interjects. Still, Sweetin says she's grateful for her life just as it is-including the missteps. "Without the mistakes I've made, I wouldn't have what I do," she says. "I wouldn't change any of it."


Advertisement
Today's Photos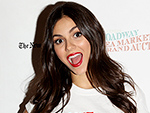 Treat Yourself! 4 Preview Issues
The most buzzed about stars this minute!