On Newsstands Now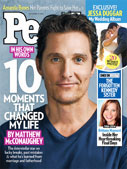 Matthew McConaughey: In His Own Words

Jessa Duggar's Wedding Album

Brittany Maynard's Final Days
Pick up your copy on newsstands
Click here for instant access to the Digital Magazine
People Top 5
LAST UPDATE: Tuesday February 10, 2015 01:10PM EST
PEOPLE Top 5 are the most-viewed stories on the site over the past three days, updated every 60 minutes
Picks and Pans: Movies
Mia Wasikowska's Brit-Lit Movie Faves
Seth Green, Joan Cusack, Dan Fogler | PG |




ANIMATED
Berkeley Breathed's 2007 kids' book Mars Needs Moms had a sweet but sharp point: Love your mother-or aliens will. But between page and screen some nasty gender politics entered this story. In this version, Martian robots raise the kids-based on data sucked by a giant needle out of human moms' brains before it kills them. Luckily for Milo (Green), he hitches a ride when his mom (Cusack) gets abducted. Coming to his aid: Gribble (Fogler), an earthling who's on the red planet for his own reasons. What's offensive is that the twisted dictator behind the deadly brain-sucking plot is the Supervisor, a vicious caricature of a feminist who thinks men are stupid and raising kids is a waste of a woman's time. Between the violence and the vitriol, what Mars really needs is a spanking.
Kill the Irishman
Ray Stevenson, Vincent D'Onofrio, Val Kilmer, Christopher Walken| R |




ACTION
In real life, crime bosses are despicable, but slap 'em on a movie screen and they're folk heroes. So it is with Danny Greene, an all too real union heavy who turned 1970s Cleveland into a mortician's paradise. Stevenson (nearly unrecognizable from his toga-clad days on HBO's Rome, with a gloriously thick '70s 'stache) imbues Greene with so much Irish pride and pathos, one can't help but cheer when he dodges car bombs and his enemies get theirs. As strong as the rest of the cast is, with D'Onofrio playing his mobbed-up partner and Kilmer as the cop who narrates the action, it's really Stevenson's show, and he commands it. His performance and the archival news footage of Greene's exploits make Irishman a gripping (if not particularly ambitious) criminal enterprise.
Jane Eyre
Mia Wasikowska, Michael Fassbender, Judi Dench, Jamie Bell | PG-13 |




DRAMA
Brit-Lit heresy: I've always found Jane Eyre's love, Mr. Rochester, creepy. It seems the auteurs behind this take on Charlotte Bronte's classic agreed, since they snipped the freaky bits to let Fassbender be his sexy best. That's key, because it's easy to like feisty governess Jane (Wasikowska, full of bite), who blossoms after a horrid childhood. Judicious editing gives Dench a meatier role as housekeeper Mrs. Fairfax and unbottles Rochester's fierce passion for Jane.
E.T.: THE EXTRA-TERRESTRIAL
Steven Spielberg's 1982 classic is the gold standard-as intense as any adult drama, but with a child's sense of wonder.
MONSTERS VS. ALIENS
It's funny, with a great message about working together. Plus, Rainn Wilson is delightfully cocky as alien Gallaxhar.
FLIGHT OF THE NAVIGATOR
A sweet, curious '80s movie about a boy's accidental time travel aboard a spaceship run by a friendly computer.
WHAT I Love THIS WEEK
DIANE KRUGER
IN UNKNOWN
Point of fact: Liam Neeson is the one in distress. Kruger's kick-ass cabbie is the one saving his hide.
FOUR LIONS
ON DVD
Jihadi satire is a tough genre, but when four Brits bungle a bombing, it's hilarious.
127 HOURS
ON DVD
He's not the smoothest host, but James Franco-holding most of the movie on his own-makes one heck of an Oscar nominee.
[This article contains a table. Please see hardcopy of magazine or PDF.]
KAte age: 28vs.ROONEY age: 25
Played Heath Ledger's daughter in '05's Brokeback Mountain.
BIG BREAK
Terrorized by Freddy Krueger in '10's A Nightmare on Elm Street.
Plunged down a rock face with James Franco in 127 Hours.
OSCAR MOMENT
Told off Jesse Eisenberg in Social Network's brutal opening scene.
A sweet waitress in Sundance hit HappyThankYouMorePlease, now out in theaters.
BUZZ ROLE
Not-so-sweet hacker Lisbeth Salander in the upcoming The Girl with the Dragon Tattoo.
Sang the national anthem for the NY Giants (the sisters' great-grandpa was founder Tim Mara).
GRIDIRON GREATNESS
Named after another great-grandpa-Pittsburgh Steelers founder Art Rooney.
People.com
POLL
JULIAN ASSANGE?
DreamWorks is making a biopic of the WikiLeaks renegade. Your picks:
GUY PEARCE 15%
JULIAN SANDS 23%
CHRIS COOPER 30%
RALPH FIENNES 32%
IN THE HOOD: Max Irons
YOUR DAD IS BRITISH ACTOR JEREMY IRONS. WHAT'S YOUR FAVORITE FILM OF HIS?
The Mission, which he did when I was in my mother's stomach. I love watching it.
AND YOUR MOM, SINEAD CUSACK, IS ALSO AN ACTRESS. DID YOUR PARENTS PUSH YOU TOWARD THE FAMILY BUSINESS?
Initially they said, "Don't do it. It's a life of instability and worry." When they saw I was serious, they thought, "Okay, we'll just let him do it his way."
YOU GET TO WOO AMANDA SEYFRIED IN RED RIDING HOOD ...
She loves throwing very awkward, dirty questions your way just as you're about to do a very serious take.
HOW DO YOU SPEND YOUR FREE TIME IN LONDON?
Swimming is my big hobby. I do this type of swim called free diving. In London you can't really do it traditionally because you can't go deep, but I got these giant ridiculous slippers that make me look like a pervert, and you just hold your breath and meditate. It's very, very relaxing.
PRIDE & PREJUDICE
I haven't seen the other version, but
Keira Knightley
's Elizabeth has an innate sense of self-respect.
ALICE IN WONDERLAND
I love the Czech version. My mom used to show it to us when we were kids. It's bizarre but riveting.
SENSE AND SENSIBILITY
I'm a huge fan of Emma Thompson. She wrote the screenplay and it's so smart.
Mars Needs Moms
Advertisement
Today's Photos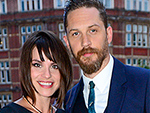 Treat Yourself! 4 Preview Issues
The most buzzed about stars this minute!