People Top 5
LAST UPDATE: Tuesday February 10, 2015 01:10PM EST
PEOPLE Top 5 are the most-viewed stories on the site over the past three days, updated every 60 minutes
TV's Craziest Couple
With Morning Cocktails and Too Many TMI Moments to Count, Today's Kathie Lee Gifford and Hoda Kotb Deliver America's Wackiest Wake-Up Call
Today show in 2008, they both had their reservations. "Hoda was concerned I was going to be outrageous, and I was afraid she wouldn't be," Gifford recalls. Before long, Gifford put those fears aside: "You didn't see it before, but Hoda's got a great personality, always dancing and singing. She's a crazy woman!"

Make that two of them: Starting at 10 a.m. every morning, Gifford, 57, and Kotb, 46, infuse the small screen with their uproarious and irresistible hour of girl talk, during which the duo regularly serve wine or cocktails on air (for the record, "I don't drink wine from a box," says Gifford), break into song and openly discuss their sex lives. "At first I didn't know what was going on. I was just laughing because everything surprised me," says Kotb (pronounced KOT-bee), who started off covering international news for Dateline NBC. Now that she's comfortable reporting her own domestic matters in front of millions of viewers (the show increased viewership by more than 70 percent last year, and its buzz-worthy segments are instant viral hits online), "Hoda confesses things I've never heard before," says her equally candid counterpart, who left Live! with Regis & Kathie Lee in 2000 to raise her kids Cody, now 21, and Cassidy, 17, with husband Frank Gifford, 80. "Like when she said she's more attracted to fat guys. It's gold!"

But behind the booze and banter, the real reason for their success is their close bond offscreen. "She's the most amazing girlfriend," says Gifford. "We have as much fun whether the camera is rolling or not." The pair-who affectionately refer to each other as "Dateline Hoda," for Kotb's previous hard-news persona, and "Keg Stand Kathie Lee," for ... well, take a guess-sat down in New York City to dish about their girls' nights out, dating and the moment they knew they hit it big (hint: It involves drag queens!).

Did you imagine that the last hour of Today would be so fun and crazy?

Kathie Lee: When the fourth hour was presented to me, I had never seen it. I turned it on, and I felt so bad for Ann [Curry]. She was with an expert telling her which white shirt would best hold up in the wash. I was bored to tears. By 10 a.m. people are ready for a party!

Whose idea was it to booze it up on air?

Kathie Lee: That was Chelsea Handler. She had a book out about vodka.

Hoda: We wanted her to feel at home.

Kathie Lee: Being the good hosts that we are, we had cocktails ready.

Hoda: Vodka cocktails.

Kathie Lee: Lots of 'em! Now the drinking has gotten completely out of hand. Guests come wanting a drink.

Are you guys really drinking that early or is it just juice?

Hoda: Um, hello? We don't mess around here. People want to have fun, and they like the idea of a glass of wine at 10. I didn't realize it, but they want it bad!

When did you realize you'd hit it off?

Kathie Lee: We went to one marathon lunch [in '08]. We laughed, cried and talked about the most painful things in our lives, like losing our dads, her dealing with breast cancer [Kotb battled the disease in '07] and silly stuff. In between all of that, I was singing.

Hoda: It was an unlikely pairing. I was more newsy, and you were more fun. But we were meant for each other.

Hoda, did you worry about your reputation for covering hard news?

Hoda: Yes. I spent my whole career covering news, and now I'm doing this laughing and scratching business? But Meredith Vieira has done both Who Wants to Be a Millionaire and 60 Minutes. Don't tell her she's my role model. She'll be like, "You drink all day! That's not what I do."

Do you hang out outside of work?

Kathie Lee: We hang out every week. Every Wednesday we have lunch, then go to a Broadway show.

Hoda: I spent Thanksgiving at her house with my mom.

Do you come up with the ideas for your segments?

Hoda: Some of them are terrible. Like wearing no makeup. [See box.]

Kathie Lee: We weren't concerned until we saw ourselves on the monitor! That was scary.

Hoda: Scary. Disgusting.

Kathie Lee: Announcing our weights on the air was the hardest.

How do you stay fit?

Hoda: I've had weight issues all my life. I've been on all the diets: Atkins, liquid protein, Scarsdale diet. Now I go to the gym often. I'm always on the StairMaster, and I do weights.

Kathie Lee: When I realized no matter how much I dieted or worked out, stuff wasn't changing, I gave up bread, sweets and dairy.

Hoda has a new man... .

Kathie Lee: In a weird way, I hooked her up. I told her to write a book.

Hoda: So I go to my first book signing, and these two girls came up and gave me a piece of paper: 10 reasons you should date our dad. He climbed Mount Kilimanjaro. He's a lawyer. He didn't know what was going on. He didn't even know me. They called him, and he came down and asked me out that day. Now I'm dating their dad! [Kotb, who got divorced in '08, has only publicly revealed his first name: Jay.]

So how do you like being spoofed on Saturday Night Live?

Kathie Lee: I think it's funny. They only parody people who are watercooler talk. In a sense it's a good thing. It's a barometer of how much people know who you are.

Hoda: I was shocked. For me it was very strange to suddenly have fans talk to you. We even had some drag queens dressed up as us outside once.

Kathie Lee: That's the ultimate compliment. When the drag queens love you, you will have a long career!


Advertisement
Today's Photos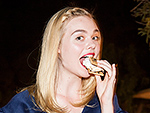 Treat Yourself! 4 Preview Issues
The most buzzed about stars this minute!