People Top 5
LAST UPDATE: Tuesday February 10, 2015 01:10PM EST
PEOPLE Top 5 are the most-viewed stories on the site over the past three days, updated every 60 minutes
Picks and Pans Main: TV
Jill Will
The hot-potato miniseries, dropped by History and premiering on ReelzChannel April 3, dares to be unflattering-but what do its eight episodes, and its stars, tell us about these iconic figures?
1. JOHN
We see him taking painkillers and fooling around (not exactly news), but the show is generally respectful of his Presidency.
Greg Kinnear
A too-taut interpretation-shouldn't JFK have some of that Don Draper charm?
2. JACKIE
Depicted as unhappy in her marriage and resorting to pick-me-up shots from the notorious "Dr. Feelgood." Yet a fundamentally dignified portrait.
Katie Holmes
Looks strikingly right at times, but in the famous pink suit, she's just a souvenir doll.
3. JOE
The ruthless patriarch spreads money and influence. You thought he handed out gumdrops?
Tom Wilkinson
A great turn that dominates the show: cruel, overbearing, smarmy, tragic.
4. ROBERT
Scrappy, wiry yet sensitive-pretty much the standard RFK of history. Except when he bullies Marilyn Monroe.
Barry Pepper
Believable, even if his prosthetic nose makes him look like a shaved Lincoln.
5. ROSE
Captures the matriarch's devotion to her faith (but she's cruel to Joe after his stroke).
Diana Hardcastle




Closer to a brunette Pat Nixon, but she has the right quaking intensity.
The Killing
Sunday, April 3, 9 p.m. ET/PT |




CRIME
After the shock of The Walking Dead, AMC rolls out a well-done but conventional series about Seattle cops investigating the murder of a teenage girl. As the lead detective, Mireille Enos (Big Love) is terrific and makes up for the sense that we're revisiting terrain already covered-and reduced to parody-by Twin Peaks. Her face has a wide-open blankness that adds to the mystery: She looks sorrowful yet startled, like a baby who opened a snake-in-a-can. I'd watch her load a dishwasher.
PRODUCER TO THE STARS
JERRY WEINTRAUB
MUSIC, FILM ... WHAT A CAREER YOU'VE HAD!
I started with zip. By 26, I was a multimillionaire. I'm the great American Dream.
EVER BEEN STARSTRUCK?
Yeah, Joe DiMaggio-until I got to know him through [Frank] Sinatra. I couldn't have done what I did and worked with [Elvis, Cary Grant and
George Clooney
] had I been starstruck. As the guy in charge, I had to be assertive, and they had to believe I knew what I was talking about.
WHAT'S THE KEY TO YOUR SUCCESS?
Once I say I'm going to do something, I do it. If I lose, I lose. If I win, I win. I've lost plenty of times, but I've won a lot more times.
1 ACADEMY OF COUNTRY MUSIC AWARDS
SUN. APRIL 3 8 P.M.
CBS
Miranda Lambert is in the singing lineup.
2 BREAKING IN
WED. APRIL 6 9:30 P.M.
FOX
New sitcom. Christian Slater heads a youthful squad of high-tech security wizards.
3 TOP CHEF MASTERS
WED. APRIL 6 11 P.M.
BRAVO
Curtis Stone is the new host for the high-profile cook-off.
4 CSI
THURS. APRIL 7 9 P.M.
CBS
Laurence Fishburne's latest body of evidence involves a ... mountain lion?
5 SATURDAY NIGHT LIVE
SAT. APRIL 9 11:30 P.M.
NBC
At last the show is hosted by a genuine
Dame: Helen Mirren.
THE BORGIAS' JEREMY IRONS
I COULD IT BE ... SATAN?!
At the center of Showtime's rich new romp about bad-boy Renaissance pope Alexander VI and his immensely corrupt circle, the actor is dry as ashes and wickedly funny. He dismisses a moral argument with a lazy hand swat.
II SINNING? I CALL IT WINNING!
But Irons aims deeper than camp: Alexander acquiesces in murder but wants to strengthen the church, build a nation and advance his (illegitimate) heirs. Ambition seems to grip Irons with the wincing pain of a migraine.
III PREYING IS JUST PRAYING WITH AN "E"
Premiering April 3, The Borgias is frantic with sex and gore. Yet in the middle of it all, Irons will just come to a stop, stare and let us wonder: What's going on in there? If eyes are windows to the soul, his are stained-glass.
Jill Zarin keeps up her Jekyll-Hyde act on Bravo's Real Housewives of New York City (back April 7). One minute she vows to be a good sport-the next she snaps those fierce little teeth. Except for LuAnn, the women are buzzing as angrily as flies in a jar. It's the usual stupid fun.




KATE GOSSELIN RETURNS! Eight DOWN UNDER
The reality mom and her brood head to Australia and New Zealand in their latest Kate Plus 8 special, raising the question: Who's cuter, the kids or the koala?
She is famously raising twins (Cara and Mady, 10) and sextuplets (Aaden, Alexis, Collin, Hannah, Joel and Leah, 6). So what on earth would make Kate Gosselin want to add to her megafamily? Apparently, overwhelming adorableness. "Yes, the kids have a new baby sister: an orphaned baby koala," jokes Gosselin of the little marsupial her family met in Australia and named Honey. "She's beyond precious!"
The entire clan was in the land of Oz for New Year's celebrations, taking in the sights of Sydney, swimming with sharks and counting sheep in New Zealand for their new Kate Plus 8 special, airing April 4 on TLC. Gosselin-who famously refused to go camping with Sarah Palin last spring during the latter's reality show-even agreed to rough it outdoors. While she survived her night under the stars, she much preferred the more civilized atmosphere of the Australia Zoo, where Terri and Bindi Irwin gave the family a behind-the-scenes tour and introduced them to their beloved Honey. "We get updates on Honey all the time from Terri," says Gosselin, who notes that the kids "ask to go back to Australia every day. Honestly, I didn't think it was possible to love another country so much, but we all did."
HERE COMES The Kennedys
Advertisement
Today's Photos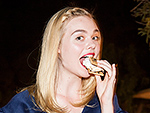 Treat Yourself! 4 Preview Issues
The most buzzed about stars this minute!