People Top 5
LAST UPDATE: Tuesday February 10, 2015 01:10PM EST
PEOPLE Top 5 are the most-viewed stories on the site over the past three days, updated every 60 minutes
Picks and Pans: Books
The "I Never Learned to Cook" Book
This Life Is in Your Hands
by Melissa Coleman |




REVIEWED BY ELLEN SHAPIRO
MEMOIR
In 1968 Coleman's parents bought 60 acres near the Maine coast and turned the clock back to the 19th century. Occupying a cabin without electricity or plumbing, they realized their dream of stripped-down self-sufficiency, shielded from the corruptions of the modern world. Coleman spent her first nine years on Greenwood Farm, and her memoir evokes the inevitable complexities of the simple life. Her father's backbreaking labor produced a miraculous organic farm-where Melissa and her sister roamed blissfully naked-but also compromised his health, and wholesome living could not prevent her mother's depressions. In the end a tragedy finished off her parents' marriage-and their utopian aspirations. But Coleman's moving recounting never loses hope of redemption. "Looking back, you can see a pattern in the threads of life," she writes, "and within that pattern lies the knowledge I'm seeking-the secret of how to live."
The Bond
by Wayne Pacelle |




REVIEWED BY CAROLINE LEAVITT
NON-FICTION
When it comes to animals, "never before have we known" so much and "been so callous," writes Humane Society president Pacelle. In his call to arms, Pacelle explores the human-animal bond and the way we've thwarted it with puppy mills, inhumane treatment of livestock and caged shoots. Some reasons for hope: refuges like the Cleveland Amory Black Beauty Ranch for abused animals and new anticruelty legislation. Pacelle lists 50 ways to help, including fostering animals. Change is "a matter of choice," he writes, "and it begins with...us."
Gone With a Handsomer Man
by Michael Lee West |




MYSTERY
Fluffy as a buttermilk biscuit, novelist West's debut mystery features Teeny Templeton, a Charleston baker whose life crumbles after she catches her fiance, Bing, and two "skanks" playing nude badminton. Teeny throws an unripe peach at Bing's "nether region" (who wouldn't?), then becomes the prime suspect when he's found murdered days later. While trying to prove her innocence, she rekindles an old flame, bakes dozens of red velvet cakes and fantasizes about offing people with poisoned desserts. Snappy dialogue adds zing, and Teeny's endearing vulnerability keeps this charming treat from sugar overload.
Ten years later, Francine Pascal, creator of the megahit Sweet Valley High series, revisits twins Elizabeth and Jessica Wakefield.
WHAT THEY'RE UP TO: No more chilling with Todd and Winston at the Dairi Burger. Now 27, "good" twin Liz is a reporter in New York City; bad girl Jess is a marketing exec at a cosmetics company in Sweet Valley.
HOW THEY'VE CHANGED: They're on Facebook and listen to Beyonce. Plus, they kind of hate each other now! Why? Jessica slept with someone she shouldn't have.
SHOULD YOU READ IT? Sweet Valley Confidential is poorly written and out of touch (the hot designer is Betsey Johnson), and the characters have gotten even more oblivious and superficial with age. But if you once devoured Sweet Valley books like bonbons, it's a confection you won't be able to resist.
QUIZ!
Christina Christoforou's new book settles it: Hair does make the man (or woman). Can you ID these celeb dos?
1.
Angelina Jolie
and
Brad Pitt
2. Barbra Streisand
3.
Simon Cowell
4. Barack and Michelle Obama
I Dream of Jeannie's Barbara Eden, now 76, shares memories of the '60s sitcom, which continues to air in reruns worldwide, in her new memoir.
DID YOU LIKE WEARING THOSE HAREM PANTS?
Oh my goodness, I loved them. So easy to work in. I still have some-I wore them to a Halloween party at Loni Anderson's.
WHAT WAS IT LIKE WORKING WITH LARRY HAGMAN?
It was a troubled time for him, and he acted out. Once there was a storm brewing over a script or something, and my dressing mistress said, "Barbara, don't turn around-he's peeing!" But he's a dear, dear man. We're friends.
STILL HAVE ANY GENIE BOTTLES?
I have genie bottles, Jeannie dolls...The original bottle is in a safe deposit box at the bank. It's on its way to the Smithsonian.
Cindi Leive and the Editors of Glamour present 100 essential recipes even kitchen klutzes can master. Get grating!
BROKE AND FABULOUS GRILLED CHEESE
• 1 tbsp. butter, softened
• 4 slices sourdough, rye or other bread
• 1 cup grated cheddar
1. Spread butter on 1 side of each slice of bread, making sure it reaches all the way to edges. Mound unbuttered sides of 2 of the slices with ½ cup grated cheese each. Set remaining slices on the cheese, buttered sides up, and press together.
2. Heat large cast-iron skillet over moderate heat. Cook sandwiches until undersides are browned, about 3 minutes. Turn over and cook until second side is browned and cheese is melted, about 3 minutes longer. Cut in 2 and serve.
People PICK
Advertisement
Today's Photos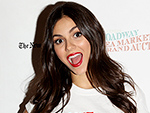 Treat Yourself! 4 Preview Issues
The most buzzed about stars this minute!