People Top 5
LAST UPDATE: Tuesday February 10, 2015 01:10PM EST
PEOPLE Top 5 are the most-viewed stories on the site over the past three days, updated every 60 minutes
Picks and Pans: Books
The Solace of Poetry
by Alexi Zentner |




REVIEWED BY ANDREW ABRAHAMS
FICTION
In his breathtaking debut, Zentner creates a magical world filled with ghosts and demons who lurk in the Canadian north woods. Stephen is an Anglican priest who has come home to the hard logging town of Sawgamet to say goodbye to his dying mother and deliver her eulogy. Old tragedies are relived, and the prodigal son makes his peace, finding comfort in the idea that, as Zentner puts it in his haunting prose, "memories are another way to raise the dead."
Swim Back To Me
by Ann Packer |




REVIEWED BY KIM HUBBARD
STORIES
"Which is worse," an embittered academic asks the ex-wife who left him, "guilt or humiliation?" There's plenty of both in these astute stories by the author of The Dive from Clausen's Pier. A shy teen falls for a girl who shuns him for the local drug dealer. A mom moves out to help those less fortunate, leaving her husband and son adrift. Which is worse? Anyone intrigued by the ways we both fail and save one another will find ample food for thought here.
People PICK
With a memoir out and a baby on the way, the 30 Rock star, 40, talks mommyhood and multitasking.
YOU WRITE ABOUT THE TUG-OF-WAR BETWEEN CAREER AND KIDS-HAS THAT BEEN HARD?
The clock really does run out, and you don't want it to. There are some biological facts that corner you.
DOES YOUR DAUGHTER ALICE KNOW YOU'RE FAMOUS?
Um, I'm afraid she does. When someone on the street says, "I love you!" she's like, "What?" So I've made it clear that's not a relationship you can count on.
HOW DOES SHE FEEL ABOUT BECOMING A BIG SISTER?
She's really excited. I think she thinks we're going to pay her to babysit.
WHAT ARE YOU MOST LOOKING FORWARD TO?
It's been so long since anyone threw up on me! But I'm starting to remember how much work it is for the first three years. Also, I'm not sure I'm remembering this correctly, but I think it hurts a lot when they come out.
ON HER WALLFLOWER YEARS
What 19-year-old ... boy doesn't want a wide-hipped, sarcastic Greek girl with short hair that's permed on top? What's that you say? None of them want that? You are correct.
ON A HIGH SCHOOL HOOKUP
He was the Cream of Wheat of making out. I would try it every now and then, thinking maybe I'd like it, but every time: no.
ON FANCY PHOTO SHOOTS
With the wind blowing on your long extensions, you feel like Beyonce. The moment the wind machine stops, you catch a glimpse of yourself in the mirror and wonder, "Why is the mother from Coal Miner's Daughter here?"
ON WORKING-WOMAN ETIQUETTE
No pigtails, no tube tops. Cry sparingly ... [but] if you're so mad you could just cry, then cry. It terrifies everyone.
Gwyneth Paltrow
's new cookbook pays tribute to her late father, Bruce.
WHEN DID YOU START COOKING WITH YOUR DAD?
When I was in college and coming home a lot. We got really into it.
WHAT DID HE TEACH YOU?
He could be funny and concentrate. That's a really good combo in the kitchen. You have to pay attention, but it's nice to keep it light.
HAVE YOU TAUGHT YOUR OWN KIDS?
Yes, they're very good. They can perfectly crack eggs. My dad would be proud.
HAVE THEY INHERITED YOUR HEALTHY EATING HABITS?
My daughter, yes. My son, not so much!
ANY DINING TRADITIONS FOR THE FOUR OF YOU?
We love going out to dinner every Sunday night. I used to do that with my parents when I was a kid in New York.
RUMOR HAS IT YOU'RE STARTING A COOKING MAGAZINE?
No! I don't have time to take a shower, how would I have time for that?
YOU SING, ACT, COOK. WHAT CAN'T YOU DO?
Math!
Caroline Kennedy, 53, writes that she's dreading "the prospect of an empty nest." As they always have, poems help her through.
HOW DID YOU CHOOSE THE POEMS FOR YOUR NEW BOOK?
I wanted to put together a collection for women like me with more time to reflect.
YOU'RE REFLECTING A LOT ON AGING?
Everywhere I go, if I say I turned 50, everyone's like, "I feel like I grew up with you-I must be really old... ." It's a terrible effect I have on a room! But turning 50 isn't actually that big a deal.
WHEN WILL YOUR NEST BE EMPTY?
My youngest (Jack) is leaving this fall. I do have my fantastic cockapoo August!
YOUR FAVORITE POEM LATELY?
I'm into the Auden poem "Leap Before You Look." It's an exciting idea.
Touch
Advertisement
Today's Photos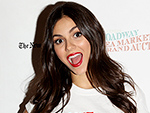 Treat Yourself! 4 Preview Issues
The most buzzed about stars this minute!