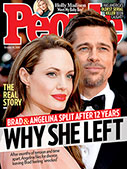 This Week's Issue!
People Top 5
LAST UPDATE: Tuesday February 10, 2015 01:10PM EST
PEOPLE Top 5 are the most-viewed stories on the site over the past three days, updated every 60 minutes
Her Private Struggle
As Her Husband Fought Cancer, Catherine Zeta-Jones Suffered in Silence. Now She Reveals She Has Bipolar II Disorder
Catherine Zeta-Jones
, learned in January that doctors had successfully eradicated the actor's tumor from Stage IV throat cancer, the relieved couple "were both elated," says a close friend. "They couldn't wait to call all of us and let us know. It was very emotional." But despite the happy outcome, Zeta-Jones-whose own quiet, intermittent struggle with depression had begun a few years before her husband's devastating diagnosis-still couldn't escape the "dark cloud" she'd been under, says the friend, who has known the star for 15 years. "It should have been a time when we were all like, 'Yay!' She was so happy, but that depression didn't dissipate the way it should have. She would say, 'It shouldn't be this hard.' She knew something was wrong."
For the earthy, practical-minded Zeta-Jones, 41-"She is Welsh, and they don't suffer fools," notes the friend-the decision to seek help was a no-nonsense one. With Douglas, 66, finally on the mend and her new movie, the romantic comedy
Playing the Field
, slated to start shooting, "I think she looked at Michael and went, 'You know what? He's getting a second chance. We're getting a second chance. I have every reason to celebrate, and I'm going to give myself a second chance too,'" says their friend. And so in early April, the Oscar-winning actress and mom to son Dylan, 10, and daughter Carys, 8, checked in to Silver Hill Hospital, a mental-health facility in New Canaan, Conn. During her five-day stay there, she was given a diagnosis that surprised many, including even the star herself: bipolar II disorder, a mental illness marked by prolonged periods of depression alternating with episodes of mild mania (see box). In going public with her diagnosis, Zeta-Jones hopes to destigmatize the illness and help others who are undergoing similar struggles. "This is a disorder that affects millions of people and I am one of them," she tells PEOPLE in a statement. "If my revelation of having bipolar II has encouraged one person to seek help, then it is worth it. There is no need to suffer silently and there is no shame in seeking help."
Those who know the actress best have come to expect such candor. "She felt like, 'Why wouldn't I say it? It's the truth,'" says her close friend, who refutes tabloid speculation that the actress struggled with drug or alcohol issues. "If this were something else-pills, drugs, whatever-it would have been an easy out. There is some weird taboo about this. But she's like, 'If I had diabetes, I would say I had diabetes and I would get treatment for it.' She didn't ask for this disorder."
Just as they united in the face of cancer, Douglas and Zeta-Jones are confronting this latest challenge firmly side by side. "It takes a lot of courage to seek help, and I am very proud of Catherine for doing something positive about her situation," Douglas tells PEOPLE. "It's onwards and upwards for us both." Their support for each other has helped them get through the toughest of times. "They're everything to each other," says family friend Barry Landau. "They're soulmates, they're lovers, they're in awe of each other. They complete each other. I know it sounds corny, but they do."
There is no question that the pair have traveled a rough road during the past year, which Douglas has described as "pretty intense." That's putting it mildly: In April 2010 the actor's oldest son, Cameron, 32, began serving a five-year prison sentence after pleading guilty to dealing drugs; in June Cameron's mom-Douglas's first wife, Diandra, 54-filed a lawsuit demanding half of her ex-husband's earnings from last fall's
Wall Street
sequel; and then, most devastatingly, Douglas's cancer diagnosis shattered the family's world last August. At the time Zeta-Jones put on a brave face. "What's the use of me crying around the house? That makes no sense to me or Michael," she told PEOPLE after the diagnosis. But privately, says her close friend, "she was scared."
The crushing weight of Douglas's illness and his brutal eight-week treatment took a toll on Zeta-Jones, who had trouble sleeping and getting out of bed in the morning. Amid mounting feelings of depression, the Tony-winning performer who relished singing live before thousands became anxious at the thought of simply meeting a few friends at a restaurant. "The simple things would just seem overwhelming, like going out to dinner," says her friend. "She would almost have to psych herself up to be able to do it. It didn't fit with our Catherine." She did such a good job of masking her troubles that few in her circle realized how seriously she was struggling. "To be honest Catherine functioned quite well," says a longtime colleague. Still, in phone conversations, "you could just feel in the tone of her voice a degree of sadness," adds the colleague. "I just knew something wasn't quite right." Adds the couple's close friend: "She kept up appearances. She kept going. She is Carys and Dylan's mom and Michael's wife, and she kept going even though she didn't feel well." But her problems lingered even after Douglas got a clean bill of health. "They were in this fight together, so that keeps you focused," says her friend. But as Douglas began to recover, Zeta-Jones's depression "wasn't letting up. It just wasn't getting better.... There was just a little piece of her chipped away. It was hard to watch because I could see how hard she was trying."
Zeta-Jones first began battling feelings of anxiety several years ago, around the time she was filming 2004's
Ocean's Twelve
and had been threatened by a stalker. A few years ago she started experiencing bouts of lingering sadness. "Being negative isn't good for my personality," she told Britain's
Sunday Times
last August. "I don't just bring myself down; I bring everyone around me down. It's like a dark cloud. 'Uh-oh, here we go,' and I have to snap out of it."
Although she went into therapy and was put on medication, "she definitely wasn't on the right medication, and it wasn't making her feel good," says the close friend. Often mistaken for depression, bipolar II "is insidious," says the friend. "It's such a tricky disease because it hides and disguises itself as other things." During periods of hypomania, a less extreme form of mania, says Dr. David Miklowitz of UCLA School of Medicine, "people notice that they're really charged up or moving a mile a minute, but it's not bad enough that it causes a real disruption in their lives." Stress-such as Douglas's cancer diagnosis-can "trigger an underlying predisposition" for the disorder, says Dr. Kay Redfield Jamison, professor of psychiatry at Johns Hopkins School of Medicine and author of
An Unquiet Mind
. With the right medication and therapy, she notes, "it is a very treatable disorder."
So far Zeta-Jones, who is taking a new course of medication, seems to be responding well to her treatment. "She's feeling much better-we've been laughing nonstop the last few weeks," says her close friend. On April 14, the day after the news of her illness broke, Zeta-Jones, Douglas and her steadfastly supportive parents, who were visiting from Wales, attended a play at Dylan's school. Later that day Douglas and Zeta-Jones popped into Pizza Post, not far from their Bedford, N.Y., home looking "very happy together," says an observer. A few days later Zeta-Jones flew to Shreveport, La., to begin shooting Playing the Field with Gerard Butler-her first movie role in two years. Douglas is handling the parenting load while his wife is on location: "They try not to work at the same time so somebody is home with the kids," says her friend.
Their relationship, friends say, has helped fuel both of their recoveries. "Michael said that when he was going through chemo, all he kept doing was closing his eyes and picturing Catherine coming down the aisle," says Landau. "To me it's one of the most successful marriages." Now their pals are hoping smoother sailing awaits the couple. At their star-studded wedding in 2000, "I heard them pledge for better or worse," says the close friend. "They have really seen the worst. They're due for some better now. I don't think they'll ever take it for granted."
Even as Zeta-Jones continues to heal, "this is not a perfect science," her friend cautions of the treatment. "There may be some fine-tuning down the road." But the actress herself is thrilled with how far she's come. "She said, 'I feel like I can breathe now,'" says her friend. "'I can exhale and just breathe, and that is huge.'"
Contributors:
With reporting by K.C. Baker.
Advertisement
Treat Yourself! 4 Preview Issues
The most buzzed about stars this minute!