People Top 5
LAST UPDATE: Tuesday February 10, 2015 01:10PM EST
PEOPLE Top 5 are the most-viewed stories on the site over the past three days, updated every 60 minutes
Their Perfect Day
At Long Last, Prince William and Kate Middleton Tie the Knot in a Day of Sweeping Grandeur, Sweet Romance and Heart-Stopping Surprise
William Arthur Philip Louis
and
Catherine Elizabeth
man and wife-something extraordinary happened: One by one, the 1,900 gathered guests broke into grins. "There was a swell of smiles and laughter when the cheers came from outside," says Kate Wright, one of the select attendees. "The congregation almost wanted to join in the cheering." Despite the massive scene outside, for those inside the abbey, the service seemed "so personal and very relaxed," says guest Claudia Bradby. "I think if William didn't have a public role, they would have loved to have gotten married in a little church in Bucklebury. It felt a bit like that-like a really personal event but on a larger scale."
Epic is more like it. But at the center of the regal day on April 29, with all the pomp, circumstance and pageantry befitting the future King and Queen of England-as choirs sang in majestic unison, the woodsy scent of English field maples wafted through Westminster Abbey and heads of state and world leaders looked on-the couple of nine years managed to capture a sense of warmth and intimacy that moved family, friends and seasoned royal watchers alike. Perhaps it was the way William, 28, fixed his blue eyes directly on his bride's as they vowed to love, comfort, honor and keep one another, or the brotherly interplay between the groom and his gregarious best man,
Prince Harry
, 26, but "it did have an incredibly friendly feel about it," says Charles Mayhew, the chief executive of Tusk Trust, one of the charities William supports. "It was a lovely atmosphere."
And yet make no mistake: This was a dazzling fairy tale brought to life. The thrills started early and kept on coming. Kate, 29, resplendent in her Alexander McQueen gown and Cartier "halo" tiara, perfectly poised, if also "a little nervous going in," says guest Fiona Bentley, wife of William's Royal Air Force wing commander Steve Bentley. William, dashing in the scarlet uniform of the Colonel of the Irish Guards, endearingly coaxing Kate's Welsh gold wedding band on her finger. And finally, the show-stopping moment that had been anticipated ever since the pair announced their engagement last November: The newlyweds-looking notably relieved-sharing not one but two kisses from the Buckingham Palace balcony before taking a surprise spin in a 1969 Aston Martin convertible festooned with balloons and the license plate "JU5T WED." The open-air ride "really showed their sense of fun," says Bradby. "They are a young, cool couple." And they're determined to tackle royal marriage on their own terms, penning a prayer themselves in which they promised to keep their eyes "fixed on what is real and important in life." Those kinds of details "are smallish things that say, 'I'm going to go with duty but do things my way,' " notes Colleen Harris, former press secretary for Princes William and Harry. "That's very William." As for Kate, "she seems to have fallen into the role naturally," says Harris, adding of the couple, "they're not stuffy people. They are unpompous and open."
For those who knew the late Princess Diana, such disarming openness stirred the memory of a mother who raised her boys to remain grounded, a mother who loved her sons fiercely and left them far too soon. During the ceremony, "I felt weepy because I thought of how proud Diana would have been," says her friend Lana Marks. "Diana wanted William to marry somebody from a regular family who has an incredibly close support system-we spoke about this many times," says Marks. "She's beaming from above."
The newlyweds' closeness was on full display at the two Buckingham Palace receptions following the ceremony-the first, hosted by the Queen for 650 guests, and a second gathering for 300 hosted by the groom's father, Prince Charles-where the duo mingled freely while always keeping a watchful eye on the other. "They're definitely a team," observes Christopher Warren-Green, the music director of the London Chamber Orchestra, which played at the wedding. "They ask each other, 'Should we do so-and-so?' You can just see it."
During a sentimental, lighthearted toast given by the Prince of Wales at the earlier reception, "[Charles] could have been anybody's father and [William] could have been anybody's son," says Mrs. David Livingstone, the wife of the headmaster of St. Andrew's School, Berkshire, where Kate studied as a young girl. Adds Warren-Green: "Charles spoke so warmly about his small boy. He said it only seemed the day before yesterday when he was building [houses] out of chairs in the living room." But the prince reserved some of his most heartfelt words for the bride. "He finished up by saying how grateful he was to have such a lovely daughter now, and spoke about how much he knew she loved [William] and would support him."
Now, of course, the prince and his newly minted princess are set to begin their happily-ever-after-kicking it off by letting down their royal hair at the rollicking after-dark reception, where they sang and danced to The Beatles' "She Loves You" before fireworks capped the night. "William and Kate were in the middle giving it their all," says a guest. "They really went for it. They were in the full party spirit and stayed until the last minute." Opting to postpone their honeymoon, they instead will settle back into their quaint farmhouse in the Welsh countryside, where William will resume his work as a helicopter pilot with the RAF while taking on a few select joint engagements. Given the unique magic of their wedding day, there can be little doubt that William and Kate will continue to blaze their own path-side by side. "Together they will be the King and Queen of the people," says Marks. "This is going to be a great love story."
Contributors:
CONTRIBUTORS Simon Perry/London,
with Michelle Tauber,
Joey Bartolomeo,
Liza Hamm,
Julie Jordan,
Liz McNeil,
Thailan Pham,
Jill Smolowe,
Alex Tresniowski,
Jennifer Wren,
Suzanne Zuckerman,
with Moira Bailey,
Philip Boucher,
Liz Corcoran,
Caris Davis,
Dimi.
Advertisement
Today's Photos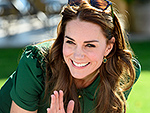 Treat Yourself! 4 Preview Issues
The most buzzed about stars this minute!