Archive Page - 12/1/12 39 years, 2,079 covers and 53,260 stories from PEOPLE magazine's history for you to enjoy
On Newsstands Now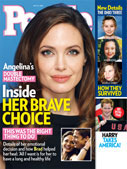 Angelina: Inside Her Brave Choice

New Details on the Ohio Three

Prince Harry Takes America!
Pick up your copy on newsstands
Click here for instant access to the Digital Magazine
People Top 5
LAST UPDATE: Saturday May 18, 2013 08:10AM EDT
PEOPLE Top 5 are the most-viewed stories on the site over the past three days, updated every 60 minutes
Steven Tyler's Crazy Good Life
On Top of the World Again After Charming American Idol Fans with His Warm and Wacky Ways, the Rocker Opens Up About His Private Pain and His Newfound Joy
American Idol
. "If you think going out in front of high-def cameras and millions of people, I'm not high on adrenaline, you're crazy," he explains. "I'm stoned when that curtain drops. I just don't snort the curtain dropping. I don't snort J. Lo either, though I do breathe her in."
Tyler's nutty, what-will-he-say-next personality has not only catapulted Idol back to must-watch status, it's also turned him into one of this year's most beloved stars. Before this season, the Aerosmith rocker, 63, was one big, scarf-wearing question mark, known by many for his band's feuds and his multiple trips to rehab. But his warm, compassionate side-"He's so vulnerable, so sensitive, so heart-full," says costar
Jennifer Lopez
-and his unique way of expressing himself quickly won over viewers. "That's who I am," he says. "I'm so proud the world is seeing the daddy that sang to my kids."
What makes Tyler's resurgence all the more triumphant is the rough road he took to get here. "Left up to my own devices," says the singer, "I probably would have been dead several times over." A rock star with drug problems is nothing new, but Tyler-who comes clean in a memoir,
Does the Noise in My Head Bother You?
, out May 3-wants everyone to know he wasn't just another junkie. To prove his point, he props his right foot on a chair and pulls off his black, heart-covered sock to expose his toes: They're a twisted, painful mess, with his second one curving atop his big toe. "That's all I got for feet now," he says, explaining they're a casualty of 40 years of zigging and zagging onstage-and a major factor behind his infamous concert spill in 2009. "I fly off the stage, and people think, 'Hell, he must be high.' That's not really it-I'm more than that."
His gnarled foot, in fact, is emblematic of the slew of health problems he's had: a torn ACL in his knee, a broken blood vessel in his throat, a false brain tumor diagnosis and, worst of all, hepatitis C and the grueling year of treatment he had around 2005. Writes Tyler in his book: "Your muscles ache, you can't get out of bed, you hurt all over, your hair starts falling out, your fingernails turn yellow, your toes turn orange and purple. You feel like you're dying. . . ."
What really could have killed him were the post-surgery pain meds that led him to relapse after varying stints of sobriety (including a stretch of 12 years). At times, he was using Subutex (a medication used to treat opioid dependence) and OxyContin, snorting crushed Lunesta sleeping pills or ingesting up to six large doses of Xanax daily. ("[I'd] sleep forever," he writes of that period.) His mom Susie's death in 2008 sent him deeper into his addiction. Writes Tyler: "I was sadder than I'd ever been."
Things only got worse. His unpredictable behavior ignited feuds with his bandmates. Amid reports that Aerosmith wanted to replace him in late 2009, he landed in the Betty Ford Center, his eighth stint in rehab. But the damage he had caused didn't hit home until his kids confronted him. "When my son looked me in the eye, crying, and said, 'Dad, you were so high every night, and I was afraid,' I needed that," he says. "My best thinking got me back into rehab, so I gotta keep my thinking in check and keep going to meetings."
The rocker readily admits that Aerosmith often came before his family. "Every marriage needs to have a reality where the husband spends time with the wife and kids, and I just didn't get time," says Tyler, who divorced Teresa, his wife of 18 years, in 2006. Now he checks in regularly via calls and texts to his four kids. (Chelsea, 22, is an art student and model; Taj, 19, is in college; Liv, 33, is acting and raising son Milo, 6; and Mia, 32, has a clothing line.) "I thought my band was my family," he says, "but the lesson of the last couple of years was I really need to nurture the family I really got."
These days the way he bonds with his brood is almost Boy Scout-worthy. "They go in the woods, tinker with tools, make things and break things and just have a good time," says Tyler's girlfriend of nearly six years, Erin Brady, 39, a former Aerosmith tour accountant. You can find him outdoors even when there aren't young ones around. "I love building a garden," says Tyler, who grows snap peas and has a raccoon named Bandit in his yard at his home in Massachusetts. Says Brady: "He loves to play, so what a great dad." And a very cool grandfather: He says he "lives" for visits from Milo. Though they're spread across the country now, his kids do tune in to see Dad on
Idol
. Says Tyler, proudly: "After the first show, Mia texted, 'I can't believe it! You look so good and so happy!'"
He credits his temporary move to Los Angeles-where he has leopard-print carpet outside the front door and an Austin Powers-like "love" room with crystal-bead curtains by the bed-for his renewed creative energy. "I wake up from thoughts of, 'What can I do today?'" says Tyler. In addition to twice-a-week
Idol
tapings, 12-step meetings are part of his routine-there's even a sheet of affirmations on his piano.
Brady's a big factor in his joie de vivre too. They love watching
Criminal Minds
, vacationing in Hawaii-and, well, being naked around the house. Most important, she can keep up with his stream of consciousness. His conversations are peppered with bursts of song (discussing his age, he paraphrases a line from the Beatles' "When I'm 64"), silly noises and seemingly out-of-nowhere asides on things like swimming with whales and the Kennedy assassination. "His brain is on 24-7," says Brady. "He plays the piano, writes a song or reads a book until he can't keep his eyes open. He doesn't ever go, 'I'm tired.' He could be as sick as a dog. I'm younger than him, but I'll be tired and he's still going."
Whether he returns for another season of
Idol
or not ("I might-if the money's good," he says), he's doing a good job of keeping his life as busy as his mind: He's releasing his first U.S. solo single, "(It) Feels So Good," May 10, working on new music with Aerosmith ("We laugh at our problems," says Tyler, adding that they plan to tour later this year) and penning a song with pal
Johnny Depp
. He also owns a motorcycle company and frequently shoots videos for his iPhone app, AppSoLewdly. Adds the style maverick: "If I'm going to wear these clothes I collected for the last 40 years, I want my own f------ line."
But his top priority is staying sober. "I'm on
Idol
now-the last thing I'd want the world to see is me slurring my words," he says. "I don't ever want to be a bad example again." And while he's hotter than he's ever been, the rocker isn't taking anything for granted. "If there's one thing I am today, it's grateful," says Tyler. "I'm happy as a clam!"
Contributors:
With reporting by Julie Jordan,
Cynthia Wang.
Advertisement
Treat Yourself! 4 Preview Issues
The most buzzed about stars this minute!