Archive Page - 12/1/12 39 years, 2,079 covers and 53,260 stories from PEOPLE magazine's history for you to enjoy
On Newsstands Now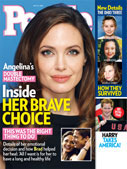 Angelina: Inside Her Brave Choice

New Details on the Ohio Three

Prince Harry Takes America!
Pick up your copy on newsstands
Click here for instant access to the Digital Magazine
People Top 5
LAST UPDATE: Monday May 20, 2013 11:10AM EDT
PEOPLE Top 5 are the most-viewed stories on the site over the past three days, updated every 60 minutes
The Bachelorette: Humiliation & Hope
On Her Quest to Find Mr. Right, Reality Star Ashley Hebert Opens Up About Being Caught in a 'Web of Lies' and Blindsided by a Shocking Betrayal
The Bachelorette to be appointment television, even though she actually lived the experiences that are playing out on this season of ABC's hit reality series. The 26-year-old University of Pennsylvania fourth-year dental student "was glued to the set and had tears flowing" as she watched the emotional June 6 episode alone in her Philadelphia apartment. She had long dreaded reliving the moment during that week's group date-held at an L.A. comedy club, where the men were encouraged to good-naturedly "roast" her. One suitor's so-called joke touched upon her biggest insecurity: that the men were disappointed she had been picked to star on the show over her fellow former Bachelor finalists Emily Maynard or Chantal O'Brien. "Never did I think what was said would bother me as much as it did," Ashley explains. "But being in the spotlight, sitting in the chair and wondering, 'Are all these guys thinking the same thing?' It killed me."

Afterward she was reduced to a sobbing mess, huddled in a corner of the club. Yet the greatest waterworks were still to come, months later, when Ashley viewed the footage of her tearful farewell to contestant Bentley Williams, a frontrunner for her affections who abruptly withdrew from the competition during the episode. She had been smitten from the moment she met him, but things dramatically changed after she began watching the season and discovered what Bentley, 28, had actually been saying on-camera behind her back. During the season's first three episodes, the divorced father (see box) intentionally led her on, all the while giddily confessing in his one-on-one camera interviews that "I don't care about Ashley at all." The jaw-dropping blow came when Bentley flippantly remarked to the cameras that he was really hoping Emily, the North Carolina single mom who got engaged to Brad Womack last season, would be the Bachelorette. "She's so breathtakingly beautiful," he said of Emily. "Ashley kind of looks like an ugly duckling to me."

"I'm extremely humiliated," a still-reeling Ashley, whose insecurities derailed her budding romance with Brad Womack last spring on The Bachelor, tells PEOPLE exclusively. And though he'd also quipped on-camera that he'd "rather be swimming in pee than plan a wedding with Ashley," it was the Emily comparison that truly stung. "When he called me an ugly duckling, that's just too much," Ashley says. "He had intentions to really hurt me-and he did."

As a longtime Bachelorette viewer, the Madawaska, Maine, native had long been familiar with the dramas that unfold each year on the show. Still, nothing prepared her for the one-two punch of having to relive emotionally charged events and, worse, endure a fresh round of humiliation courtesy of the comments Bentley made that she hadn't seen before. As he set about duping her and his fellow contestants, whom he called "tools" and "idiots," Bentley gleefully told the cameras, "I played everyone.... That's never been done before." (ABC declined to make Bentley available for an interview.)

To be fair, Ashley had been warned about Bentley before production began last March, via a text message from her fellow Bachelor contestant Michelle Money, a friend of Bentley's ex-wife. But because she "looks for the good in people," Ashley says she opted to form her own opinion about him and the other 24 suitors who were about to court her. "I thought, 'I'll be able to read this guy when I meet him,'" she explains, stressing that "he did and said everything a girl would want to hear. He was so affectionate, always rubbing my arm, leg, hair, neck. I was reading those things as him being sincere. He really tricked me."

Indeed, several times during each episode, Bentley made sure to denigrate Ashley during his on-camera interviews, stating that "I'm not going to pass up an opportunity to mess with her head." Ashley, meanwhile, was falling in love. "My heart races when I'm with him," she said on-camera. "I feel like I could trust him forever."

She wasn't the only one outraged. Furious Bachelorette viewers took to the Internet, questioning ABC's decision to not only cast Bentley, but to showcase his boorish behavior at Ashley's expense. Producers, however, point out that it was Ashley herself who chose to keep Bentley around. "We had other men we could have introduced her to, but she wanted to give Bentley the benefit of the doubt," says Bachelor executive producer Mike Fleiss, noting that "we always try to tell an honest story."

For Ashley, Bentley's betrayal was even more gut-wrenching as it came on the heels of the ill-fated roast, another emotional low point. While the guys started out by poking fun at each other and making jokes about her lack of cleavage (no problem, she says: "I make fun of myself all the time for that"), the barbs soon became mean-spirited, with one contestant calling her "Brad Womack's leftovers," and another, cell phone salesman William Holman, dubbing her "so used" and adding, "I thought I was signing up to be with Emily or Chantal and then Ashley's here. Really, who gives a f--k?"

At that moment, Ashley, whose good looks had helped her win Maine's 2002 Junior Miss, felt all of her insecurities flood to the forefront. "That was my big insecurity, and it was hit on," she recalls with a shudder. Soon after, Bentley hit another nerve, deciding it was time to pull the plug on his charade. "I'm going to make Ashley cry," he told the cameras as he went to break the news to Ashley that he was leaving. "I hope my hair looks okay." Using the excuse that he missed his "angel," 2-year-old daughter Cozette, Bentley watched a blindsided Ashley stammer that "I pictured you" as the last suitor standing in the finale, while he made a show of comforting her. ("It's annoying to just hold a girl that's crying and crying and crying," he admitted later.) After he left, Ashley curled into a fetal position on her bed, calling herself "heartbroken."

Looking back months later, Ashley finds that what hurts most is learning of his deception. "How can a man that has a little girl ever treat a woman like that?" Ashley asks. "I wish he'd sat me down and said, 'I'm not attracted to you. I don't think this is going anywhere.' Instead it was a complete web of lies."

After Bentley's departure-SPOILER ALERT: He will make a return appearance later this season-a broken Ashley was left wondering if she should, and could, continue with the show. "I was scared that after that I was going to be so closed off and so hurt that I wouldn't be able to open myself up to any of the guys, and that wouldn't be fair to them," she says. Eventually, however, she rallied past the heartbreak to remind herself that the remaining men "gave up so much to be here."

Despite the humiliation and the roller coaster of emotions she experienced during production and months later as a viewer, Ashley says she "has no regrets" about anything that took place during her Bachelorette season. If she and Bentley do cross paths (as of now, he is scheduled to sit down with Ashley and his fellow contestants on The Men Tell All reunion later this summer), she hopes to find out if he "is remorseful at all. Why did he humiliate me like that?"

While Ashley remains mum about whether she made a lasting connection with one of the season's remaining bachelors, she does allow, "I'm so happy with where I'm at. I'm in such a good place right now." But despite her apparent happy ending, she still feels incredibly betrayed by Bentley and the side of him that she only recently discovered along with Bachelorette viewers. "Maybe I'll look back and laugh at this," she says with a shrug. "Right now, I'm not in a laughing mood."


Advertisement
Treat Yourself! 4 Preview Issues
The most buzzed about stars this minute!