People Top 5
LAST UPDATE: Tuesday February 10, 2015 01:10PM EST
PEOPLE Top 5 are the most-viewed stories on the site over the past three days, updated every 60 minutes
Picks and Pans: Movies
Kicking Back with ...
Ewan McGregor, Christopher Plummer | R |




COMEDY-DRAMA
Run now if you despise cute, because Beginners wades in the stuff. It's also quite sad. The film toggles between the past, when Hal (Plummer, above left) reveals that he's gay-and that he's dying-to his son Oliver (McGregor), and the present, when Oliver meets quirky Anna (Melanie Laurent). The only one truly invested in Oliver's new love is his dad's dog, whose thoughts are subtitled. ("Are we married yet?" he wonders.) But Plummer and McGregor are beautifully bittersweet as father and son, one finally living, the other still figuring out what that means.
WHAT I WATCH WITH MY DAD
If it's funny, gritty or even sentimental, my dad and I probably love it-provided there's popcorn. Here are our Father's Day favorites
MATCH POINT
My father loves preaching the gospel of hard work, so what did we make of Woody Allen's 2005 drama about a feckless miscreant of a tennis instructor (Jonathan Rhys Meyers, right, with
Scarlett Johansson
) who lucks into an undeserved charmed life? Endless fascinating conversation.
UNFORGIVEN
I prefer the Coen brothers' quirky modern westerns, but my dad is a John Wayne purist. Clint Eastwood's 1992 Oscar winner about a gunslinger seeking justice (or is that vengeance?) for an injured prostitute makes for some mighty fine middle ground.
STAR WARS
My cinematic education was grounded in the classics, like George Lucas's '77 masterpiece about something called the Force and a pretty lady with funky hair in a semi-platonic love triangle with a space cowboy and her long-lost twin brother (Carrie Fisher, Harrison Ford and Mark Hamill). Don't even get me started on how many lightsabers my family has.
TOY STORY 3
The animation is superb, the jokes are funny, and, as my dad says, "the part where they're sliding into the incinerator and they hold hands ... ?" Don't even finish that sentence, Dad. It gets me every time.
BEAUTIFUL BOY
Michael Sheen and Maria Bello are wrenching as the parents of a suicidal mass murderer, but the film cops out by keeping the couple isolated from the public, leaving the son a cipher.
SUBMARINE
This quirky would-be Welsh Rushmore follows twerpy Oliver (Craig Roberts, below) stumbling toward love as the marriage of his parents (the excellent Noah Taylor and Sally Hawkins) falters.
MUSIC IN THE MOVIES
Hold on! Bridesmaids' wedding singers share their favorite musical moments from films.
CHYNNA: "I loved the movie 48 Hrs. When Eddie Murphy sang 'Roxanne' from his jail cell I was laughing so hard I was crying."
WENDY: "In Almost Famous, the scene where the band and their entourage were on the tour bus and they all sing Elton John's 'Tiny Dancer' together. Very sweet."
CARNIE: "Okay, for sure, the pottery scene in Ghost. If that doesn't make you horny, I don't know what will!"
JESSICA CHASTAIN
SHE KISSES BRAD
Chastain, 30, was cast in The Tree of Life before her leading man. Director Terrence Malick "told me, 'Oh, I cast the husband, and it's
Brad Pitt
,'" she recalls. "I played it cool, but I had a piece of paper and I was writing '
BRAD PITT
' over and over because I was so shocked. He took care of me on-set. He's so sweet."
SHE STEALS SCENES IN THE HELP
Chastain plays sexpot Celia Foote in this summer's adaptation of Kathryn Stockett's bestseller about '60s Mississippi. "I fell in love with her," says the Juilliard grad. "She's buxom and blonde-she's very different than I am, but I really connected with her spirit."
SHE'S NOT RON HOWARD'S DAUGHTER
Yes, she was born Jessica Howard (Chastain is her mom's maiden name)-and she looks a lot like Ron's real kid, her Help costar Bryce Dallas Howard. But Chastain laughs hearing the Internet rumor. "I'd be so lucky to be related to her! But, sadly, I'm not."
KEVIN BACON
Over a few glasses of red wine, X-Men: First Class's supervillain, 52, talks about Footloose, marriage and his not-so-empty nest
WHEN WAS THE LAST TIME YOU WATCHED FOOTLOOSE?
I don't go back and look at my movies-ever. But the other day the producers sent over my screen test for Footloose. It was this weird, time-travel, out-of-body thing. I turned it off, went into the bathroom, looked myself in the mirror and went, "Jesus, am I even the same guy?"
IF ANYTHING, YOU'RE SLIMMER NOW.
Well, I don't look like I did then. Here's the thing: The greatest justice in life is that your vision and your looks tend to go simultaneously.
YOU AND KYRA SEDGWICK HAVE BEEN MARRIED FOR 23 YEARS. DO YOU STILL FIGHT?
We try not to. It's never like the movies, where you have a great fight and then [make love] like banshees. That doesn't happen in life. When we have a fight, we're just ticked off at each other and it sucks. Why not just avoid them?
THAT'S NOT ALWAYS SO EASY.
Then here's the trick: Come away dancing. Me and Kyra, we dance well together. Through the years, we've learned how to dance together without stepping on each other's toes.
YOUR KIDS [TRAVIS, 22, AND SOSIE, 19] ARE GROWN. EVER HAD A DRINK WITH THEM?
There've been a couple of weddings where I've cut loose, but pounding shots? Never going to happen. We're not those parents that are friends with their kids. We're parents, always. We draw a line in the sand.
HOW ARE YOU GUYS DEALING WITH HAVING AN EMPTY NEST?
That lasted about three months before they moved back in. So the chaos never really subsided, which is a good thing. In my heart, I'm not sure I ever want to simplify.
Beginners
Advertisement
Today's Photos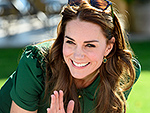 Treat Yourself! 4 Preview Issues
The most buzzed about stars this minute!