On Newsstands Now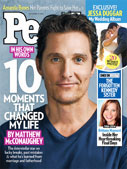 Matthew McConaughey: In His Own Words

Jessa Duggar's Wedding Album

Brittany Maynard's Final Days
Pick up your copy on newsstands
Click here for instant access to the Digital Magazine
People Top 5
LAST UPDATE: Tuesday February 10, 2015 01:10PM EST
PEOPLE Top 5 are the most-viewed stories on the site over the past three days, updated every 60 minutes
Picks and Pans Main: TV
ABC News's Diane Sawyer Interviewing Jaycee Dugard
Curb Your Enthusiasm and Louie dare us to laugh, and we do
COMEDY
My enthusiasm for Larry David's HBO comedy Curb Your Enthusiasm has been curbed for some time. His act-running around Los Angeles, infuriating everyone and enjoying the agitation-grew smug and predictable. He was crabgrass under the delusion that it was welcome on every lawn. But this eighth season finds him spending time in New York City, and the trip rejuvenates him. The one Manhattan episode provided for review is the best Curb in years: a wild farce involving an obscene softball coach, a car that sexually arouses women in the passenger seat and a baby thrown from a burning building. Meanwhile, there's another Manhattan comedy that outdoes Curb for genuinely pessimistic humor: Louis C.K.'s Louie, now in its second season on FX, follows the comedian in a bleak string of humiliations. The star, whose face has the blank pastiness of years spent in subways, is willing to let things go quite dark before throwing in a big gag, but it's always a beauty. The show is a trampoline that sags clear down to the ground, the better to catapult you off into the air.
Curb




Louie




Rizzoli & Isles
TNT, July 11, 10 p.m. ET/PT |




CRIME
Angie Harmon is the bigger name in this Boston cop series, back for season 2, but costar Sasha Alexander sets the tone. As sophisticated medical examiner Maura Isles, she has the soothing but firm tone of a docent in a private museum. Isles, who frets over such details as whether the salmon found in a corpse's stomach is wild or farmed, constantly smooths down the rough bluntness of Harmon's detective Jane Rizzoli. The show continues to be soft, captivating fun, and the second episode is even touching as it deals with themes of motherhood.
101 Ways to Leave a Game Show
ABC, Tuesdays, 9 p.m. ET/PT |




REALITY
The title seriously undersells the central gimmick. After guessing incorrectly at trivia questions, participants don't just leave this game show. They're expelled in the most spectacularly, viscerally unpleasant ways imaginable: strapped to the top of a biplane and flown off toward the horizon, left dangling upside down on the side of a speeding truck or dragged by speedboat across a lake and out of view. If that's leaving, then being drawn and quartered is Pilates. The trivia segments aren't very interesting, but I laughed at every screaming, shrieking exit. Sorry-I couldn't help myself.
Breaking Bad
AMC, July 17, 10 p.m. ET/PT |




DRAMA
Welcome back to hell, also known as Season 4 of Breaking Bad. Meth "cooker" extra-ordinaire Walter White (Emmy winner Bryan Cranston) is trapped working under the watchful eye of mean crime boss Gus (Giancarlo Esposito), who has the lean, cold stealth of a lizard. The first three episodes set up the show's latest sweatily tense arc: Can Walt, jamming a porkpie hat on his bald head as if it signaled "assassin," work up the nerve (and skill) to kill Gus? The show has evolved into a modern underworld Western-there's nothing else like it.
SESAME STREET SPOOFS
Grown-ups love the PBS kids' classic for its gentle but dead-on pop-culture parodies. This DVD set has the best ones, including Grover in a send-up of Isaiah Mustafa's Old Spice ad.
RESCUE ME
Denis Leary's FX firefighter series begins its last season on a quiet note July 13: There hasn't been a blaze in days. Other issues, though, are heating up.
MOB WIVES
Get ready to fall in love all over again! The July 10 reunion of VH1's vigorously vulgar reality show brings back Drita D'avanzo and Karen Gravano, who brawled during the season finale.
ALCIDE IS BACK! WILL HE BE ROMANCING SOOKIE?
He's definitely got a shot! He likes her very much, and he's living a lot closer to her now.
YOU'RE SHIRTLESS A LOT ONSCREEN. HOW DO YOU STAY IN SHAPE?
It's intense. Two workouts a day, six days a week. Cardio, weights ... my trainer just tries to punish me.
HOW DID YOU CELEBRATE AFTER YOUR BREAKOUT YEAR?
I went to Rome and Venice for my first time. Being Italian-American, you watch Jersey Shore and think that's what it's all about. But it's not "gym, tan, laundry." It's Versace, Leonardo da Vinci, Michelangelo. It's an amazing culture.
WHY DID YOU AND YOUR FIANCEE, AUDRA MARIE, POSTPONE YOUR SUMMER WEDDING?
It was just too much to plan with the work and the schedule, the traveling and the workouts. We figured we would just hold off.
YOU WERE IN TALKS TO PLAY SUPERMAN ON THE BIG SCREEN. WHAT HAPPENED?
Their schedule would have interfered with 11 weeks of True Blood, so there was no way I could do it. It was like getting kicked in the chest.
WHAT A BUMMER! (shrugs)
I was more of a Batman guy, to be honest. The darker superheroes had a little more mystery to them. But I was a huge comic-book fan and really thought I could do something special.
Kathy Wakile, Teresa Giudice's cousin on Bravo's Real Housewives of New Jersey, has been featured less prominently than preening sister-in-law Melissa Gorga-so far her proudest moment was baking a giant cannoli. But she has a steady gaze and none of the hyperventilating excitedness that sends the other women off to settle scores or hash out feuds. She appears to be that rare Housewife: a stoic.
WHEN FX CANCELLED THE SHOW LAST YEAR, DID YOU THINK THAT WAS IT?
Definitely. We all thought three seasons was a nice number.
HOW DID YOU REACT WHEN DIRECTV PICKED IT UP?
I was thrilled because I love the group I work with; I was wary because it's a difficult schedule. I haven't seen my family, and that's the hardest thing in the world.
DOES THAT MEAN DAMAGES WILL BE YOUR LAST SERIES?
I would think so. There's just so many other wonderful things to do.
ANY SUMMER PLANS?
We live in Maine, so I'll be there. For me, the great vacation is just being able to be home on consecutive days!
YOUR INTERVIEW WITH KIDNAPPING VICTIM JAYCEE DUGARD AIRS ON JULY 10. WHAT SHOULD VIEWERS EXPECT?
You'll be asking yourself the entire time how she did it. Everything she says makes you stop and examine yourself and your life. She has said that part of healing for her is to know that it's better to laugh and cry than only cry. She will astonish you.
WAS JAYCEE EMOTIONAL WHEN SHE TALKED TO YOU LAST MONTH?
You're going to see lots of different moods, and when she goes back in time, you can see it in her eyes, you can see it in her face: She remembers with such vivid clarity what it was like to be 11, in this nightmare, and then she comes forward again. She is a 31-year-old mom of two. So there's a huge range of emotions and reactions. What you see moving through her eyes is unforgettable.
WAS HER MOTHER, TERRY PROBYN, THERE FOR THE INTERVIEW?
Her mother will be with us, and theirs is a story of such love and such faith that every person who has seen it has wept.
WHAT MADE THIS INTERVIEW SO SPECIAL FOR YOU?
We have stories we do because the reporting is important, knowing that they will change the lives of people watching. This is one of those.
WHAT'S SO FUNNY?
Advertisement
Treat Yourself! 4 Preview Issues
The most buzzed about stars this minute!