On Newsstands Now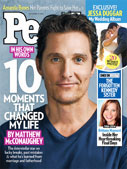 Matthew McConaughey: In His Own Words

Jessa Duggar's Wedding Album

Brittany Maynard's Final Days
Pick up your copy on newsstands
Click here for instant access to the Digital Magazine
People Top 5
LAST UPDATE: Tuesday February 10, 2015 01:10PM EST
PEOPLE Top 5 are the most-viewed stories on the site over the past three days, updated every 60 minutes
Picks and Pans Main: TV
Wicked Witch
Lifetime, Thursdays, 9 p.m. ET/PT |




REALITY
Runway has lost buzz since its 2009 move from Bravo to Lifetime, although this could just be the result of the gaping disconnect between winning a TV design competition and actually succeeding as a label. Either way, even in season 9, Runway remains one of the best reality shows on the air. The challenges are ludicrous, but the results can be dazzling. (I refer to Anthony Ryan Auld's dress of-whoa!-birdseed.) Host Heidi Klum's blonde gorgeousness is undimmed, and Tim Gunn still consoles and inspires. He's like a well-tailored angel out of It's a Wonderful Life.
Karaoke Battle USA
ABC, Fridays, 9 p.m. ET/PT |




REALITY
Unlike American Idol, this singing competition doesn't require contestants to memorize lyrics: The words scroll on the traditional karaoke screen. Apart from that-and the fact that the winners are crowned King and Queen of Karaoke-Battle doesn't have much to offer that's original. The exception is celebrity judge Carnie Wilson. Her odd, open-mouthed reactions are meant to register awe and delight at the singers, but I wouldn't be surprised if an unseen cat were biting her toe.
Big Sexy
TLC, Aug. 30, 10 p.m. ET/PT




REALITY
At 6'3" and 335 lbs., Audrey Curry dominates this mildly enjoyable show about plus-size women trying to succeed as stylists and models in New York City's thin-centric fashion world. The daughter of models, she's fearlessly over-the-top. She has a penchant for goth makeup and on one occasion sails forth in a mountainous coat of bright lavender.
The women are charming, vulnerable and fundamentally humorous-they discuss the wonders of rotisserie chicken while watching a runway parade of skinny models-but this three-week series feels undercooked. When Audrey and her costars create a runway presentation for themselves, it's meant to be a fabulous statement but comes across only as feeble, desperate self-promotion. Big Sexy could have used less glamour and more of Mike & Molly star Melissa McCarthy's salt-of-the-earth power.
These shows dream of an Emmy bonanza Sept. 18-but are they worthy?
1. MILDRED PIERCE (21 NOMINATIONS)
This HBO miniseries frustrated some viewers: Pulp of the '30s and '40s doesn't usually require five-plus hours at the pace of a Ken Burns documentary. But I loved the period detail and Kate Winslet's intense, stoic misery as put-upon Mildred.
2. THE KENNEDYS (10 NOMINATIONS)
Although the Reelz miniseries was accurate, it felt cheap: Camelot as Renaissance fair. The one thing making it noteworthy was Tom Wilkinson's tragic portrayal of Joe Kennedy, a cruel patriarch undone by ambition and crueler fate.
3. 30 ROCK (13 NOMINATIONS)
The Emmys reward the same shows year after year. Tina Fey's NBC sitcom could have gone off two seasons ago and still gotten 13 nods. It's not bad at all, but the relentlessly bright, tight rhythm of absurd jokes induces burnout. All I remember from this season was Margaret Cho as Kim Jong Il.
4. MODERN FAMILY (17 NOMINATIONS).
The ABC sitcom's entire adult cast-all six, including sexy, flamboyant Sofia Vergara-are up for supporting awards. They each deserve to win. But that would require the wisdom of Solomon.
5. MAD MEN (19 NOMINATIONS).
Season 4 of the AMC cult hit (and Emmy favorite) was its best yet, with Jon Hamm's Don Draper in an alcoholic depression-trophy bait!-more ruthless office politics and less cardboard suburban angst.
YOU'VE GOTTA SEE THIS ...
BIG LAW: DEPUTY BUTTERBEAN
"Butterbean" Esch, an ex-boxer with the shape and temperament of a cookie jar, turns deputy. Investigation Discovery, Tuesdays.
BURIED TREASURE
Identical blond twins Leslie (left) and Leigh Keno go hunting for valuable objets. Fox, Wednesdays.
ON DVD: HOUSE SEASON 7
Last chance to catch the sharp, lustrous Lisa Edelstein, who has left the show.
HOUSE HUNTERS INTERNATIONAL
1 IT'S ESCAPISM IN ACTION
Sure, we've all dreamed of ditching our ho-hum homes for an exotic abode. But on HHI regular folks make those dreams a reality, packing up and starting over thousands of miles away with nary a shed tear or backward glance. A particular favorite: snowbound couples who head to little-known paradises like Roatan. "I'm never wearing a coat again" is a common HHI refrain.
2 IT TAKES ALL KINDS
While the domestic original relies heavily on first-time buyers, HHI runs the gamut, from businessmen looking at tiny apartments in Mongolia to Texas millionaires considering Caribbean mansions.
3 IT'S ALWAYS ON
While it's not the only show that airs on HGTV, it somehow plays on a near-continuous loop, besting even Law & Order reruns in its ubiquity. Still, it's reassuring to know that at any given hour, you can find a nice couple from Atlanta looking for a new home ... in Botswana.
YOU HAVEN'T WORKED SINCE NYPD BLUE ENDED IN 2005!
I have not, and it's been by choice. I still have my eye open for that special opportunity, but right now I've kind of benched myself.
SO WHAT HAVE YOU AND WIFE JOANIE BEEN UP TO?
The grandkids [Ella, 5, Dawson, 4, and Fisher, 2]-and I'll tell ya, they're everything they're cracked up to be! We travel quite a bit, and I golf as often as possible. I'm having the time of my life.
DO YOU MISS ANYTHING ABOUT HOLLYWOOD?
That sense of satisfaction after knowing you've done a good episode and created something worthwhile. To me now, a good day's work is the grandkids have laughed all day long and I've had a good round of golf!
As vampire-slaying witch Marnie, actress Fiona Shaw has ignited a scorching path of fire through season 4 of HBO's True Blood-her crusader's anger is the one thing that binds together the show's indulgently sloppy mix of horror stories. Marnie may be allied with dark forces, but she has the lethal moral drive of a Puritan.




Project Runway
Advertisement
Today's Photos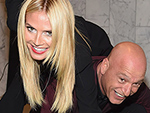 Treat Yourself! 4 Preview Issues
The most buzzed about stars this minute!