People Top 5
LAST UPDATE: Tuesday February 10, 2015 01:10PM EST
PEOPLE Top 5 are the most-viewed stories on the site over the past three days, updated every 60 minutes
Kate Plus 8: 'My Family Can't Be Canceled'
Eight Kids, Six Years and One Failed Marriage Later, Kate Gosselin Faces Her Off-Camera Future
Kate Gosselin
insists that, stardom and scandals aside, she has "the same problems as 26,000 other moms." For instance, she's trying to whip up a decadent chocolate cake from "an old family recipe." Only she can't lay off the frosting. There's a mixing bowl full of gooey goodness in front of her, and now she's tapping into her notorious steel will. "I need to step away," she says with determination. "I need to get away from this."
She's not just talking about calories. Ten years, one questionable hairstyle and a husband ago, Kate was a labor-and-delivery nurse in Reading, Pa., married to Jon, a mild-mannered network engineer. Then came twins, followed by sextuplets and the kind of reality-TV fame (and money) that makes you a one-name celebrity. Now the cable network TLC is pulling the plug on her show
Kate Plus 8
due to sinking ratings; the final episode airs Sept. 12. Welcome to Kate's new reality: unemployment. "I'm freaking out. Big time," she says. "My kids weren't ready. Nobody was. I've never quit a job in my life without having something else lined up. This has been ended for me on a moment's notice. I don't know what's next."
It's been a long time since Kate has had to send out resumes. The family's path to stardom began in 2005 when the Discovery Health channel filmed a onetime special about Kate and Jon as they adjusted to life with newborn sextuplets Aaden, Alexis, Collin, Hannah, Leah and Joel, as well as toddler twins Cara and Mady. But interest in the family exploded-thanks to the adorable antics of the kids and the nonstop bickering of their stressed-out parents-and by 2007 the show,
Jon & Kate Plus 8
, was airing weekly on TLC. Jon and Kate soon left their day jobs and devoted themselves full-time to the show, which paid a reported $25,000 per episode, plus thousands more earned from DVDs, books, speaking engagements and endorsements, as well as free trips to locations like Hawaii. The clan moved from their cramped suburban home to a sprawling six-bedroom farmhouse on nearly 24 acres; the children were enrolled in a small private school.
Then, in 2009, Jon became tabloid fodder after he was caught partying with other women. In front of the cameras, the marriage shattered: Kate sobbed as Jon declared himself "excited" to start a new chapter of his life. The couple filed for divorce in June 2009, and after a brief hiatus, the show returned, minus the Jon.
Once a frumpy hausfrau, Kate soon morphed into a glamorous, hard-bodied single mom who appeared on
Dancing with the Stars
, sparred with Sarah Palin and spoofed her image on the Emmy awards. Through it all she has maintained that reality TV has not exploited her family but has been its salvation, giving her a way to amply provide for her huge brood and remain a hands-on parent. "My first thought was, 'My job is just gone? I have no job?' And my kids: How will they handle this?" The kids-the twins are now 10, the sextuplets recently turned 7-have grown accustomed to the lavish getaways (recent destinations included Alaska and Australia) provided by the show. "Their first comment was, 'No more fun trips?' For them, no more job for Mom means no more trips, no more fun," Kate says. Yet while mourning missed vacations might seem like a luxury problem, the kids soon had tougher questions. "They started asking, 'Are we still going to be able to live in our house? Are we still going to be able to go to our school?' I was not prepared for that."
The answer, says Kate, is complicated. "I told them I will work my fingers to the bone to make sure that they can stay here and go to their school. There are no guarantees in life for anyone, but they know that I'm giving it my best shot."
Kate feels it's the very least she can do; providing well for her massive brood has offset the downsides of reality stardom. "They gave up some freedom, some privacy," she says of her kids' on-camera lives. "As a trade-off, we live in a great house on great property, and they go to a great school. I feel they deserve that much. I can't ever say, 'Okay, I did this to them, but now that it's over we can just go back to living in a house where we're all on top of each other.' I don't want to take away anything they've been given."
While Kate says she's saved enough to last "for a little while" (and the kids have college funds established), real issues loom. "People think we made gazillions of dollars, and we didn't. After the show was canceled, I said, 'I'll go back to my old nursing job.' If nothing comes up, I'll do it," she says. "But the scary reality is, 12-hour nursing shifts every day wouldn't let me continue to provide well for eight kids essentially on my own. When you think about it that way, it gets really scary."
Then there are questions about how the kids are coping. Last year Collin and Alexis were asked to leave their school due to acting disruptively in class; after working with private tutors and continued therapy, they both returned to finish out the year and, Kate reports, "hopefully, our school nightmare is over." Still, Kate recalls that Collin, after hearing of the show's cancellation, "said, 'I feel like crying, but I can't.' I said, 'Because you don't want anyone to see your tears?' and he said yes. So I said, 'Cry when you're in bed and nobody's looking. That's what I do.'"
Yet Kate realizes some things remain the same whether a camera is rolling or not. "Tomorrow morning the nine of us will still wake up together. My family can't be canceled," she says. And trips, though scaled back, will continue: "Not like the ones they're used to, but as many as we can handle and afford." Some benefits of their old life will continue. Steve Neild, the security expert who is often by Kate's side, will remain a fixture. "He's always going to be with us. He and his wife are friends," she says. "He has moved from security to top adviser and road manager. His opinions are great; his advice is great. Everything we went through was hard on both our families; through it all he has cared about my kids and their future. He's amazing support when I need it. I've walked many hard miles, but I've had a small circle of people around me. He's one of them."
Finding a man for a romantic relationship, however, has proved difficult. "I met some guy at this place in town the other week ... but I knew in five seconds that he just wasn't the guy for me," she says. "When I know, I know. I'm not happy being alone at this point, but I'm happier being alone than I am being with someone who makes me unhappy. Next time I will have my magnifying glass out. I will not make the same mistakes."
And while the implosion of her marriage was witnessed by millions, Kate says she doesn't regret a single episode of her show-including the most recent one, in which she melted down while on an RV trip and her longtime babysitter quit, declaring, "I can't spend one more minute with her." By now, Kate says, she has learned to roll with the punches. "In some of the earlier episodes, if you can even get past how different I looked, I cannot stand myself. I feel like since then I've mellowed somewhat. I know that I have changed."
So have her kids, the youngest of whom have spent virtually their entire lives on-camera. "It's so neat to watch who they once were, as little babbling babies, and now see the true, clear people they've become," Kate says. "We have a lifetime of experiences, all saved on DVD. I wouldn't change that for anything in the world."
As for Jon's take on the show ending, "I haven't heard from him directly, but I hear he's pleased," Kate says tersely. (Jon Gosselin could not be reached for comment.) Kate says when she views old episodes of herself in happier times with Jon, she feels no nostalgia. "I don't feel like that person exists anymore," she says of her ex. "And there's nothing that can be done about that."
Still, she's not willing to let go of other dreams. For starters, don't expect her to fade into off-camera obscurity. "I want to stay in TV because I feel comfortable there; it's an exciting life," she says. Her children are another matter. "Give the kids a break, that's fine," she says. "Check back in with us when they're teenagers. I'd really love to find a place of my own on a talk show or something like that." Whatever shape her next job takes, Kate remains certain of one thing. "I'll be back," she says. "This is too much fun not to find a way back."
Advertisement
Today's Photos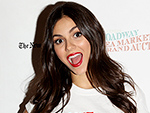 Treat Yourself! 4 Preview Issues
The most buzzed about stars this minute!