Archive Page - 12/1/12 39 years, 2,080 covers and 53,257 stories from PEOPLE magazine's history for you to enjoy
On Newsstands Now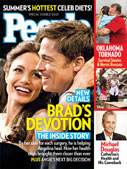 Brad's Devotion: The Inside Story

Oklahoma Tornado: Heroic Rescues

Michael Douglas on Catherine's Health
Pick up your copy on newsstands
Click here for instant access to the Digital Magazine
People Top 5
LAST UPDATE: Friday May 24, 2013 12:10PM EDT
PEOPLE Top 5 are the most-viewed stories on the site over the past three days, updated every 60 minutes
Picks and Pans Main: TV
Ace Detective
NBC, Wednesdays, 8 p.m. ET/PT |




COMEDY
Up All Night, a new comedy about balancing parenthood and workhood, is adorable without being cute. It doesn't gurgle and expect you to coo "Wookit da baby sitcom!" Even with Maya Rudolph as an Oprah-like diva who pronounces "insane" in-SAHN, as if to make the word somehow inapplicable to herself, Up All Night is mostly about documenting the small moments that a new mother and father (Christina Applegate and Will Arnett) are too tired to imprint on their memories. Arnett stays at home with an infant daughter, while Applegate returns to her job under Rudolph's Ava, a woman so infantalized by personal neediness that anyone in her orbit is reduced to a babysitter. The challenge for the show-one met in the premiere by this very clever cast-will be to keep the domestic comedy from going too soft, and Rudolph from being too outrageously funny. Don't wanna see the itsy-bitsy spider go down the spout.
Terra Nova
FOX, Sept. 26, 8 p.m. ET/PT |




FANTASY
In this time-hopping new series, Jason O'Mara and family travel from an unlivably polluted future (2149) back into the pristine, prehistoric past. There they join a colony of pioneers hoping to create a better world from the ground up. Kids will enjoy Nova-the two-hour premiere has CGI dinosaurs, which add snap to any viewing experience-but even with Steven Spielberg listed among the executive producers, this distant world doesn't inspire much awe. And the story moves at the pace of a woolly mammoth dreaming of spring.
YOU'VE GOTTA SEE THIS ...
THE GOOD WIFE
Julianna Margulies's superb drama about politics, love and the law launches season 3 in a high-profile Sunday spot. CBS, Sept. 25.
DESPERATE HOUSEWIVES
The eighth and last season of the landmark ABC melodrama begins as the ladies cover up-sweet Mary Alice!-a murder. ABC, Sept. 25.
TED DANSON ON CSI
Joining the crime drama as supervisor D.B. Russell, he's dry, funny, a little warped-Dansonian. CBS, Wednesdays.
HOME PROJECT
IS IT TRUE THAT HOME IS MUST-SEE TV AT THE WHITE HOUSE?
I love that all of us can gather around to share in these stories of triumph every week. You need a box of tissues nearby.
WHAT TOUCHED YOU MOST ABOUT THIS EPISODE?
Barbara Marshall, a Navy veteran who, despite her own struggles, opened her home to serve homeless female veterans in her community. She is a strong, courageous woman.
HOW HANDS-ON DID YOU GET?
I'd like to say I put up the drywall, but my handy skills are limited. But I did help screw in some plaques as a part of a fabulous design project that paid tribute to all of the female veterans who have passed through Barbara's home. I also lent a hand with the garden greenhouse by arranging the potted plants.
WHAT OTHER SHOWS DO YOU WATCH?
I can always turn the channel to ESPN or HGTV to find something I'll like, but I also enjoy classics like The Dick Van Dyke Show.
KEEPING IT REAL
WHY LET CAMERAS INTO YOUR HOME?
I've always been an open book. Some people wonder what it's like backstage at [my Las Vegas] show, taking my son to school, changing diapers or when I don't have makeup on!
YOUR TWINS NELSON AND EDDY TURN 1 OCT. 23.
They're amazing: They have two teeth and are going to walk soon. I'm going to make their cakes just like I did for R.C. [who's 10].
WHAT ARE YOU DOING UNTIL YOUR VEGAS SHOW RETURNS IN DECEMBER?
R.C. is back at school, and I have to record albums in French and English, but it's been peaceful being at home [in Florida] on the ocean. Ducks are swimming in our pool, and a mama laid an egg, so we're going to have a little baby soon.
DO YOU WANT MORE KIDS?
I hope to have more for sure!
The British Prime Suspect, with its dense stories and Helen Mirren as a weathered inspector, was one of the best cop shows ever. NBC's version (airing Thursdays) is simpler: your basic New York City precinct drama with a gritty crunch. Maria Bello, as Det. Jane Timoney, fights a male-dominated squad for her share of cases. I don't know why Bello wears fedoras-she looks as if she planned to interrogate Justin Timberlake-but her sour, tough intelligence is right on the money.




Up All Night
Advertisement
Treat Yourself! 4 Preview Issues
The most buzzed about stars this minute!