Archive Page - 12/1/12 39 years, 2,080 covers and 53,257 stories from PEOPLE magazine's history for you to enjoy
On Newsstands Now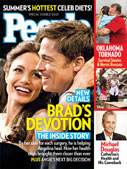 Brad's Devotion: The Inside Story

Oklahoma Tornado: Heroic Rescues

Michael Douglas on Catherine's Health
Pick up your copy on newsstands
Click here for instant access to the Digital Magazine
People Top 5
LAST UPDATE: Thursday May 23, 2013 11:10PM EDT
PEOPLE Top 5 are the most-viewed stories on the site over the past three days, updated every 60 minutes
Picks and Pans Main: TV
The Millionaire Matchmaker's Patti Stanger
CBS, Sept. 19, 9:30 p.m. ET/PT |




COMEDY
One of the best new sitcoms of the fall, 2 Broke Girls is as unpretentious and unassailably sturdy as the Brooklyn diner where it's set. Kat Dennings is Max, a cynical waitress who patrols the room like a tank, armored against whatever blue-plate specials life might hurl at her. Max doesn't-can't-hide her dislike for her inept new coworker Caroline (Beth Behrs), who looks like Paris Hilton philosophically shaken by the ultimate nonexistence of the true BFF. She's in exile from the Upper East Side after her father, a crook on the Bernie Madoff scale, lost everything. The excellent Dennings (Nick and Norah's Infinite Playlist) is given the upper hand here. She gets the zingers. But Behrs holds her own, letting Caroline's common sense outweigh her willowy silliness. The girls' chemistry should keep the show (cocreated by Whitney Cummings, who has her own new NBC sitcom, Whitney) breakdown-free.
The Secret Circle
CW, Sept. 15, 9 p.m. ET/PT |




DRAMA
Paired with The Vampire Diaries, Circle is another pleasurably trashy teen fantasy in which the hormonal surges of youth are expressed as a magical yet scary power. Beats worrying about acne. Cassie (Britt Robertson) is orphaned after her mother is mysteriously flambeed. Moving to Mom's old town, she's courted by snarky kids united in a network older than Facebook-witchcraft! The thought that their circle will be completed by Cassie, who also has special gifts, excites them more than a season of Jersey Shore set in hell. The acting is flat, but the show casts a hokey spell.
YOU'VE GOTTA SEE THIS ...
JACQUELINE KENNEDY: IN HER OWN WORDS
The tight-lipped First Lady's never-released 1964 audiotapes, reflecting on the historic White House years. ABC, Sept. 13.
AMERICA'S NEXT TOP MODEL
The first All Star cycle with past favorites. As usual, Tyra Banks kicks things off with a florid but welcome gag. CW, Sept. 14.
AMERICA'S GOT TALENT
Judge Sharon Osbourne presides over the wrap-up of another good-hearted season. NBC, Sept. 14.
When the trophies are handed out Sept. 18 on FOX, these winners would send me to bed happy
DRAMA
GAME OF THRONES
I wasn't looking forward to HBO's fantasy epic, thinking it would be a weekly dose of J.R.R. Tolkien glop. Instead it was a human-driven tale of strife and war, with a crown set in play and many, many heads sent rolling. Narrative TV at its best.
ACTRESS, COMEDY
MELISSA MCCARTHY, MIKE & MOLLY
McCarthy's nutty, unblinkered turn in Bridesmaids may win her an Oscar. First, though, she deserves an Emmy for the sweet, warm naturalism of her performance as a teacher in love.
COMEDY
PARKS AND RECREATION
Amy Poehler's NBC sitcom, both send-up and celebration of small-town America, has developed a comic sensibility that's gently giddy. Key episodes of the past season hinged on a miniature horse named Li'l Sebastian. Who died.
ACTOR, DRAMA
STEVE BUSCEMI, BOARDWALK EMPIRE
This may be Mad Man Jon Hamm's year, but Buscemi elevated a skinny, sourpuss crook out of Atlantic City to heroic stature. If that's not worth a prize, what is?
ACTOR, COMEDY
LOUIS C.K., LOUIE
C.K.'s performance on his FX show is so bleakly minimal, it scarcely seems like acting. So just give him a trophy and call it best non-actor. He's a sad goldfish staring out from the bowl, certain the water won't be changed.
ACTRESS, DRAMA
JULIANNA MARGULIES, THE GOOD WIFE
Alicia Florrick, the nobly demure attorney Margulies plays on CBS's sterling legal drama, was whipsawed by betrayal and romance in season 2-and finally showed how she felt.
Most of the attention for the new season of It's Always Sunny in Philadelphia (FX, Sept. 15) has been over Rob McElhenny gaining 50 lbs.: He says it was a more realistic way to play a lowlife. That makes Danny DeVito what-George Clooney? In the first two exuberantly crude episodes, he proposes marriage to a hooker and eats ham from a toxic spill. In such grossness is greatness.




TENNIS LESSONS
YOU STOPPED PLAYING TENNIS AS A PRO IN 2003. WHAT HAPPENED?
At 21, I had my real huge back surgery. My body needed a break: I had been training six to eight hours a day since I was 5. They said recovery would be three months, then six months, then a year, and then I just went through a growing-up period.
HOW DID BIGGEST LOSER COME ABOUT?
When I found out Jillian was leaving, I went after it because it was the perfect opportunity. It was about health, fitness and diet, and I could relate to them being scrutinized for how they look: too this, too that, not good enough.
WHAT DOES YOUR FAMILY THINK ABOUT YOU BEING A CERTIFIED PERSONAL TRAINER?
They were, like, this is brilliant. You like to be a leader, you like telling people what to do! You repeat yourself a gazillion times like a parrot-because my mom repeated things with me-and that will come in handy with the contestants.
HOW ARE THINGS GOING WITH YOU AND BOYFRIEND ENRIQUE IGLESIAS?
Beyond well! He's incredibly supportive and happy seeing me doing what I love. I'm really happy and lucky.
MY FAVORITE TV MATCHES
MONICA & CHANDLER
FRIENDS
She loves him even though he's neurotic, and he put up with her OCD-ness. Their relationship seemed like it had legs.
PAULA & SIMON
AMERICAN IDOL/ THE X-FACTOR
They have such obvious love there. If he weren't an ageist and she weren't crazy, it could really work!
CARRIE & AIDAN
SEX AND THE CITY
I never went for Mr. Big. He was too metrosexual. Aidan could chop wood and fix lightbulbs. He was more manly.
MEREDITH & DEREK
GREY'S ANATOMY
They've gone through hell together and they've still got a powerful connection. That's a lot of love there. He's obviously got his priorities straight.
SOOKIE & ALCIDE
TRUE BLOOD
He has a protective thing, which is really sexy. They can grow old together because he wouldn't have to turn her into a vampire. It's not just lustfulness.
Stanger, 50, helps wealthy clients find love on season 5 of her Bravo reality series.
2 Broke Girls
Advertisement
Treat Yourself! 4 Preview Issues
The most buzzed about stars this minute!