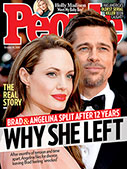 This Week's Issue!
People Top 5
LAST UPDATE: Tuesday February 10, 2015 01:10PM EST
PEOPLE Top 5 are the most-viewed stories on the site over the past three days, updated every 60 minutes
Picks and Pans: Movies
Alynda's Picks
Kenny Wormald, Julianne Hough | PG-13|




DRAMA
How can something so pointless be so much fun? This update of the '84 teen classic that gifted us with Kevin Bacon and a killer soundtrack has slicker dance moves but keeps the original's infectious spirit. Big-screen newcomers Wormald and Hough are compelling as Ren and Ariel, the rebel outsider and the minister's kid in a small town that outlaws rock music and dancing. She's the better actor, delivering in Ariel's tense standoffs with her dad, Rev. Moore (Dennis Quaid). But they're both pro hoofers, so the dance scenes are fantastic, with everything from country line-dancing to krumping. It's what hasn't changed between versions that falls flat: Ren's hokey angry solo dance, Ariel's wild ways and that anachronistic dance ban. In fact the new film is so slavish to the original it feels like cinematic karaoke. But when the music gets going, I dare you not to cut loose. (For more on Hough, turn to page 113.)
The Skin I Live In
Antonio Banderas, Elena Anaya, Marisa Paredes | R |




THRILLER
Beware The Skin I Live In. It's as insidious as it is gorgeous, a depraved thing inching its way into the subconscious, just as director Pedro Almodovar intends. Dr. Robert Ledgard (Banderas) is a plastic surgeon testing a synthetic skin on patient Vera (Anaya). But why does Vera look so much like the doctor's late wife? Why does she live in his house? And why, above all, is she his prisoner? Banderas and Anaya wisely underplay their parts, drawing sympathy as Almodovar teases out the tendrils of his jaw-dropping narrative. The secrets turn out to be so shocking that it's easy to overlook Skin's beauty, with its exquisitely framed shots and recurring images of blades and masks. Try to take it all in as you watch-and be sure to take a friend. You'll need to talk this one out.
Let's hear it for the sidekick! Half the fun of the new Footloose is Miles Teller (Rabbit Hole) as Willard, Ren's buddy with a country twang and two left boots. Teller's Willard is goofier than Chris Penn's, with natural charm and a quick smile. The scenes in which he learns to dance (with help from two little girls) are some of the film's best.
JUNO TEMPLE
SHE ROCKS AN OKLAHOMA ACCENT-AND A CORSET
She plays a small-town schoolgirl in the new drama Dirty Girl, but the Brit, 22-who broke out in '07's Atonement-faced an even bigger challenge as an Austrian queen in the upcoming Three Musketeers: corsets. "Eating solid foods and breathing is difficult," she says. "You feel like a completely different human being."
SHE'S IN THE NEXT DARK KNIGHT FILM ...
... but her role is a mystery. "I can't say a word," she says. "You'll have to wait and see!"
FUNNY AND FABULOUS
ANNA FARIS
IN WHAT'S YOUR NUMBER?
The movie isn't getting a lot of love, but Faris sure should. As a woman afraid she's dated too many guys, she's a hilarious kook on her way to self-acceptance.
SETH ROGEN
IN 50/50
Without his goofy-sweet antics, 50/50 is a weepy about someone with cancer and a pushy mom ... a.k.a. Terms of Endearment.
ALBERT BROOKS
IN DRIVE
Brooks's award-worthy turn toward darkness isn't so much ha-ha funny as I-need-to-laugh-to-hide-how-scared-I-am funny.
Footloose
Advertisement
Treat Yourself! 4 Preview Issues
The most buzzed about stars this minute!