People Top 5
LAST UPDATE: Tuesday February 10, 2015 01:10PM EST
PEOPLE Top 5 are the most-viewed stories on the site over the past three days, updated every 60 minutes
Picks and Pans: Movies
From West Wing to Stoner King
Eddie Murphy, Ben Stiller, Alan Alda | PG-13 |




COMEDY
Eddie's back. More accurately, he's way back-all the way to the pugnacious, raunchy comic of 48 HRS. and Trading Places. (If you're as sick as I am of seeing him in dresses and fat suits, this is cause for celebration.) Tower Heist is an ensemble comedy, but it's appropriate to start with Murphy, because the energy picks up significantly when his convict character, Slide, joins his neighbor Josh (Stiller) in a plot to steal $20 million. For a thief, Josh's heart is firmly in the right place. The luxury condo manager hopes to recover his staff's lost pensions, swindled by snide penthouse-dweller Arthur Shaw (Alda). Also along for the heist: broke banker Mr. Fitzhugh (Matthew Broderick, liberally pouring the whine), and maid Odessa (Gabourey Sidibe, holding her own with the cast's comedy vets). Moviegoers attached to notions like "plausibility" and "the laws of physics" might get frustrated, as Tower Heist's final act dares you not to roll your eyes in disbelief. Still, it's easily funny enough to snare the rest of us.
Margin Call
Zachary Quinto, Kevin Spacey R |




DRAMA
We didn't need this film to prove what we'd already surmised-that the financial industry has its share of greedy dolts-but the validation is nice. Quinto stars as Peter, an up-and-comer at a New York City investment bank who uncovers the firm's imminent meltdown. The result is a fascinating tick-tock of the night he takes his findings up the chain, with stellar performances from everyone, including Spacey as the only exec with a heart. Margin Call makes for a satisfying yarn-and a painfully relevant one.
GABOUREY SIDIBE
ON GOOFING AROUND IN TOWER HEIST
"I believe that I'm hilarious," says the 28-year-old New Yorker, who earned an Oscar nod for '09's grim Precious. "I find comedy in everything." As for her Jamaican accent in the film, "I had dialect coaches, but on weekends my [Jamaican friend] and I would go to dinner and I would talk in the accent."
ON FLIRTING WITH EDDIE MURPHY
"I have a comical crush on Eddie and I probably always will. I'm a girl that likes to laugh-and he is someone who is incredibly funny."
FELICITY JONES
LOVE, SKYPE-STYLE
The Brit is earning raves as a student forced into a troubled long-distance relationship in Like Crazy, but the Oxford-educated star, 27, has made her own long-distance romance work. "The great thing about Skype is that I'll be cooking pasta and chatting away while my boyfriend [artist Ed Fornieles] is doing the same in our flat in London," says Jones.
CRAZY ROMANCE
"For a boyfriend's birthday, I once covered the room with 100 candles and had his favorite movie, Sunset Boulevard, playing. This was during university and I had a lot more time on my hands!"
KAL PENN
DOUBLE LIFE
After working in the Obama White House for two years, Penn, 34, returns to the role that made him a stoner poster boy in A Very Harold & Kumar 3D Christmas. "My first love is being creative, but the cerebral side of me loves D.C.," says Penn. "They're my yin and yang."
MAKING HISTORY
His White House highlight "was the signing ceremony for the executive order that repealed Don't Ask, Don't Tell," says Penn, who plans to work on the President's re-election campaign. "It was awe-inspiring."
HIGH TIMES
"Kumar is so different from me-that's why I get so much joy out of playing him. I like that he's ridiculous. I'm just not."
Tower Heist
Advertisement
Today's Photos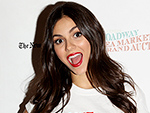 Treat Yourself! 4 Preview Issues
The most buzzed about stars this minute!