People Top 5
LAST UPDATE: Tuesday February 10, 2015 01:10PM EST
PEOPLE Top 5 are the most-viewed stories on the site over the past three days, updated every 60 minutes
Faith Hill: I Count My Blessings
The Country Music Superstar Takes a Moment to Say What She's Most Thankful For
Faith HILL
I'm thankful for...
MY BEST FRIEND
"Gaye [Knight] and I met when I was 12 and she was 14, and we were immediately best friends. She's 4'11" and I'm 5'9", and my mom called us Mutt and Jeff because we looked so funny together. She's been a rock in my life, and her faith is so deep. She was diagnosed with breast cancer a few months ago. Watching her go through that and going through it with her, she has incredible strength. She's taught me about patience and understanding and the importance of laughter even in times that are almost impossible to live through."
OUR MILITARY FAMILIES
"Gaye's husband is a career soldier, and they have three children, so they're a snapshot of what's happening all over the country. I've watched the emotional impact these wars have had on military families like theirs. It's burdened my heart what happens when soldiers come back. They try to have normalcy in their lives and just can't find it. These families carry such an enormous weight, and part of them must be just disgusted with how much we take them for granted. That's weighed heavy on my soul. It's been a wake-up call for me to understand that we can do better."
MY HUSBAND
"There's a built-in appreciation and respect between us because he understands what it takes to do what we do. He's a brilliant song man, and I draw so much inspiration from his assertiveness. I tend to get overwhelmed by the enormity of things that are asked of me, and I've learned from my husband to slow yourself down and just take the pile down one by one. He goes bam, bam, bam down a list and doesn't worry about details. I sometimes get obsessed with details! And I'm inspired by watching him as a father and husband. He keeps his family first and wants to experience all the phases with his girls [Gracie, 14, Maggie, 13, and Audrey, 9]. He wants to be there for their sports, to teach them to drive. He loves being in their world."
MY DAUGHTERS
"I feel lucky to be their mom. Sitting around our dinner table-we try to have breakfast and dinner together every day-everyone is laughing and telling stories about the day. I'm not saying we don't bicker and fight sometimes! We're a typical family, but through it all there's laughter. And being a mom has affected my work ethic. I've always had a strong work ethic, but it's greater now because I know they're paying attention. It's important for my girls to see I'm a working mom, that I had a dream and I'm still making it happen."
GIVING BACK
"Being involved in your community is one of the greatest gifts you can give yourself because it makes your heart grow and grow and grow," Hill says of the causes she and McGraw have supported with their charity Neighbor's Keeper.
THE WISDOM OF MY PARENTS
"My parents can't stand waste of any kind. When something doesn't work or gets a scratch, people toss it, but my mom and dad would never do that. To them it's hard-earned money and you take care of it. That used to drive me insane, but now, to me, it's beautiful. It's like I was raised by environmentalists and didn't know it! I think it's an enormous lesson for our generation."
MY ROSE GARDEN
"Over the summer I'd go out every morning and cut roses to take to the studio or the house or give to friends. It's been a source of therapy and a moment of quietness in the middle of chaos. Maybe it's another of God's gifts to keep me sane! It reminds me of my mom and dad and how much gardening and sharing the fruits of your labor was part of my childhood."
FINISHING MY NEW ALBUM!
"It's been about six years since my last studio album, but I've been in the studio a couple times trying to create an album that truly represented where I am in life. I'm just grateful I fought and stuck with it and didn't throw my hands up in the air and give up. I'm excited about sharing all the things I've poured my heart and soul into. I'm trying not to put so much pressure on myself, but I don't want to disappoint."
THE SUPPORT OF MY FANS
"At the beginning of my career, I was this tall, lanky girl who could sing but was only comfortable in church or somewhere that wasn't exposed. My fans have given me confidence and a way to express myself. They've allowed me to make music, which was once just a dream. They've given me this life."
Contributors:
WRITERS FOR THIS PACKAGE Danielle Anderson,
Cheryl Brody Franklin,
Bethany Lye,
Kristen Mascia,
Michelle Tauber,
Kay West.
Advertisement
Today's Photos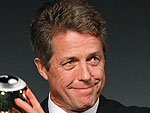 Treat Yourself! 4 Preview Issues
The most buzzed about stars this minute!