On Newsstands Now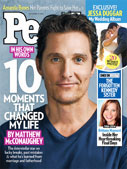 Matthew McConaughey: In His Own Words

Jessa Duggar's Wedding Album

Brittany Maynard's Final Days
Pick up your copy on newsstands
Click here for instant access to the Digital Magazine
People Top 5
LAST UPDATE: Tuesday February 10, 2015 01:10PM EST
PEOPLE Top 5 are the most-viewed stories on the site over the past three days, updated every 60 minutes
Picks and Pans: Movies
The Real Iron Lady
Reese Witherspoon, Chris Pine, Tom Hardy, Chelsea Handler PG-13 |




ROMANTIC COMEDY
The trouble with this particular romantic comedy is that there's a woman in it. When best friends-secret agents FDR (Pine) and Tuck (Hardy) meet consumer-products tester Lauren (Witherspoon), they realize almost immediately that they're dating the same person but vow not to tell her they know. What they end up doing to each other is legitimately hilarious, pulling out their most creative spy versus spy ammo to sabotage each other's dates. But what they do to Lauren is so unfathomably, unpardonably creepy, it should be prosecuted.
We're talking full surveillance, with FDR and Tuck slithering into Lauren's apartment (while she's in it) to plant bugs and cameras, then assigning teams to analyze her most intimate moments. This, while Lauren confides to her sharply funny best friend Trish (Handler) that's she's finally in control of her love life. (Silly female!) Throughout the gratingly sexist antics (and, admittedly, riotous dates), it's clear that War's deepest affection is between FDR and Tuck-which brings me back to my original idea: a rom-com with just Pine and Hardy. I'd pay double to see that.
Safe House
Denzel Washington, Ryan Reynolds, Vera Farmiga | R |




ACTION
If you squint and cock your head just so, you can almost … actually, no. There's no resemblance between Washington and Liam Neeson, but they are after the same roles. This time it's Washington's turn to play a mature gent who's a master with gun and fist. He's rogue spy Tobin Frost, in the custody of Reynolds's rookie agent Matt Weston, when their South African safe house is attacked, sending them on the run. Matt has to decide whether to trust his bosses, one of whom could be a traitor, or Frost, a known manipulator. The Bourne-lite plot may not be logical, but it lets Reynolds play nicely clueless, while the coolly capable Washington just plays. Clearly this is a man loving his second act.
MY FAVORITE VILLAINS
The comedy icon, 78, lends her voice to a duplicitous housekeeper in The Secret World of Arrietty, out Feb. 17. These dastardly dames inspired her.
1 EVE in ALL ABOUT EVE
(Played by Anne Baxter) She starts off as so innocent. Slowly you discover she's deeply manipulative.
2 ALEX IN FATAL ATTRACTION
(Played by Glenn Close) Talk about scary! She's as crazy as can be, but she thinks she's righteous.
3 THE WICKED WITCH IN THE WIZARD OF OZ
(Played by Margaret Hamilton) She scared the hell out of me when I was a kid. I mean, that laugh? When I was a grown-up, I appreciated what she was doing as an actress.
4 MISS HANNIGAN IN ANNIE
(Played by Burnett) I still have a soft spot for her. To her, those little orphans were the true villains. They were the ones driving her crazy!
JOURNEY 2: THE MYSTERIOUS ISLAND
Despite one kid in the audience declaring this the "best movie ever," I beg to differ. The 3-D is impressive and Dwayne Johnson draws laughs, but the predictable plot and heavy-handed nods to Jules Verne make this a bit of a drag for grown-ups.




RAMPART
Woody Harrelson gives a menacing performance as a dirty cop caught in one crime but guilty of so many more. Too bad the diffuse, sloppy film can't match his brilliance, with an ending so egregious, you'll howl.




MY COFFEE WITH MARGARET THATCHER
In The Iron Lady, an aging Margaret Thatcher (Meryl Streep) shuffles through her kitchen with a teacup and saucer. For PEOPLE Founding Managing Editor Richard B. Stolley, the small moment brought back a vivid memory: the real Thatcher, then 54, walking briskly across her office to offer up a cup of coffee-which she personally made in her prime ministerial pantry-before a 1980 interview. "She apologized to me," recalls Stolley, "saying, 'I'm afraid it's instant.' " For the next 70 minutes, she answered questions about her career, her family and herself.
ON BEING CALLED "ATTILA THE HEN"
[Laughs.] Oh, Attila the Hen? I hadn't heard that one. That's good. One really mustn't get too put out by these things.
ON HIRING A VOICE COACH
When I first became leader of the party, and I was very nervous, my voice went higher and tight. I have learned to master that however nervous I am.
ON WHETHER SHE'S A BETTER POLITICIAN BECAUSE OF HUSBAND DENIS
Of course. If you've got security and certainty behind you, if you come home to total loyalty and affection, then your basic worries in life are gone.
ON SON MARK'S CAREER AS A RACECAR DRIVER
You can't stop your children doing these things, and you mustn't. [But] I have never seen him race. I must equally tell you that none of my family has ever been to see me in the House of Commons. We have a rule that we don't go and watch one another at the critical times. That would be a nerve-racking thing that I can't take on.
ON MAKING COFFEE HERSELF
I was being hospitable. It's what I was taught as a little girl.
This Means War
Advertisement
Today's Photos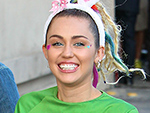 Treat Yourself! 4 Preview Issues
The most buzzed about stars this minute!