On Newsstands Now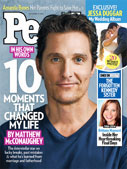 Matthew McConaughey: In His Own Words

Jessa Duggar's Wedding Album

Brittany Maynard's Final Days
Pick up your copy on newsstands
Click here for instant access to the Digital Magazine
People Top 5
LAST UPDATE: Tuesday February 10, 2015 01:10PM EST
PEOPLE Top 5 are the most-viewed stories on the site over the past three days, updated every 60 minutes
Picks and Pans Main: TV
Dear Abbey
ABC, Feb. 14, 8:30 p.m. ET |




COMEDY
Returning to ABC's schedule for its third season, the Courteney Cox sitcom about a group of happily flakey friends plays like a rumpled Happy Endings-in part because Cougar Town has kids in it, and with them come some wear and tear. The first episode is a likable jumble of gags; among them a car toilet-papered to look like a shark, college students who put up a special-effects green screen in their living room, a musical montage about Cox's morning routine, lanyards designed to hold wine glasses and, finally, a nice romantic surprise. The humor is so lighthearted, the show practically skips.
With Ben Flajnik handing out the roses for season 16, ABC's reality romance staple is feeling stale. Is it too late to restore the bloom?
PROBLEM 1: BEN
Ah, the elephant in the mansion. He's cute-Justin Long-y, if less adorably puppyish-but would all these women really swoon straight out of the limo? He's no Jake Pavelka! If you don't buy into the pheromonal magic, the show is just a cynical game for opportunists. I hate cynicism. Fix Can we recast midseason? What's Long up to?
PROBLEM 2: "CAN I BORROW HIM?"
While Ben is in the thick of a one-on-one, a needy/conniving contestant will lead him away for her own chat. This classic gambit always stirs up the hive, but it's tiresomely obvious. Fix Refuse to address the intruder or make her do something inventive. Maybe balloon sculpting.
PROBLEM 3: RECYCLING
Casting previous participants as the next Bachelor or Bachelorette fosters continuity. It also feels like Groundhog Day for speed daters. Fix Like American Horror Story ghosts, losers should be banished to the mansion basement. Forever.
PROBLEM 4: SWEET NOTHINGS
"I'm ready for love." "I feel a connection." "I part my lips and mush comes out." You all sound like greeting cards! Fix Study Shakespeare's sonnets. Quote liberally.
PROBLEM 5: LOCATION, LOCATION, LOCATION
The series is swathed in luxurious exotic settings, the better to heat up the "fairy tale" fantasy. But that's one reason so many couples then fail-love is easy in a four-star resort. Fix Film a season in Alcatraz.
YOU'VE GOTTA SEE THIS ...
THE WALKING DEAD
Season 2 resumes with nonzombie Andrew Lincoln still stuck out at that farm. A quiet episode but plenty creepy. AMC, Feb. 12.
GLEE
At last we meet Lea Michele's two dads: Broadway leading man Brian Stokes Mitchell (right) and the endlessly, majestically quirky Jeff Goldblum. FOX, Feb. 14.
GRAMMY AWARDS
LL Cool J hosts. Anticipated viral highlight: Adele's first live performance since vocal-cord surgery. CBS, Feb. 12.
History's Full Metal Jousting (premiering Feb. 12) is one of those reality shows that conceptually click at some foolproof, primal level. Clasp sturdy fellows in armor, mount them on horses, hand them lances and let 'em go at it. There's much grunting and clanking to thundering hoofbeats. Maybe next we can have a show on siege by catapult.




BACK TO LAS VEGAS
LEAVING LAS VEGAS WAS 17 YEARS AGO. NOW YOU'RE BACK THERE!
I know. It's a step up. I was a hooker, now I'm a CSI. I got my degree and everything.
DO ALL THE BLOOD AND GUTS ON-SET MAKE YOU SQUEAMISH?
I have a good stomach for it. [When I went] to the L.A. county coroner's office, I saw hundreds of decomposing bodies. Seeing death up close is horrific but also so dramatic you can't help but be stimulated by it.
YOUR NEW CHARACTER JULIE FINLAY JUST UNDERWENT ANGER MANAGEMENT. WHAT MAKES YOU MAD?
I'm definitely a bad road rager. I curse a lot in the car; my kids [Miles, 14, Stella, 10, and Agnes, 5] are always horrified by what comes out of my mouth. I hate it when people drive timidly!
WHAT DO YOU GET RECOGNIZED FOR THE MOST?
All those movies from the '80s, like Adventures in Babysitting and Cocktail. [Fans] will say, "I had such a crush on you when I was 7. I wanted you to be my babysitter." Now they're in their 30s, and I feel so old!
SHAMELESS
Now in season 2, Showtime's Sunday comedy-drama is about a rotten tree and its bruised fruit. Frank Gallagher (William H. Macy) wastes his life drinking, hustling for money and fighting his impoverished children, most of whom have inherited his desperate knack for the con. The show is technically flawless-so is Macy, strutting like a mangy Mick Jagger-but the Gallaghers' raucuous, defiant pride never really engages me. I feel like I'm stuck in a documentary about the underclass.




ARROW-DYNAMIC
HOW DID YOU GET INTO ARCHERY?
It was something I'd always wanted to do, and six or seven years ago I decided to look up classes. The whole practice is very meditative because you have to be in such pure focus-and it's fun.
EVER BRING YOUR BOW AND ARROW TO SET?
The first time I set up a target at work, the [assistant director] came by and said, "You're facing the street. What if you miss the target and it stabs somebody in the eyeball? Let's face the warehouse!" So we did.
YOU'VE NEVER SHOT ANYBODY, RIGHT?
That's not in the plan, but I need to go knock on wood now.
VALENTINE'S DAY IS APPROACHING: YOU COULD SHOOT PEOPLE WITH LOVE ARROWS.
Right on. Spreading the love!
By the time Downton Abbey fans have drunk their tea and quite adjusted to the news that Shirley MacLaine is joining the series, season 2 will have reached its two-hour finale (Masterpiece, PBS, Feb. 19; also available on DVD). After all the slapdash World War I melodrama, Abbey glides in slippered feet to a muted but satisfyingly decisive tete-a-tete between lovely Lady Mary (Michelle Dockery) and that milky cousin of hers (Dan Stevens). And so the world's most gilded soap opera ends, for now.




Cougar Town
Advertisement
Today's Photos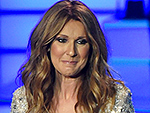 Treat Yourself! 4 Preview Issues
The most buzzed about stars this minute!