On Newsstands Now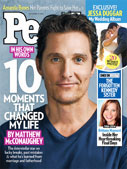 Matthew McConaughey: In His Own Words

Jessa Duggar's Wedding Album

Brittany Maynard's Final Days
Pick up your copy on newsstands
Click here for instant access to the Digital Magazine
People Top 5
LAST UPDATE: Tuesday February 10, 2015 01:10PM EST
PEOPLE Top 5 are the most-viewed stories on the site over the past three days, updated every 60 minutes
Picks and Pans Main: TV
Who Do You Think You Are?'s Lisa Kudrow
ABC, March 4, 10 p.m. ET/PT |




COMEDY
The initials stand for-well, nothing. This new hour-long satire about nasty Dallas socialites is based on a novel called Good Christian Bitches. That title, which would have established a benchmark for religious insensitivity in a network show, was retooled to Good Christian Belles, then simply collapsed to GCB. Which sounds like a shopping network. Meant to be a deliberately outlandish soap, GCB is actually rather benign: It has none of Desperate Housewives' winking cuteness, none of Revenge's dagger-eyed, fire-breathing kick. It's dandelion fluff blown south from the grave of Aaron Spelling. After her marriage ends in disaster, one-time mean girl Amanda Vaughn (Leslie Bibb) returns to Dallas and moves in with her Texas grand-dame mama (Annie Potts). The rich frenemies she left behind are disinclined to forgive their mutual past. Looking like a bad-tempered showcat, Kristin Chenoweth is amusing as Amanda's archnemesis. The problem is that Cheryl Hines is already giving a much livelier performance along similar lines over on Suburgatory. At any rate, the "G" definitely no longer stands for good.
Watch What Happens Live
Bravo, Sundays-Thursdays, 11 p.m. ET/PT |




TALK
Now five nights a week, Bravo executive Andy Cohen's half-hour talk show has lost none of its seat-of-the-pants, bargain-basement nuttiness. Cohen still comes across as a celebrity-obsessed teen interviewing imaginary guests in his bedroom. There's no firm logic to any given night, which can include drinking games, Real Housewives trivia and even a pajama party with Ralph Fiennes. (Well, that's one way to promote Coriolanus.) If Barbara Walters and Mario Cantone inhabited one body, this is what you'd get. And that's fine by me.
Lab Rats
Disney XD, Mondays, 8:30 p.m. ET/PT |




COMEDY
Soon after 14-year-old Leo (Tyrel Jackson Williams) moves in with his new stepdad, a brilliant inventor, he learns that Dad has also created three superpowered kids in a lab under the house. This makes for a strange variation on the "blended family" sitcom: A grown-up watching Lab Rats may have to shake off bizarre thoughts about the ethics of secret cyborg daycare. It's all pretty dumb, but the slapstick is innocently broad, and Hal Sparks plays the inventor as a classic, nonthreatening TV dad, eager to please and easily distracted.
YOU'VE GOTTA SEE THIS...
HILLBILLY HANDFISHIN'
Best-of special for the rivetingly unpleasant reality series involving catfish. Animal Planet, March 4.
ARMY WIVES
Season 6 debut of the solid drama about military families. Hurricane's comin'! Lifetime, March 4.
HAPPY ENDINGS
Casey Wilson catches scavenger-hunt fever on TV's zippiest sitcom-it's a zipcom! ABC, March 7.
Eastbound & Down, Danny McBride's raunchy comedy about minor-league pitcher and big-time louse Kenny Powers, is back for a third season (HBO, Sundays), and it's terrific. The jokes take off on all sorts of unexpected trajectories-foul balls that score. Kenny, who looks like a root vegetable, is raising an infant son he loves but isn't too concerned about: At the beach, he puts the kid in a hole and layers a blanket over the top.




HE MUST BE DREAMING
ANY WORRIES THAT AWAKE MIGHT BE TOO CONFUSING FOR VIEWERS?
When we were doing the pilot, I played for the writer and director a video on my phone of my then 5-year-old Ruby explaining the story in three sentences. I said they didn't need to worry about it being too hard to follow!
WHAT DO YOU DREAM ABOUT?
I don't have happy dreams, only nightmares, like all my teeth are falling out. I'm not an anxious person in life, so I think my anxiety manifests itself in my sleep.
ROLES LIKE YOURS IN HARRY POTTER HAVE GIVEN YOU SOME DEVOTED FANS.
I have a fantastic group of women who know more about me than I do. They send me practical gifts, like new socks!
WORDGIRL
1 IT'S INSPIRING
My 4-year-old daughter was lamenting the lack of female superheroes before finding this brilliant PBS Kids series about a girl from Planet Lexicon who defeats baddies with strength-and smarts.
2 IT'S EDUCATIONAL
The plot of each lively episode incorporates two new, challenging words, like "incognito" and "zest."
3 IT'S HILARIOUS
And not just for children. Unlike its mind-numbing kids' show peers, WordGirl is wittier than most prime-time sitcoms. My daughter and I are hooked.




ROB LOWE ON PARKS AND RECREATION
Rob Lowe has been on NBC's Parks and Recreation two seasons, and I'm still waiting for him to make me laugh. If the show's ensemble has the casual rhythm of hula-hoop masters, Lowe's hips are locked and his hoop is at his ankles. As Chris Traeger, he's a tightly wound, glad-handing health nut-so far outside the relaxed charm of Pawnee, he might as well live in a sterile bubble. Parks goes on hiatus March 15; during the break, someone please fix this.
FAMILY TREE HUGGER
THE SHOW EXPLORES STARS' ANCESTRIES. ANY INTERESTING DISCOVERIES?
Blair Underwood learned that a relative was one of the freed slaves. Rita Wilson's own father had been in a work camp after fleeing Bulgaria in 1949, and he never talked about it.
WHAT DID YOU FIND OUT?
I was able to go to my grandmother's village in Belarus and talk to people who survived the Holocaust. It's a chance to pay your respects.
HOW WAS REUNITING WITH DAVID SCHWIMMER ON YOUR OTHER SERIES, SHOWTIME'S WEB THERAPY?
Before shooting, I had a moment of, "I don't know which scene with Ross this is. I don't remember how to be Phoebe!"
ANY GUILTY TV PLEASURES?
I watch the Real Housewives of Everywhere. I can't believe my eyes. We've raised the bar for what counts as humiliating.
GCB
Advertisement
Today's Photos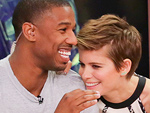 Treat Yourself! 4 Preview Issues
The most buzzed about stars this minute!