On Newsstands Now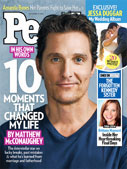 Matthew McConaughey: In His Own Words

Jessa Duggar's Wedding Album

Brittany Maynard's Final Days
Pick up your copy on newsstands
Click here for instant access to the Digital Magazine
People Top 5
LAST UPDATE: Tuesday February 10, 2015 01:10PM EST
PEOPLE Top 5 are the most-viewed stories on the site over the past three days, updated every 60 minutes
Picks and Pans: Movies
Welcome To...
Jennifer Aniston
, Paul Rudd, Justin Theroux | R |




COMEDY
Insipid, tedious and lacking in common sense, Wanderlust has nothing to offer a discerning viewer. But hey, Aniston got a boyfriend from this ridiculous enterprise, so that's something positive, right? The aforementioned beau, Theroux, plays Seth, the New-Agey leader of Elysium, a Georgia commune happened upon by George (Rudd) and Linda (Aniston), a couple who can no longer afford their New York lifestyle. After a night of pot, drum circles and skinny-dipping, the pair decide to stay in Elysium. That's when everything goes wrong-for us (the heck with George and Linda, they made their bed). It's a stream of lame jokes about hippies doing things no sane person would tolerate. I don't care how enlightened you think you are, if a stranger wants to watch you on the toilet, they need therapy.
Incredibly, Wanderlust isn't entirely without merit. Linda Lavin is terrific as George and Linda's shady realtor, and Aniston and Rudd come off relatively unscathed. But a script in which one character announces, "We adopted a black baby," then reveals that it's his new SUV? That thing needs burning.
The Secret World of Arrietty
Carol Burnett, Amy Poehler | G |




ANIMATED
Shawn (David Henrie) may be sickly, but his eyes are keen enough to spot Arrietty (Bridgit Mendler). That's impressive, since Arrietty is about the size of a teaspoon, the only child in a family of Borrowers, so called for the provisions they liberate from the "human beans" living above them. Based on Mary Norton's 1952 classic, Arrietty is a story of cross-cultural friendship, lushly animated and mellower than most kids' fare. The tranquility is threatened by Shawn's nosy maid Hara (Burnett), who's desperate to prove the Borrowers exist. Burnett camps it up delightfully, but if kids also come to appreciate seeing the wide, wondrous world from Arrietty's tiny perspective, that's okay too.
As talented as Aniston is, let's face facts: This rom-com thing isn't working. (See also-or rather, don't-The Switch or Just Go With It.) What Aniston needs to do is stretch, as a flawed cop in the hands of, say, Kathryn Bigelow, or a wily politico for George Clooney. Or, if she really feels the need for funny, try working with Kristen Wiig. Forgive the expression, but it could be as simple as a new set of friends.
Oscar Shorts
Why watch the Oscar-nominated shorts? You'll get a leg up in your Oscar pool-and have fast-paced fun. Gems such as The Fantastic Flying Books of Mr. Morris Lessmore (above), an animated fable about a man's love for books, and God Is the Bigger Elvis, a documentary about nun and former actress Dolores Hart, are in theaters and available on demand on cable, along with a host of feature nominees like The Help and Midnight in Paris. Enjoy!
DIDDY
WHAT DREW YOU TO UNDEFEATED?
It's so inspiring. It's a documentary about this incredible football coach in Memphis, Bill Courtney [below, with player O.C. Brown], whose team is falling apart.
IT HIT A NERVE FOR YOU?
I was so connected to the film I was crying like a baby. Like the real-life [player] in the movie, Money, I broke my leg at football camp [in high school]. It was my last game.
YOUR SON JUSTIN, 18, IS SET TO PLAY FOR UCLA.
I'm a motivational sideline dad. I want him to look over and see my face whether he's falling down or in the zone doing a dance.
EVER WISH YOU WERE AN NFL PLAYER?
Every day. I haven't given up on my dream. I'll own an NFL team one day and live vicariously through them.
HOW WILL YOU CELEBRATE IF THE FILM WINS THE OSCAR?
I'm just a part of the team, but we're going to tear the town up. Believe that!
THE ALYNDAS
The Oscars are divine, but until they add a few categories, I'm handing out my own awards
1 SEXIEST PERFORMANCE
Ryan Gosling in Crazy, Stupid, Love. It's like this: You feel crazy for thinking Gosling is sexy all of a sudden, stupid for not seeing it earlier, and in the end, it's love.
2 MOST DESERVEDLY UBIQUITOUS
Jessica Chastain in The Help, The Tree of Life, The Debt, Take Shelter, Coriolanus, Texas Killing Fields Only popcorn pushers spent more time at the movies, but she's a treat in everything.
BEST PERFORMANCE EVERYONE (INCLUDING ME) IGNORED
Tom Hardy in Warrior The clever Brit morphs into a heaving block of muscle and rage as a mixed martial artist who fights his brother in the ring.
3 BEST COMEBACK
Kirsten Dunst in Melancholia Dunst roars back as a self-consumed depressive in a performance that was thisclose to an Oscar nod.
4 BEST ACTION MOVIE
Fast Five Funny and ridiculous, with a multiculti cast of hotties, Fast Five is exactly what you want in an action movie: a good time.
5 BEST COMEDY
Bridesmaids Pardon me, Academy? Since you almost never give comedies the big prize, why not give them their own category? Just a suggestion.
BEST TWIST
The Skin I Live In You know what I'm talking about-that part when you find out that Vera (Elena Anaya) is... wait, what? You still haven't seen it? Go get the DVD. I'll wait.
Contributors:
CARLOS GREER.
Wanderlust
Advertisement
Today's Photos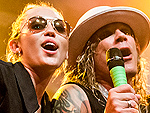 Treat Yourself! 4 Preview Issues
The most buzzed about stars this minute!